Michael Str!ke: The Wisco kid
Music | March 11th, 2020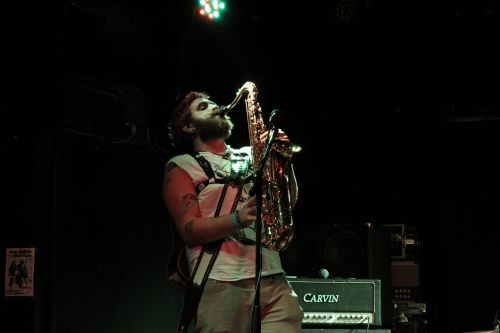 Michael Str!ke is a man of many hats and many instruments. Along with his work with Michael Str!ke and the God Damn Band he also plays saxophone for Fargo's dustiest folk punk gypsy jazz combo Mr. Meaner. He has a new five song EP in the works and is preparing to hit the highway for a ten day tour with stops including the Folk Sh*t Up festival near San Antonio.
Str!ke's sound would be classified as folk punk, he cites Tom Waits Neil Young and Flogging Molly as some of his biggest musical influences. Str!ke will be sharing the stage with fellow Wisconsonite Old Wolves and local hero Owen Broke this coming Sunday at the Aquarium.
Speaking of the new Michael Str!ke and the God Damn Band EP, Str!ke said, "I do all of the instrumentation with the exception of drums and the washboard. I do guitar and bass accordion sax and vocals on it. It includes a show that was recorded live during my last tour through California with John Underwood. I'm really excited about the duality of the album and to have all of that on there."
He went on to say, "My first album is the first album and the second is an EP that was kind of a tribute to a bluegrass Celtic band I was in called the Roving Ires which was kind of a play off of the Irish Rovers, It's wildly different from those two for the fact that I'm doing all of the instrumentation. Up until the past couple of years I was fortunate to have some really amazing musicians working with me on the God Damn Band."
We couldn't help but ask what brought the Wisconsin native to Fargo--and it was a matter of following the music. He said, "It was a funny happenstance, Mr. Meaner had been coming through Wisco for a couple of years, they hit me up because they had wanted to go on tour and they didn't have a saxophone player anymore and they didn't really have a vehicle that could do it and I did, so we went on tour and the running joke was--you gotta come to Fargo and join Mr. Meaner full time...and I was all like haha no. I have too much going on in Wisconsin."
According to Str!ke things "managed to fall apart" back in Wisconsin and he heeded his bandmates' advice and found himself in Fargo.
"They (Mr. Meaner) were coming through Wisconsin to play shows and I would be playing those shows too, I'm always trying to sell myself as a musician for hire, even to the point of--even if I don't play that instrument now give me that instrument a month with that instrument and I can play it for whatever you need it for. That's kind of my mentality about it." Str!ke said.
When asked how he cut his musical teeth he said, "I've been playing shows since I was in high school, we had a coffee shop that put on local DIY shows every week and I'm super fortunate that I had something like that in the small town I grew up in. I was playing in punk duos and I was in a ska band, I started writing my own stuff while learning to play guitar so I'd do open mics and play out in the streets busking. About a year or so after that I was really fortunate to have a bassist and a drummer that wanted to play my music with me and for the next few years."
He started playing the saxophone in junior high, when band was presented as an elective. He said, "I struggled right away in the beginning. I have this theory that there's two types of musicians, virtuosos that can immediately adapt and jump in and play. Those are the people who are the prodigies and are just amazing musicians then there's the musicians that have to work, they have to practice all the time and I am definitely the latter, When I started playing sax, I was so embarrassed that I sounded so bad that I'd take my sax out into the woods to practice because I didn't want anyone to hear me--"
We couldn't help but interrupt to ask, if a sax plays in the woods can you still hear it?
"Regrettably, yes you can." He laughed
IF YOU GO:
Aqua Night at Dempsey's: Michael Str!ke & Old Wolves
Sunday, March 15, 9pm-howling
The Aquarium, 226 Broadway, Fargo