​MNDR to DJ at the Aquarium
Music | May 9th, 2013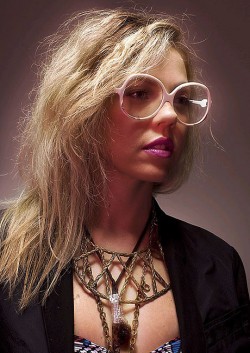 Amanda Warner grew up in near Hillsboro, N.D. and went to high school in Fargo. Today, she is a New York pop singer/DJ/songwriter and goes by the stage name MNDR.
This Saturday, Warner will be performing a solo set at the Aquarium for the finish line of the Zombie Pub Crawl. It will be her first performance back in Fargo in five years – though expect this to be just the first of two MNDR shows in Fargo, Warner said. Saturday's show will be an all-DJ set and her second one later this year (which HPR will be covering in advance) will be a full production with a full band.
"I'm really looking forward to being in Fargo (this Saturday). I'm playing with my best friends, The Seawhores," she said. "I've been best friends with these guys since we were in high school and they are still my best friends. Honestly, all my Fargo friends are still my closest friends."
Just how big of a pop artist has this North Dakota-bred musician become?
Well, she co-wrote and is featured on Mark Ronson's hit record "Bang Bang Bang" with Q-Tip of A Tribe Called Quest. This song peaked at no. 6 on the UK album charts.
Her latest record, "Feed Me Diamonds," just dropped last year and Spin Magazine named it the eighth "Best Pop Album of 2012," edging out artists like Norah Jones, No Doubt, Pink and Lana Del Ray. Pitchfork and Rolling Stone also gave the album great reviews.
The MTV O Music Awards also named MNDR the Most Innovative Solo Performer of 2012.
Oh yeah, she's also toured The Tings Tings and Duran Duran. She's opened for The Flaming Lips. And in her previous band, Triangle, Warner regularly toured with The Shins.
This, of course, didn't happen overnight. Warner has been musically active since grade school. She took piano lessons starting at the age of five; she was involved in Oak Grove's music department, as well as Fargo South High's jazz program.
She even has some great memories from Ralph's Corner in Moorhead: "When I was a kid, Ralph's was the only venue to play if you needed to make some more money between Minneapolis and Seattle, so it got a lot of great bands, like really iconic bands now. So it's really amazing to be apart of that."
Warner has lived in cities all over the country, including Portland, Ore., Minneapolis, Oakland, Calif. and New York.
"Fargo and Oakland were probably my most creative formative years, experimenting with music and different styles," she said.
She said much of her success is a result of her deep involvement in the music scenes of every community she has ever lived in. In Oakland, for example, she played in about three different bands and lived in a "punk space" called Grandma's House.
"Warehouse living and collective living was really big in a lot of communicates and I was really involved in that scene," Warner said. "It was like a free space; it was like a punk anarchy space, so it was a lot of noise music, experimental music, electronic music, punk music to like indie pop music."
It wasn't until Warner got an offer to be a songwriter for hire in New York that she had a desire to focus on more structured songwriting.
"All of the music was about repelling people, noise and experimental music, and it was more about being inside yourself," she said. "But pop music is sort of about connecting with everyone."
She moved to New York in 2008, and because of her relationship with producer/ collaborator/MNDR band mate Peter Wade, in 2009 she went from working as a behind-the-scenes songwriter to performing as leading lady for MNDR.
So far MNDR have released two EPs, "E.P.E." and "Caligula," and one full-length album, "Feed Me Diamonds."
Warner said they plan to put out new features every 6-7 weeks, including new singles, videos and merchandise. Fans can sign up for her mailing list at mndr.com to get the latest updates.
IF YOU GO:
WHAT: MNDR (DJ Set), Seawhores and Gay Witch Abortion
WHERE: The Aquarium, 226 Broadway
WHEN: Sat, May 11, 10 p.m., doors @ 9:15 p.m.
HOW MUCH: $8; $6 for zombies; tickets available atwww.ticketweb.com
INFO: 21+ only