​More Than Just a Building: New Direction Fest 8
by HPR Contributor | .(JavaScript must be enabled to view this email address) | Music | March 27th, 2019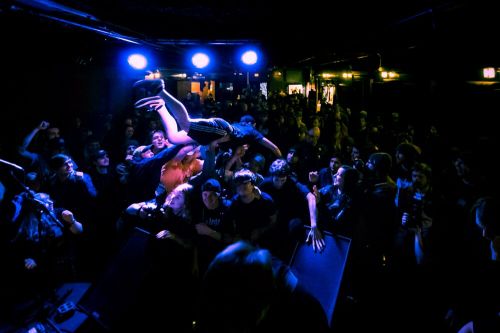 By Gary Ussery
usseryg@gmail.com
It is hard to be a part of the Fargo music scene without knowing the name "Jack Stenerson." His is a name I learned early on in my musical photography career, and for good reason. Jack is one of the biggest names in and behind the Fargo Music scene. If you have rocked out at The Aquarium (@aquariumfargo), Jack probably had a hand in the show. Heck, he was probably working the cash box. If you have enjoyed a concert at The Sanctuary (@sanctuaryevents), Jack was probably the man in the sound booth, ensuring you hear just how amazing the performance is!
Somehow, this guy is also in three well-known bands! Too Fast for Frank, Baltic to Boardwalk (@baltictoboardwalk), and High Hopes (@highhopesmn).
With all that's going on, he still manages to be the happiest face you'll see all day, and I got to sit with that happy face and ask him some questions about New Direction Fest 8 (NDF).
HPR: Tell me a little about this history of The New Direction, and New Direction Fest.
Jack: The Fest started obviously at The New Direction, the venue we used to have here in Fargo, which opened in March of 2011. We went from people who just booked DIY shows to people who were all of a sudden business owners, too. There weren't as many local bands at the time, and we realized we had no bands on the schedule. It was January, and no one wanted to tour through Fargo, and we were like "oh crap, we need to do something!".
So we asked 15 local bands, who were like, the only local bands at the time and were like "hey, we're throwing together this weekend in January, do you guys want to play? We'll charge $5 a day, and call it New Direction Fest". The bands were all on board, all locals.
It started with us having to beg bands to play, and after year three it was like "ah, that was super cool, can we play again this year?" The first five New Direction Fests took place at The New Direction. Number six was a bit of a surprise, we posted the teaser of the logo with the phrase "more than just a building".
HPR: What goes into planning such a popular festival?
Jack: This year was the first year we decided to do a submission system for bands who would like to play. Last year, and every year before, it was me getting five billion submissions like "hey, New Direction Fest, this year?" It has made it so much easier having it all in one place. Each year is kind of just me trying to outdo myself. New Direction Fest 8 hasn't even happened yet, and I am already planning on NDF9.
HPR: What is your coolest New Direction Fest Story?
Jack: It happened at, I think, New Direction Fest 4. One of the bands playing was like "hey, it's such an honor to play at one of the most iconic venues in the upper midwest" and I was like "oh my god, is that what we are? We're an iconic venue?" It was cool to see The New Direction get to that point, to where people wanted to play- that was the goal of a band, to get to come play in Fargo.
HPR: If someone could only make it to one day of this awesome three-day event, which day would you recommend?
Jack: This year? I think, honestly, I would say Sunday (day three), because it has so many cool bands from the area, that are up and coming. And Infinite Me is one of my favorite bands from the area, ever, and they are reuniting and playing the show for the first time in over a year. If you want to get a really cool taste of what the midwest scene is like, I think that would be your best taste into what to see, what's coming up.
HPR: What kind of NDF merch can we expect, and will bands have merch tables?
Jack: Oh absolutely, bands will have merch tables! Relentless Merch (@relentlessmerch) out of Nebraska actually ran a special for bands who were playing NDF, they would give them a deal on printing.
And then, this is the first year that NDF is going to have merch. Leah Ecklund (@leahmecklund) actually designed that logo for us. So we decided, we have a cool new logo, I'm in love with it, let's put it on some stuff! So, we'll have dad hats. We'll have your basic t-shirts.
HPR: New Direction Fest gets packed! What is your number one fest etiquette suggestion for people?
Jack: We encourage you to stage dive, that's good! But if you're gonna stage dive, don't hang out on the stage before you're gonna jump off. Don't be a stage potato.
There's a lot of people in there, there's going to be moshing, there's going to be dancing, there's going to be dancing, respect the people around you. If someone's not having a good time, help them out.
Number one though, it's all about community. If you see a person you don't know, just say hi, how ya doin'. It's all about being like "hey, I met you last year!"
HPR: For social media, is there a tag you would like people to use for pics caught at New Direction Fest 8?
Jack: #TNDFest8 I just made that up! (You can also tag @newdirectionfm)
Me, Gary: Okay, most important question; PokeMon or Digimon?
Jack: PokeMon! Speaking of that! It's funny, cause Curtiss and I, we both restarted PokeMon X and Y at the same time, and he's obviously ahead of me because he's better, we're going to battle it out at New Direction Fest.
HPR: Parting thoughts or words of wisdom for NDF8 guest?
Jack: Don't be intimidated if you don't know anyone. If you see someone who obviously looks new, help them out. It's all about community.
There are a slew of events surrounding New Direction Fest 8. Thursday at 6pm at the Red Raven is the New Direction Pre-Fest, featuring Maul (@mauldeath), ROT, Mr. Meaner, The Shaky Calls (@theshakycalls), and Cascades (@cascadesnd).
Before day two of NDF8 on Saturday is the Punk Rock Garage Sale, featuring art, music, food, toys, and more from locals. That is from 1pm to 4pm at the Stone Building (across the street from Pounds).
After day two is the Unofficial New Direction Fest After Party at Grease's House. That starts at 11:30pm. Turning out to be an amazing DIY show!
The official NDF8 lineup is:
Friday, March 29: Tigers Jaw, mewithoutYou, CA$UAL, ARACHNID, Baltic to Boardwalk, Wild Amphora, Straight Line Arrival
Saturday, March 30: Daggermouth, Closet Witch, Youth Fountain, Crafter, In Lieu, Kipp G & friends, The Knotties
Sunday, March 31: Jetty Bones, Infinite Me, Salt Creek - NE, Unturned, niiice.Thrållfrost, Pass the Flask
YOU SHOULD KNOW:
New Direction Fest
March 29-31
The Aquarium, 226 N Broadway, Fargo
See facebook page for details