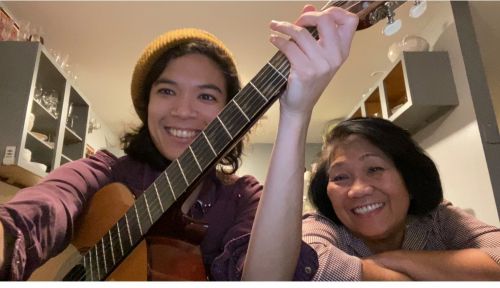 A venue that Diane Miller describes as "a place that means a lot to me, and has always meant a lot to me," the HoDo Lounge in the Hotel Donaldson, will be the venue for a concert by Diane Miller and her mother, Emy Miller, on December 19. The concert begins at 8 pm, but Diane believes it will be a full house, so she recommends to "come out early for a seat!"
If you have ever heard either Diane or Emy, and especially if you have heard them sing together, you know that this will be a treat for those who like beautiful vocal harmonies.
Diane elaborated on the music selection for the concert: "My mother and I have performed together many times. For this concert, there are a lot of songs that are amazing and rich but kind of forgotten. We are performing a lot of songs that you may not 'expect' to hear, but you will be, 'oh yeah, I remember this….'. Songs such as 'The Tennessee Waltz' by Patsy Cline. These songs have stood the test of time, with straightforward lyrics, simple so that you understand them right away – you know exactly what is happening and what they are saying to you. It is comforting to listen to this type of music. A lot of the songs are about relationships, heartbreak, and universal themes that everybody understands."
Emy and Diane will perform songs from the 1950s through the 1970s by artists such as Patti Page, Connie Francis, Bob Dylan, Janis Joplin, Dusty Springfield, Pilita Corrales, Patsy Cline and more. They will be accompanied by musicians from Diane's hip-hop band, D Mills & the Thrills – Jason Boynton on bass and Eli Davis on drums.
Diane emphasized that she really wants to "pack the house." She also hopes that, in addition to socializing and networking, people will "take the time to listen and really synch in and listen to the harmonies." She added, "My mom and I have been singing together for… I don't know how long. I've always loved singing with my mother – she has a beautiful sensitive tone to her voice. Sometimes it is surprising just how good our harmonies are. I guess it's blood relations. And we have a mutual trust. It is easy for me to get out a guitar and have her sing along and we know it is going to be good. We are overdue for doing a show together. We have done A Celebration of Women in Their Music and some multicultural events."
"Me and my mother are singing these songs with good intentions and for the love of music and to be able to share that experience with other people," Diane added.
Diane has been what she considers "seriously" performing for about a decade and explained that her "professionalism has slowly built. I had to overcome some initial low self-confidence. Performing can be very hard and scary, but it is a slow and beautiful process. And it is fun to perform in Fargo. I have been performing in Fargo for so long and people have followed my journey. It is amazing to be bolstered by the community in Fargo. Right now I am in Minneapolis where there are more opportunities for musicians to thrive. But I will never forget my Fargo roots. Fargo has shaped me in its own way."
Diane is currently a talent buyer/promoter of music and a performer in Minneapolis. A recent article in The Star Tribune regarding female music promoters, featured Diane, among other women, as a stand out in the music promotion scene in the Twin Cities. Diane talked about being featured in the article: "The Minneapolis music scene is thriving and people are paying attention. Most people know the music industry to be a male dominated field, but it turns out there are a significant amount of female promoters in the Twin Cities area. It is awesome to see women really dominating a field that is typically oversaturated with men. I know those women in the article – we get along. It was empowering to be a part of that feature."
In Minneapolis, Diane continues to focus heavily on music: "All I want to do is go see music and play more music. I am looking to enrich what I am doing – to become a better instrumentalist and a stronger vocalist – to technically become a better musician. I am a really creative person and I like to do different styles of music. I want to hone my own skills and knowledge and make my music better so it can reach more people. I am very invested in what I do as a musician, performer and talent buyer."
In Minneapolis, Diane finds that she gets many comments and compliments on her Rage Against the Machine tribute concerts: "Their music is very powerful." Her band just did a Rage Against the Machine tribute concert at The Cabooze on December 13. Coming up, Diane is going to partner with the Human Element from Fargo and D Mills & the Thrills also has a concert coming up at The Ice House with Maple and Beech on January 3. Diane added, "We are keeping the music alive as much as we can."
Finally, Diane said, "I 100 percent love what I am doing and I hope that people keep listening and supporting it."
Diane and Emy are happy to be playing at the HoDo on December 19. Diane said, "Karen has always been a huge supporter of what I do and all of their staff have been amazing to work with."
And Diane once again said, of the December 19 HoDo show: "Come early to get a seat!"
IF YOU GO
WHAT: Diane and Emy Miller at the HoDo
WHEN: December 19, 8 pm
WHERE: The HoDo, 101 Broadway N., Fargo
COST: Free
TWITTER: @DMillsRaps