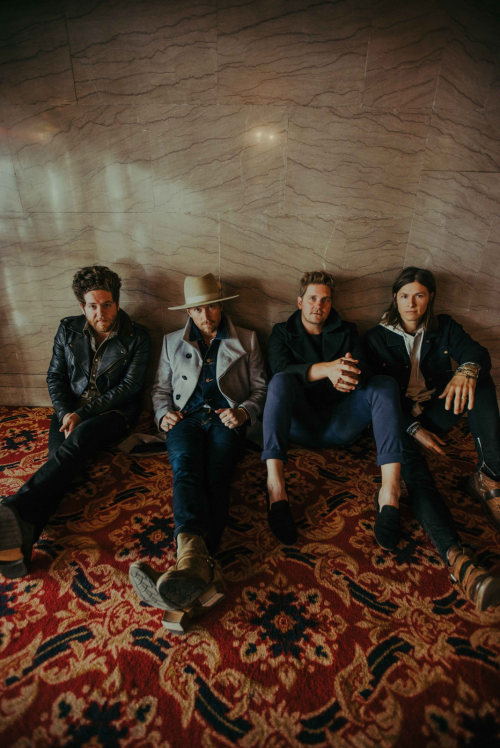 NeedToBreathe is bringing their Acoustic Live Tour to the Fargo Theatre May 15 and HPR was able to catch up to keyboardist and vocalist Josh Lovelace to talk about the tour as well as the band's charity golf tournament and Lovelace's Young Folk project.
High Plains Reader: How's the tour going?
Josh Lovelace: It's been really really good. We're feeling good and everybody's doing really good. It's been really fun for us to get back in front of people. It's been nice to finally see some friendly faces out in the audience and play some music again.
HPR: You guys have a really rigorous tour schedule. You must love it?
JL: Yeah. We definitely love it. I think that it's something that you're just made for because it's not the easiest thing, to be gone, but I think if you just love it, you figure out how to make it work. I think you definitely learn how to travel and tour smarter. I've been in the band nine years now and I remember my first year with the band. I think we did 200 shows in eight months, or something like that. It was absolutely crazy. I actually got married in the middle of that. I got engaged and then, four months later I got married, was home for a day and a half, and went back out for three months, and then had a honeymoon after the tour was over. We don't do that anymore. We decided a long time ago, when we started having families, and also we want to spend more time in the studio and be creative. Even if we're not on the road, we're definitely still working. We definitely still like to be on the road.
HPR: How does an acoustic tour differ from the other tours you've done for you and for the tour in general?
JL: It's definitely different. We're sitting down most of the night which is kind of different for us. We're normally running around the stage and all over the place. It's definitely more of a sit-down for us. We still bring a bunch of lights. We've got probably one of the better light shows that we've ever brought out. It's really pretty and can do a lot of things, so we still bring too much stuff, but, at the same time it's definitely scaled back. We get to do songs in a pretty scaled-back, stripped-down way, which is really fun for us to reimagine some of these songs that have been around since the early days of the band. We're getting to do them in a new way which is really great. And, also, it's just a fun night for us to really get to see faces. Sometimes, when you play a big rock and roll show, things are moving so fast and there's so many people. This is – we're able to see when a song really connected with someone, or you're seeing a couple down in the front that are just loving life and dancing to every song. It's really fun for us to get to connect with the fans a little bit better.
HPR: Will you be recording a second live acoustic album on this tour?
JL: We record every night, even on our rock shows. We have archives of almost every show that we've ever played. We're definitely thinking about the possibility of a Volume 2. We're doing some songs that aren't on Volume 1 on the road right now – some versions that we really love, and I think the fans will really love them too. I think it's definitely possible. It's one of those things that we left it open-ended, so hopefully we can do it, but you never know.
HPR: Do you have any new songs you are working on that you might roll out on this tour?
JL: Actually, we've been setting up a mobile recording studio, so we're working on some new songs now and feel really good about where they're headed. I think that as the tour goes on, it's definitely possible that we might jump up on stage and do a brand-new song. We've done that in the past and I think that's been a good test for us to see if people like it, but also for us to try out the songs. When you're writing and recording songs, you get a little bit in a bubble of what you think is good, and what you think fans would like, or people would react to. You really have no idea until you put it in front of them. So, I feel like that would be something that we've done in the past and I think that would be awesome to do that on this record too.
HPR: I know you all have a golf tournament that's smack in the middle of this tour, don't you?
JL: Yeah, we do. It's a really fun couple of days. It all benefits a really great organization that we love – OneWorld Health – that we've worked with for many years now and our fans have been really gracious over the years in that we've raised a lot of money for them and for the work that they do. We have fans from all over the world that come over to Charleston to play golf, but also just to hang out and support OneWorld Health. We love it.
HPR: Does that support a hospital in Nicaragua?
JL: Yeah. So, one of the cool things about what our fans have done is, a dollar for every ticket that is sold for a NeedToBreathe show automatically goes to OneWorld Health and through that, our fans have built two NeedToBreathe clinics in Nicaragua. It's absolutely insane. We got to go to the opening of it and it's just a beautiful thing to see. We're all musicians and never thought that we would have any kind of impact like that, so the fact that we get to be a part of something that will outlive us by many years is just something really special.
HPR: You do children's music, Young Folk. Do you tour during the NeedToBreathe offseason for that?
JL: I haven't toured very much on that. I'll do some shows here and there. That record came out of our home, really. I just started writing songs for my kids and it kind of came together on a record and I was lucky enough to have some friends – NeedToBreathe friends, really – Ben Rector and Ellie Holcomb and some other people that sang on that with me. It just became a really special project. It's one of my favorite things I've ever gotten to do and don't tour it too often, but when I can, I love to get in front of families and kids and sing songs together. It's one of my favorite things to do.
HPR: It's really important because sometimes kids and parents listen to different genres and it's really hard to get together.
JL: Even for NeedToBreathe, we have people from all ages and all different walks of life that listen to our music and that's one thing I love about what we do in a similar way to what Young Folk is. The music's for anybody, any age, anybody can listen to it which is really great. There's music that I like that my kids don't like, or that my wife doesn't even like, but I feel like to find something that everybody in the house can turn on and listen to is pretty rare. We feel lucky that families and people from every space get to enjoy it.
HPR: Thank you so much for taking the time, we look forward to seeing you when you come here.
JL: We are stoked. This tour is really fun, so we're excited that we get to go to a bunch of cities that we haven't been to in awhile, so we'll be looking forward to coming to Fargo and seeing everybody. It'll be great. Thank you, Ryan. I really appreciate your time.
IF YOU GO:
Needtobreathe
Wednesday, May 15, 7 p.m.
Fargo Theatre, 314 N Broadway, Fargo