​Nekododos
Music | May 15th, 2014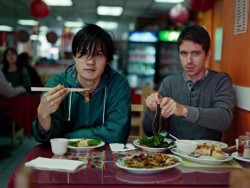 This Friday, May 16, San Francisco alternative-rock group The Dodos will open for alternative singer/songwriter Neko Case at The Fargo Theatre for one of the most highly anticipated alternative concerts of the year.
Alternative, indeed. Both The Dodos and Neko Case dig deep into their unconventional minds to express strange, yet endearing rhythms, words and phrases, while connecting with their audience through glorious melodies and harmonies.
The Dodos are well known for their releases "Visiter," "No Color" and, their newest, "Carrier." Neko Case is known for her work with Canadian rock group The New Pornographers, as well as her solo albums such as "Blacklisted" and, her latest, "The Worse Things Get, The Harder I Fight, The Harder I Fight, The More I Love You."
The Dodos first met Neko while touring with The New Pornographers. Their relationship developed and Neko is even featured on a few of The Dodos' records.
"She's rad. She's super supportive of our band. And for whatever reason has bestowed her grace upon us. We're lucky to know her," said Dodos' lead vocalist/guitarist Meric Long to HPR.
In fact, The Dodos have been getting a lot of support as of late. Their latest release "Carrier" has been getting much acclaim, in part for its addition of San Francisco group Magik Magik Orchestra and its analogue-recording production value.
"I wanted to sort of weed out the weaknesses of the band and nothing does that better than having to record on tape because you can't really hide mistakes," Long said.
For this reason, a majority of recording artists avoid analogue. For The Dodos it seems like it would be even more of challenge due to their use of intricate melodic lines that play off even more sophisticated polyrhythms. The characteristics are highly evident in songs like 2013's "Substance," 2008's Red and Purple" or 2011's "Companions."
"I did study a little bit of non-western traditional rhythms and west African music and Balinese gamelan," Long said. "And that was something that always blew my mind and coming from a kid who grew up in the suburbs and listened to top 40 music."
This Friday will be The Dodos' second show in Fargo. Long said he enjoyed The Aquarium, but he said he did remember one "controversy."
"There were some people that were talking really loud up front and so I told them to be quiet and they didn't like that," Long said. "But outside of that it was a good show. Despite having to carry stuff up three flights of stairs, I like that place."
IF YOU GO:
Neko Case and The Dodos
Fargo Theatre, 314 Broadway
Fri, May 16, 8 p.m. (doors @ 7 p.m.)
all ages, jadepresents.com