O brothers, where art thou?
Music | June 23rd, 2013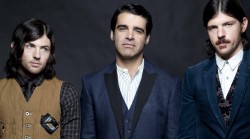 Avett Brothers to perform in Fargo for the first time
The Avett Brothers of North Carolina are heading farther north.
This popular modern Ameriana/folk outfit will perform in Fargo for the first time ever this Thursday at the The Venue at the Hub. Concert-goers should expect a packed house. The Avett Brothers are one of the most sought-after folk acts in the country.
In 2011, the band joined the stage with Bob Dylan and Mumford & Sons to perform "Maggie's Farm." Their latest album, "The Carpenter," released just last year, peaked at No. 4 on the Billboard charts and it was nominated for Best Americana Album at the 2013 Grammys.
The High Plains Reader caught up with banjoist/vocalist/older brother Scott Avett over the phone to talk about his life philosophies and the band's ongoing success.
High Plains Reader: The release of "I And Love And You" seemed like a major turning point for the band – sound wise and popularity wise. Do you think there were certain things that let up to that point?
Scott Avett: Lots of things, I mean, before "I and Love and You," we just had never entertained the idea of working with a major label, or we never really understood how that would be useful or be needed in what we were doing. And as we were approached by Rick Rubin to talk about possibly making records together, we had an interest in advancing our ability to produce records and work with a producer of his caliber. And as we kind of grew into that, we kind of had the first half of our, well I can't say half, cause another one's coming, and parts leading up to that were all in house … We made friends with Rick and that carried us into that new world of a future label, and, a lot of ways, a professional world that we had not really ever set foot in.
HPR: Is it true, this is just something I've heard someone say, that if Rick Rubin produces your album, you have to have 30-some songs prepared that he can pick from?
SA: That's true for us anyway. I never asked him or really done any research about what other people that worked with him. We have friends that have worked with Rick but, you know, I think that's what Rick told me, that the questions that I did ask and whatever when we were getting started and setting up the relationship, led me to believe, or he warned me, that he just tries to understand and identify the independence and the originality of each artists that he's working with and know that this is their work. He's the facilitator in it. Granted, he's an artist as well in the professional sense, but I don't think he wants to make it a Rick Rubin album. You know, of course there is an essence of a stamp of Rick Rubin on them, but that should never take away from what the artist is setting out to do. And I think he is pretty dead set on that. So I think that it would be hard to say that he or you have to do this and that or anything with Rick.
I can say from our experience with this album ("The Carpenter"), we did have 24, or we started probably started with over 30 songs that lead to 23 that we recorded in their entirety and actually completed the recording process, which took us a year and a half to do.
That, and then the record before with "I and Love and You," we brought more like 15 or 18.
HPR: Will these songs that didn't make it on the album ever get released?
We try identifying good opportunities to release them into the world whenever it makes sense, but the idea is that editing is so key. Your first foot forward was a group of songs you recorded, you want them to be like what you think, at that moment, as the best. It's kind of funny sometimes you look back and you go, "Wow, I might have picked the second best songs out of that group …" I didn't realize that till we already were away from it.
We were told years ago that we were, Seth and I and Bob, we're too dumb to know when to hold back. And I think that's very true. We never have been good at reserving or limiting ourselves, so we just will record and throw as much out there as we could.
HPR: It seems to be working well for you guys.
Well it all depends on your definition of working (laughs), one day at a time …
My biggest interest is we continue to create, we continue to make things. It's such a crazy game out there as an artist or as an entertainer because there is difference between what you make and who you are, and I am much more concerned with what we make then our namesake or our name stamp. I truly believe that if the creation of the art is world class then all the rest falls into place, everybody just follows suit.
HPR: Is there any reason you guys sought after a cello player rather than a fiddle player or a mandolin player like many other Americana acts?
SA: I think Joe, our cellist, came along naturally, like all our additions to our company have come, even down to our crewmembers.
We have never taken big leaps in our growth. We've always been, not intentionally, but I think we've always been under the philosophical belief that the answers will come to us along the way. As long as we keep putting the effort in, the tools that we need will come along. So we started with Seth and I and one of our childhood friends who was continually present for whatever reason, probably because his heart is so well protected and good, that he became our tour manager.
And then we stumbled upon a fellow that was a young man that was looking to get into the sound business and he had gone to school for it, he kind of fell into our lap. Like hitchhikers, we just kind of picked up people along the way. Joe had started playing with Bob years ago in a side project. I had nothing to do with the organizing of that or getting that together, but Joe recorded with us, it worked – we said, "Well, you better just come along with us."
So we've done that continuously up until now. And our growth has been just like that in all lanes …
Rick, in a lot of ways – Rick contacted us. We never reach out to producers. We just had the belief in our belief that Rick had the same belief that if we all just continue to do a good job, these answers just come to you. You start to change your energy, it seems. I felt a change of energy, as I grow older, that there is no need to spin my wheels and try to go out there and campaign for what we need.
HPR: It seems like Americana/folk/bluegrass music has really had a surge in popularity over the last five to ten years. What would be your explanation for this?
SA: I picked up the banjo in 1999, and started – well, I got serious with it immediately. At that time I thought (the Americana-surge) was happening. And then, when "O Brother, Where Art Thou," came out, we were playing some of those songs that got exploited and exposed then, in a great way.
And, you know, seeing bands like Gillian Welch and David Rawlings and Ryan Adams and Old Crow Medicine Show and there was a band called The Blue Rags that was very, very influential to me as a young man. Seeing bands like that are what kind of directed my attention away from full-on art rock and full-on electric approach. That never really left us. Seth and I were both in full-on electric rock bands, but we had such an interest in (roots music).
It suited us well and I think that it's become popular in, I'd say, the past 10 or 15 years. Cause if you go back to Gillian Welch and David Rawlings, I mean, I saw them for the first time in 1996 and it blew my mind; and at the same time, Uncle Tupelo was winding down, Wilco, Wiskeytown, Ryan Adams. I think all that was country and rock music and roots music sort of battling with itself – in a good way. And I think that we are products of that and they were products of it and it goes on back.
I don't that think it's anything all that new, but I do think there are a lot more to pull from now as far as inspiration, and those of us that are doing it now have an interest in that. And I do think that it probably will level off and do its thing, whatever it does, as far as popularity, but it's always been there, and it's always proved to be an entertaining thing to people. A group of people on stage playing instruments will always be interesting to people, it will always get their blood pumping. It's nothing new at all. And I guess that's why it works.
It may be new to mainstream popularity and radio, which will of course destroy it for the time being and then it will reinvent itself again – and then come back around.
We've been, this band, has been in existence since 2002 and as far as I was concerned, then, it was the bees knees and the best thing ever.
HPR: How's being in a band with your little brother?
SA: It's … absolutely normal. The translation of what it means to work together is an ongoing … evolution. That's interesting, and that sometimes takes some patience and is sometimes challenging to figure what they all are asking of us.
I think the biggest thing between Seth and I, for me, that I've had to hear as the old brother, in our previous family, it was the old brother – the younger brother wanted to do everything the older brother did, he followed him, he followed him, he followed him, he followed him and then all of the sudden they are both burnouts. And the older brother has to learn in hard way sometimes that he has to take the backseat and follow the younger brother; the younger brother is so good at that, because he had so much practice at following that the older brother has to learn to switch, at times, and know when that is right and know when to shut up, really.
HPR: How has the release of "The Carpenter" been for you guys?
SA: Well, I've got a couple answers for this. Sometimes I want to say I am really just surprised it just wasn't number one, you know, ever since it came out. That just doesn't make any sense to me (laughing). But that's fine, you know. I'll get overly confident.
The other answer is every time we put out a record, there is a disconnection that had to happen as it comes out and we disconnect ourselves from whatever all that world is as far as how will the release of the album change, cause the release of the songs has already happened and we've already gone through the changes that happened when we wrote the songs and put them on tape. So we walked away from it in a lot of ways.
It's very important that instead of saying it should be number one, that we convincingly understand that it makes no difference what it is and whatever comes, and we just keep moving along forward. It hasn't been negative or positive, like an intrusive part of my life. It's just something that we're happy to get out and move forward.
Mainly, we're happy to play the songs and see what they do on stage and see how they affect people. And see what kind of changes and affect they have in the future if they come along. There are so many surprises that come along with these things. We are looking forward to the next as well. Life just continues to change in the same ways, I do believe.