​One for the girls
by Sabrina Hornung | .(JavaScript must be enabled to view this email address) | Music | July 25th, 2018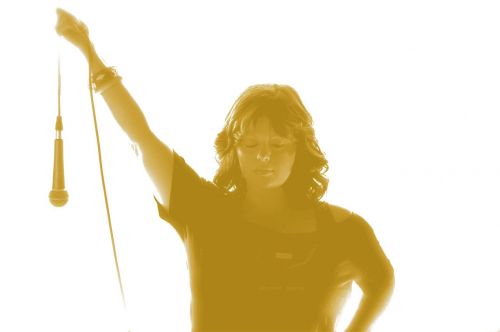 When St. Paul based rapper Desdamona first emerged on the hip hop scene in the Twin Cities in the mid 90s she had a tough time securing a foothold.
"Getting on the scene was hard and I did experience some sexism in that realm because I was a woman, like kind of dismissing me, or listening to me talk but not actually do what I wanted to do. I had someone say to me that they didn't work with female artists, which sounds crazy that someone would say that but that was like 1995/96 right? Maybe the truth is that might not have been true. They might have been trying to get rid of me."
She went on to say. "People try to take advantage of you sometimes. Numerous times when I was younger there would be guys who would say they'd want to work together and you know...you found out very quickly that's not what they wanted to do. It was super disappointing. It was like, you want to have a romantic partner, but you're focused on the music and you're like wait… you're weren't interested in the music--like not at all? It gets very disheartening to go through that over and over again. It's easy to get jaded."
From that time on she decided to take her musical fate into her own hands and sought out every open mic she could find. Keep in mind this was before the world wide web as we know it. She sought them out via "City Pages," the local paper, and even asked around. It didn't matter what venue or neighborhood. She was on a mission.
She said, "Honestly, that probably helped me grow and expand more than anything I had done because I learned the city that way, I met so many people that way. I networked when I didn't even know what networking was. I'd go by myself so I was forced to interact with people. If I had gone with someone else I probably would have stayed in my bubble."
She even went on to host open mics for nearly 11 years and actively seeks them out while travelling. She says these spaces are important for aspiring artists because it allows for them to test the water and find their voice. Instead of having to plan an entire set they can prepare something to fill 5-8 minutes.
As she gained a foothold in the scene she soon found her feminist voice. When she'd perform young women would approach her after the show and tell her that they wrote too but were too timid to approach the mic. Desdamona said, "There is a hesitation because it's like, will they let me? Will they accept me? I remember going to hip hop shows in the early to mid 90s in Minneapolis...and just the underlying idea that the girls that were there were groupies. It was said out loud but most of it was unspoken but you KNEW, because it was all about the guys. It was all about what they were doing and so thinking about that and thinking about how that started, I started putting on shows."
She found out quickly that she was in her better interest to create her own opportunities and while doing that she figured that while she was at it she'd create opportunities for others as well and she started to produce and promote shows on her own. Eventually she and six other women from the Twin CIties founded an all women hip hop festival called "B Girl Be."
Her most recent endeavor is her latest album called, "No Man's Land." In which she collaborates with a number of female artists. She wants to challenge society's notion that women are constantly in competition with each other. "We're not in competition, we're in competition with the dudes. We're trying to get to the same level, the same kind of exposure, the same kind of respect, the same kind of respect, the same quality of music and all that. So we can't be battling each other."
Desdamona is currently part of the Hinge Arts Residency Program in Fergus Falls Minnesota on behalf of the Springboard for the Arts program.
IF YOU GO:
Desdamona
Saturday, July 28, 7:30 p.m.
The Spot, 220 W Lincoln Ave, Fergus Falls, MN