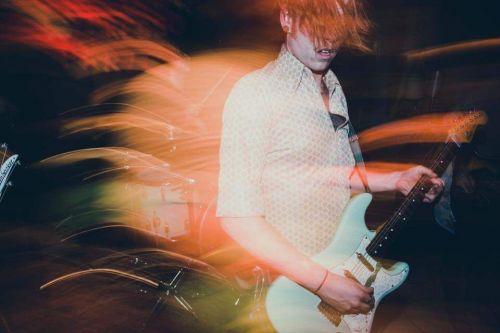 By Gary Ussery
usseryg@gmail.com
When Sabrina gets a hold of you and asks you to interview a band as unique as Fargo locals The Knotties you just yell "yes!" Only a few days later I was meeting with Channing Minnema (lead vocals, guitar) and Michael Mooridian (bass, backing vocals). Unfortunately, Jonathan Hunter (drums, backing vocals) couldn't make it, but he sure was there in spirit!
The guys had a hard time defining their genre but settled on something that sounds like blues rock.
"We don't want to put up a wall, we draw inspiration from all genres" Channing said.
First, let me just say that Channing and Michael are a couple of the nicest guys I've met. They were excited to meet, and we dived into the music talk almost immediately.
Channing has no issues getting down to business and telling you why he loves music, and he insists that The Knotties are very much a live band.
"Every show that you see, every song that we play, it's going to be a different performance, a different way every single time, it's not going to be the same," The Knotties front man, Channing, said.
Michael touched more on what he wants people to experience when watching the band live.
"I get asked a lot, 'What do you want people to feel at the show?' and my answer is 'I don't give a sh** what you feel, I just want you to feel SOMETHING,'" Mooridian said.
Of course, I had some prepared questions, so I dived right in, and got the interview going with this band that formed in the Summer of 2016, already three years ago.
High Plains Reader: What was the inspiration for your album?
The Knotties: Trama, restlessness, experience, and brotherhood. "I'm not an artist, it's not a band, it's life, man. We needed a way to get that across to people," proclaimed Channing.
HPR: What was the biggest challenge recording this album?
The Knotties: Figuring out how, because we wanted to do it ourselves, in our own way. We wanted to figure out if we were recording it live or using click track ("ugh" from Channing), were we over-dubbing or . . . we started recording about a year and a half ago, recording different things. Keeping it organic, and keeping it real!
HPR: What is the band favorite track on "The Knotties?"
Minnema: The strongest track for me is "Stripped" into "Can't Hold On." It's got this very heavy outro that makes you feel something. It's one of those things where it's like, pull the plug at the end of the show, end of the album.
Mooridian: The one I am most proud of is "Lay Me Down." I wouldn't change anything about it.
HPR: What can fans expect from a Knotties live performance?
The Knotties: What are you going to experience? An experience. We're not doing this for them, we are doing it with them. I needed this therapy somehow. I hope I am influencing or enabling some sort of response.
HPR: What are some of your favorite local bands?
The Knotties: Jessica Vines, the first I really danced to. Connor Lee, and Max Johnk.
HPR: I've been told you got an Art's Partnership Grant? For other musicians reading this, how did you go about applying, and what was your biggest hurdle for getting the grants?
Mooridian: Honestly, just making the time to do this. It was worth it. We found it out at Amped School of Music and Gruber Guitars. Max Johnk who actually received it for last year was talking about it.
Minnema: The most satisfying thing was that people believed in us enough to grant us this gift.
HPR: At the end of the day, when you get back home from a tour, or show, how do you know it was all a success?
The Knotties: Did they feel something, did I feel something? I don't care about the money in my pocket. I don't care about likes on our facebook. Did I go through there feeling like, you know, it's not the best feeling, but, holy sh**, did I put it all out there?
HPR: What is one message that you would like to leave for your readers, and your fans?
The Knotties: In the words of Russell Brand "It's good to feel something!"
This was my first time meeting these guys. You can tell from the way they share, and their attitude towards music, that they are in love with what they do. They were incredibly eager to have me come out and listen to their music. I don't even mean at the release party. No. We chatted while Michael warmed up his car so that he could show me their favorite tracks.
I had the awesome privilege of sitting with Michael and listening to "Lay me down," "Stripped," and "Can't Hold On." I must admit, it was hard to simply sit and listen. I wanted to move and listen. I wanted to clean my house and listen, or dance with my wife and listen. When the guys told me that the music was made to evoke emotion, they weren't lying.
You can hear the very raw, organic sound from The Knotties even over speakers in a car. It was a surreal moment, one that I will remember because I allowed myself to just exist and listen, and feel what The Knotties wanted me to feel.
I implore you to get out this Saturday, and live like The Knotties. Allow yourself to feel something, and live in the experience. It will be worth it!
The Knotties are having a release party for their first album, the self titled "The Knotties" on February 16th at the Aquarium at 9pm. Jessica Vines will be opening for them. Their album will be available on CD at the show, with a vinyl release in the near future.
These guys love their fans, show your support back by checking out @theknottiesofficial on Instagram, The Knotties on Facebook, and TheKnotties.com
IF YOU GO:
"The Knotties" album release with Jessica Vines
Saturday, Feb. 16, 9 p.m.
The Aquarium, 226 Broadway N.