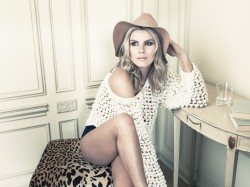 Hawaii and North Dakota are the only two states Grace Potter and The Nocturnals have not performed in. So, in a sense North Dakota will be one-upping our country's tropical paradise – The Nocturnals are making it to ND first. What up now, Hawaii?
"I'm a northern girl myself and I come from the cold and I'm hoping it's just going to be super snowy and fabulous (in Fargo)," Potter says while making spaghetti in her home.
"The thing is, I'm comfortable in that atmosphere; and one thing I always do, especially on a stormy winter night, is rock extra hard."
It shouldn't be too difficult for a woman USA Today called "the best female rock singer in the country right now."
The lady is sizzling. She's a boisterous musician with a rock 'n' roll stage presence and a gorgeous face.
"I was always the kid in school who got in trouble because even though the other kids were talking, you could always hear me talking over everyone else. I had a foghorn voice," she says.
"I got to credit The Nocturnals because every year we got a little deafer and every year the band got turned up a little louder – and I had to sing a little louder."
The Making of "The Lion The Beast The Beat"
When GPN first started in 2002, they were more of a roots-y indie band loaded with creativity and passion, yet lacking the energy and cohesiveness the band now possesses. So, naturally, their latest album, "The Lion The Beast The Beat," is their most powerful and most exceptional album to date.
Though, according to Potter, the making of the album was an uphill skirmish.
"Some of my biggest struggles in my career have been sort of the fact that we are a band that has no genre," Potter says. "We've always been that band that kind of does a bit of everything."
She stopped the production of "The Lion The Beast The Beat" a couple weeks into recording because she felt dissatisfied. Her instincts were telling her something was not right.
"I was not loving the direction it was going. It had a lot of cute pop songs and a lot of funky dance numbers. It was just scattered and it felt like a weird patchwork quilt that wasn't concise and wasn't gelling for me," she says.
"In writing an album, especially writing an album that's supposed to say something and mean something beyond just being a follow up to another thing, it felt gargantuan, and it felt like the pressure was really coming down on me."
After a weeklong road trip through the California Redwoods, Potter returned to the studio with a few new songs and a refreshed look at previously written ones.
The band's second take at the studio unleashed a newfound power and prestige – and the songs started locking into place. The title/opening track developed into a mysterious yet riveting work of art, and the rest of the album carries on that boldness with mixture of heavy, pleasant, refined and exotic characteristics.
"Never Go Back" hit the mark as the album's alluring and sexy hit single. Songs like "Parachute Heart" and "Stars," with their enchanting choruses, maintained an edgy and hip quality.
"The Lion The Beast The Beat" not only showcases Potter's honed songwriting skills, but also the band's noticeably more distinguished sound.
Catching Kenny
The success of this album was something she oddly enjoyed while being on the road with country superstar Kenny Chesney. The two recorded a song called "You and Tequila" in 2010 and they toured together in the summer of 2012, right after her CD release.
When Potter received word Chesney was interested in recording with her, she was shocked.
"I was like, 'Huh?' … Commercial country music was something that has never been in my world. I didn't know a lot about it," Potter explains. "The only song I knew by him was 'She Thinks My Tractor's Sexy.'"
Despite having come from completely different backgrounds, Potter and Chesney sound absolutely seamless together. "You and Tequila" was released as a single in May of 2011 and peaked at no. 3 on the country charts.
"Now that we've been on the road and toured with him, I can see why [She Thinks My Tractor's Sexy] is a hit because … oh my god does it make the girls take their shirts off – every goddamn night."
Working in the business
Aside from catching the attention of megastars like Kenny Chesney, she's even contributed her talent to Disney. Her song "Something That I Want" is featured during end credits of the movie "Tangled."
Having been in the music business for over a decade, Potter credits some of her longevity and success to her thick skin.
"I think to assert yourself was the scariest thing for me for a long time as a songwriter and a musician; but even that fear I've had to conquer because I wasn't getting anywhere," she says.
"It's harder for [women] to open ourselves up and then crack open the egg yolk and sort of spray it all over people, so to speak. It's not very becoming or ladylike, so there are very few of us who are willing to try."
IF YOU GO:
WHAT: Grace Potter and The Nocturnals with Langhorne Slim
WHERE: The Venue @ the Hub, 2525 Ninth Ave. SW, Fargo
WHEN: Thurs, Jan. 24, 8 p.m., doors at 7 p.m.
HOW MUCH: $25 in advance, or $28 day of the show; visit tickets300.com or call 1-866-300-8300
INFO: all ages welcome