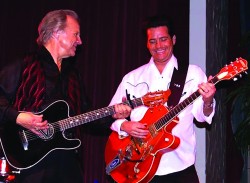 February 3, 1959 marks the day that the music died. Rock 'n roll icons Buddy Holly (22), Ritchie Valens (17), and J.P. Richardson, a.k.a. "the Big Bopper"(28) lost their lives in a plane crash outside of Clear Lake Iowa that fateful night, while on their "Winter Dance Party Tour" en route to play the next stop of their tour at the Armory in Moorhead Minnesota.
A young man from Fargo North Dakota named Bobby Vee reached unexpected stardom that night as his career was launched.
HPR had a chance to chat with second generation rock and roller Robby Vee (son of Bobby Vee) and Rockabilly Hall of Famer about his father's experience and why the early days of rock 'n roll still captivate us.
HPR: What do you find most appealing about early rock and roll--what do you think makes it so iconic?
Robby Vee: There are a couple of things that come to mind...
One is how the records were made in the 50's and early 60's, the other is the time period itself...
The recording industry of today with computers and digital recording can be over refined and polished... Manipulated with layered parts and production. Records from the early rock n roll era were recorded live -- a handful of musicians in a room playing songs interacting. Sometimes it was a one take recording process, sometimes it took thirty takes to get the recording right.
The early rock n roll records had a vibe with great edges to them because of this process. In the case of my fathers records, he cut his hits with a full orchestra live. "Night Has a 1000 Eyes" was the second or third take. A young kid from Fargo giving it his best!
Made for special moments captured in the grooves of the vinyl forever -- and I can hear it in those great timeless recordings.
The time period in its self..the late 50s was the first generation of rockers that lasted up to about 1964 in its evolution. It was an exciting time period -- everything was the first time. Favorite Idols on "Dick Clark's American Bandstand", Elvis and his first time on "The Ed Sullivan TV Show" singing "Heartbreak Hotel" and "Shake Rattle & Roll", at a time when most households were lucky to own a TV set and if they did, most likely they only got a few channels.TV would sign off the air in the early evening. These iconic moments in rock 'n roll had a generation(s) full attention and were the road maps of a form of music that would last for decades because of it importance on pop culture as a whole.
HPR: What do you think of February 3, 1959--why do you feel that it hit America so hard?
RV: February third... 'The day the music died' three rock 'n roll Idols lost their lives. If you could imagine today, the top three pop artists on the music radio charts losing their lives in a plane crash-- just how huge that would be? Now look at 1959, it was a smaller music community than today, rock n roll was relatively new... It had its heroes and a handful of true icons.
Holly, Valens and Bopper were part of a relatively small list of rockers that had climbed the charts and toured extensively reaching stardom over a short amount of time -- in Holly's case 18 months or so. There was a shift, Elvis had gone into the Army, Little Richard became a minister and left rock 'n roll shortly after an Australian tour. When Holly, Valens & JP died moments after take off from the Mason City airport in Iowa on February third, they truly left a void in the music industry, hearts of fans, and in the excitement of youth around a time period.
HPR: Did your father speak much of the gig he played that fateful night in Fargo?
RV: He did...
He remembered not having a band name and needing to make it up on the spot while the curtain was opening and Charlie Boone was announcing their act. He talked about how nervous he was. He was a Holly fan and had tickets to see his hero that night as many did. He recalled his brother Bill asking Waylon Jennings to borrow a guitar strap.
Years later we were on the road in the Virgin Islands with Dion. Dion asked my father about what he recalled from that night. Dion explained that they all were in such shock -- he really had little to no memory from it. He still gets excited when people came to his shows that were at the Moorhead Armory that night or have a parent that was. My father called it a bittersweet beginning to his career.
HPR: Did he ever speak of a rock and roll subculture in Fargo at that time?
RV: My father would say he started his career at the top of the charts.He went from being in a Fargo garage band rehearsing January of 1959 or February-ish to recording for Soma records out of Minneapolis with a top 10 regional hit titled "Suzy Baby" and a handful of Midwest shows by August of that same year. Soon followed by a National top 10 hit with "Devil or Angel" on Liberty Records in Los Angeles only just months later. A very fast track that led to 38 top charting hits over the next 10 years. So his time in Fargo was very short as a recording artist though he would come back over the years.
What he would talk about was the ballrooms ie: the Crystal Ballroom in Fargo... The Detroit Lakes Pavilion where he met my mother etc. The great ballrooms and dance halls that he continued to play throughout his career. The musicians/friends that he knew from Fargo at that time period and of course the Elston Gunn/Bob Dylan playing piano with the Shadows stories. A connection and relationship that still exists all these years later.