Shakin' it up with Sarah Shook
Music | July 10th, 2019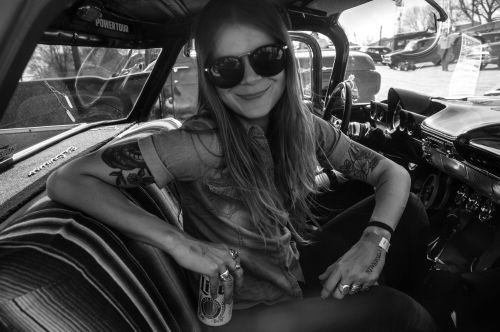 High Plains Reader had the opportunity to catch up with Sarah Shook, front woman of the North Carolina based punk country band Sarah Shook and the Disarmers. We had a chance to talk about life and love from the road, where she found her musical voice and their latest album "Years."
High Plains Reader: I just saw that your latest album "Years" made the Rolling Stone top 40 country and Americana albums of 2018, How does that feel?
Sarah Shook: It feels good, It's a good feeling and it certainly helps new fans that might not have any other way of hearing about us--it's a great way to get more new ears on us.
HPR: I read somewhere that you grew up in a strict religious household and weren't allowed to listen to secular music, how did you find your musical voice?
SS: I started writing songs when I was nine. We were only allowed to listen to classical music and worship and praise music but when I got my first car and my first job when I was 17 my parents couldn't really have any control over what I was listening to in my car so I started listening to the radio--then stopped because I can't stand listening to advertising. I started making friends at my new job and they couldn't believe that I hadn't heard of this band or that band because that's what everybody was listening to. So they started sending me home with CDs and I would wait until my parents went to bed and I would lay in my bedroom with my headphones on and just listen to the "evil devil's music!" (laughs)
HPR: What initially drew you to country music?
SS: I was dating a guy at the time who had a pretty small record collection but it was all the greats of country--all the classic stuff George Jones, Buck Owens, Kitty Wells Charlie Pride, Wanda Jackson... The first time I heard country music, he put on a Johnny Cash record and I was totally blown away because I had already been writing country songs but I didn't know what that genre was. I was like what is this? I thought shoot.. That's what I'm doing I guess! So I went through his records, spent time with them and it was probably a few years before I heard about pop country and that whole--debacle. My introduction to country was the real stuff--the old school stuff. It was a really good way to learn about it.
HPR: Where did you find your punk voice? What led you down that road?
SS: I started to listen to a lot of old school punk from the 70s. I got really into the Sex Pistols, the Germs,the Clash--all the old school stuff. I don't really listen to a lot of the modern punk. I've actually been getting into metal which is fun. I am not one of those people who just listens to country I listen to a lot of different shit. I love psychedelic rock n roll… RIP Roky Erickson--that man was an absolute legend!
HPR: According to the press release: This record is shouting "f*ck you I do what I want" from the rooftops to the mother******g cosmos. You mentioned in another interview you found writing cathartic, was there some event or a string of events that lead to this album?
SS: Most of our albums the songwriting and lyrical content is pretty similar. It's from years and years of being in toxic relationships and not really knowing how to get out or navigate the best way. So songwriting for me, is sort of being objective of my own circumstances and hopefully not repeat the same mistakes and patterns that got me to that spot. I'm in a really really good place in my life right now. I'm in a really healthy wonderful relationship right now and it's kind of funny because people are like… well, what the f*ck are you going to write about now? (laughs) I'm like--I'm sure I'll find something, something will come up. Maybe I'll put out a happy album. It has to be full circle, there's gotta be some hope in there somewhere! (laughs)
HPR: I crept on your instagram--because that's what we writers do! (laughs) Did I see that you recently got married?
SS: Yeah!
HPR: Well, congratulations! Is it hard to maintain a relationship when you're on the road so much?
SS: It is, I mean it's one of those things if you are a touring musician and you meet somebody and you really like them and you have a really good thing going on, it's just one of those things that you have to talk about going out of the gate. Full disclosure, hey.. It's really f*cking hard dating a touring musician and if you don't want to--I completely understand. No hard feelings. It's difficult. There are things that I love and hate about technology but I do really appreciate the fact that it provides an avenue to stay in touch with my son and my husband. It's not a substitute for the real thing but it certainly helps.
IF YOU GO:
Sarah Shook and the Disarmers
Thursday, July 11, 7:30 p.m.
The Aquarium, 226 N Broadeay, Fargo
IF YOU GO:
Sarah Shook and the Disarmers at Winnipeg Folk Festival
July 13-14
Winnipeg Folk Festival, Winnipeg MB