Snow and Flurry
by HPR Contributor | .(JavaScript must be enabled to view this email address) | Music | December 12th, 2018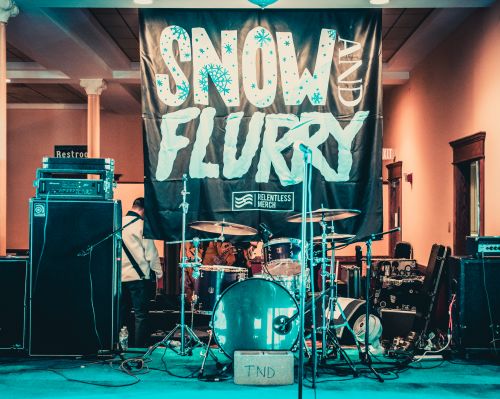 by Jacques Harvieux
jacquesthejock@gmail.com
Mosh pit etiquette 101:
The mosh pit is located front and center of the stage.
Create a sizeable ring.
When the music starts unleash mayhem.
If you fall - get up immediately.
If somebody else falls - help them up immediately.
Don't target other people. It's moshing not fighting.
If you do fight, you will suffer the consequences.
When Brandon, the lead singer of Doubt took the stage on Sunday afternoon to start the day, the mosh pit had just formed. People began circling and pacing as they heard the deep driving rifts from the guitarists checking their sound one last time. The lights dimmed as much as a Fargo winter afternoon would allow. In a few seconds, unleash mayhem.
Brandon's face twisted and contorted as he let out his first intimidating guttural roar to mark the beginning of the day. He paced the stage, building up his own hype as the moshers reciprocated with a flurry of windmills and kicks. Doubt started out the second day of Snow and Flurry, the only way you should start a hardcore festival, hard as hell and heavier than a metalhead's stomping kick.
"It was cool, it was good," Brandon said as he smiled and commented on his band's set. "We had a lot of people out here early this morning to start out the day, it's going to be a good day."
Community in the metal world is an all-encompassing theme. A festival is a celebration of this community. You feel and hear the emotion, sweat in the mosh pit, and help each other up when they fall. These are the nerds, the geeks, the outcasts, the misfits, and those who just strive to be different. The metal community takes anybody, but most importantly they are a community for those who never had one or felt rejected by theirs.
"It's great to see the whole midwestern community come together, even those from Canada have come out to give their support. It's a great feeling coming up from the music scene since 2010. It's great to see it rise back up, for a while we didn't have any venues, kids stopped showing up. Now we have a whole venue and a festival," Thor the lead singer from Ripped2Piecez commented when asked on his feelings of the festival.
For many of the bands, they haven't been able to play much lately, because the availability of interested venues was just not there. But as of recently within the last couple of years, hardcore has started to see a rise again. Swing Low singer Don Gordon and guitarist and also Snow and Flurry co-founder Jesse Kepford caught up with HPR after their set to give comment.
"It was tight, we haven't played a show in a hot minute, and it was nice to get that out. I feel better about life now," said Gordon.
Gordon's feelings reflect many of the artists at Snow and Flurry festival, as well as the concert-goers. Kepford was asked to comment on his involvement in being one of the co-founders of Snow and Flurry festival.
,
"It's very rewarding, but it's a struggle man. You have to make sure all of the bands have what they need, because - for example Bracewar is from Richmond, Virginia, and they had to fly out to Minneapolis and rent a car, and we want to make sure they get enough money so they don't lose money to come here. It's always a stressful time trying to make sure you get money for bands. We want everybody to have a good time, and it's always really rewarding. We have had people coming up to us all day and thanking us because they don't have anything like this in their region. Everything is a collaborative effort and it's been an awesome time," Kepford explained.
The festival is not just exclusive to hardcore, many of the band members are part of other acts in the community. The pre-show, that was held on Friday at the Red Raven was exclusively rap acts. Cold Front which was mentioned in a previous HPR article headlined the show, which includes member Cal Hendrix, who is also the drummer for Ripped2Piecez.
Snow and Flurry was a success, not only for the hardcore community but for the Fargo-Moorhead community as a whole. It brought together people and music, that would not have had the chance to do so if the festival never existed. It's easy to say Snow and Flurry will be sticking around for a while.
1st pic me and Thor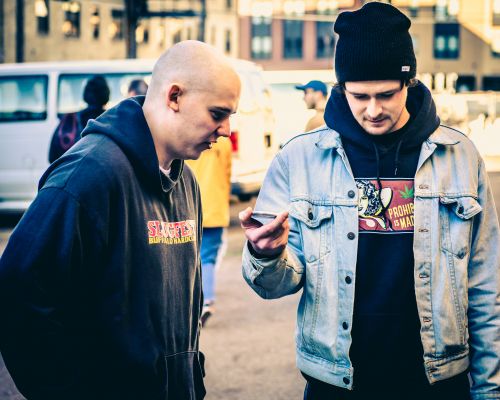 2nd pic the lead singer Cold Shoulder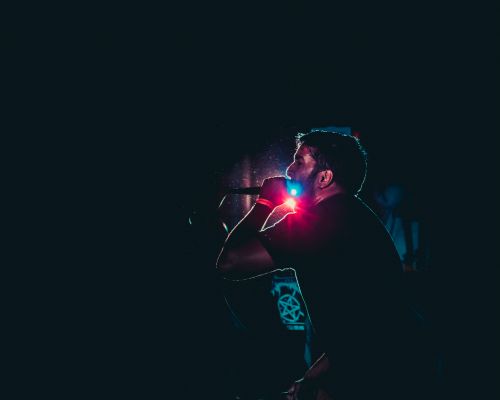 3rd pic, the set of the stage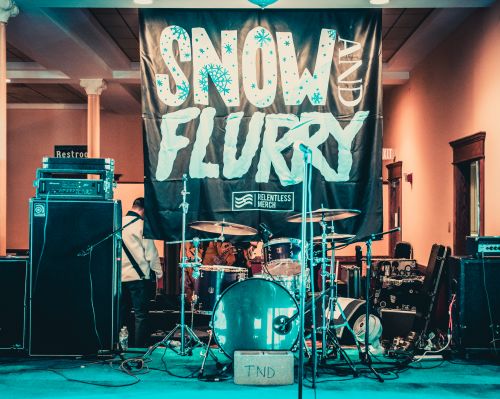 4th pic people moshing to random set. Person in sweatshirt is Thor of Ripped2Piecez.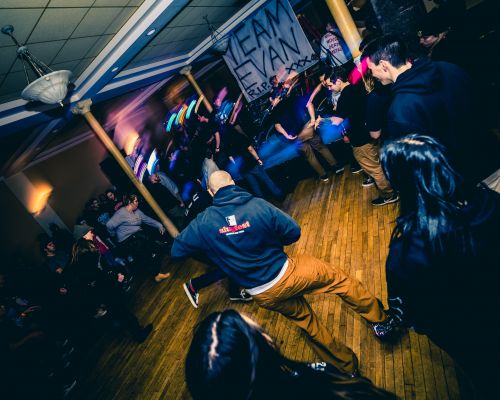 5th pic venue and main stage of the beginning of the Sunday and second day of Snow and Flurry