​Swing Revival Revival
by James Osborne | .(JavaScript must be enabled to view this email address) | Music | January 8th, 2018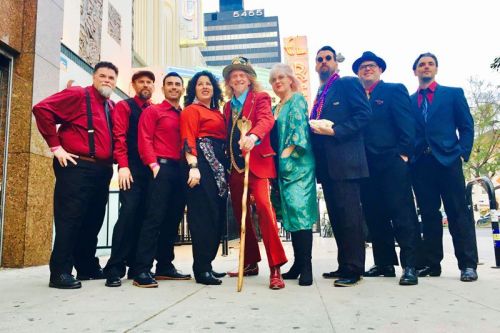 I missed much of the 90's, especially the late part. It's a cultural blank space for me thanks to my undue sense of superiority. I dismissed all things popular. Nothing had cultural merit unless I knew about if before you did and I would've loved to have discussed it with you in exhausting detail.
The "swing revival" was one of those things. I'd see scores of weekend-only high school kids at punk shows wearing hats incorrectly thought to be fedoras, atop ill-fitting suits incorrectly thought to be zoot suits. I thought it was a fashion trend. It never occured to me that these people had a soundtrack.
"Swing" - quotes included because it's a misnomer, a bit of near-sighted media shorthand. It didn't matter if the music more closely resembled hot jazz, ska, boogie woogie, jump blues, bebop, skiffle etc. it was all dumbed down to "swing". Any band with more than the requisite number of members or words in their name were lobbed into the generic pantheon of the "swing revival". Hell, I think you could even go as far as to say "swing" was a broad-brush term for any band with suits in the post-grunge era.
Like a lot of swing revival bands, Squirrel Nut Zippers had ties to punk rock before the big boom. Jimbo Mathus, the band's principal songwriter and singer was in a band called Johnny Vomit & The Dry Heaves with one of the dudes from Oblivions. Also, most of these bands even existed before there was real money in swing. Unlike Big Bad Voodoo Daddy and the Cherry Poppin' Daddies of this world who were capitalizing fullbore off the trend with songs about pinstripe suits and tommy guns, Squirrel Nut Zippers all but rejected the term. "We were just off the beaten path playing calypso, cabaret and hot jazz. We didn't set out to play anything in particular." says Jimbo.
Two quick facts I immediately gleaned about Jimbo's voice: It's from the deep south and it's been around the block. His strained drawl sounds like you just woke him up from a drunk nap under a river birch. It's creaky and comforting like an old country patriarch. "We were playing Appalachian music, folk music, blues, calypso from Trinidad... We weren't keen on really calling ourselves anything. We were a Petri dish, with respect for not only American music, but many disparate elements. Some of our main influences were cartoons like Betty Boop and Max and Dave Fleischer." This makes a lot of sense considering their whole motif "This was before the internet and you couldn't research stuff like you can now. We had to get our history lessons where we could get it."
He started the band in 1993 with his friend Tom Maxwell and then girlfriend Katharine Whalen in Chapel Hill, North Carolina. Their first album Inevitable received airplay from NPR and college radio stations the country over. But it was with the '96 release Hot that success sprung upon them. Even they were surprised to find out swing was a thing. "We came from the southeast where we were just oddballs playing dance halls. We lived in houses without heaters in them, no T.V.s and all that shit. The first time we went to L.A. as a band, we played at a place called the Brown Derby, I had my guitar in a shopping bag. We pulled up to the the club and there's a line around the block of all these people in zoot suits and I'm like 'Wow, there must be a really happening band playing here and they're like no they're here for you'. Everywhere we went after that same thing and we were completely shocked".
Hot contained the band's only two Billboard hits "Hell" and "Put a Lid On It" written and sung by Tom Maxwell. It's sold over a million copies to date. In this period Squirrel Nut Zippers appeared on Sesame Street, performed at the Olympics, Clinton's second inauguration and on just about every talk show worth mentioning. They were certifiably 'a thing'.
They released Perennial Favorites and Christmas Caravan in 1998 which were both critically celebrated but failed to match the success of Hot, even remotely. The swing boom was over. Tom Maxwell left the band before they released Bedlam Ballroom in 2000. Soon thereafter, Jimbo and Katherine divorced, Maxwell sued Jimbo and what was left of the original band for royalties and the Squirrel Nut Zippers stopped being 'a thing' altogether
Jimbo Mathus turned 50 this year. In the years since, he's recorded several albums on his own and with his bands Knock Down Society and Tri-State Coalition. He's a well-respected blues guitarist. He toured and recorded with Buddy Guy and recorded Elvis Costello's Grammy-winning "Monkey to Man". Not many 90's pop stars can boast this type of legitimacy.
Like I said before, swing was not my thing, I assumed it was a flash-in-the pan cash grab, and it may have been. But I can honestly say the Squirrel Nut Zippers were guilty only by association and if any of those bands qualify as swing, it's not the Squirrel Nut Zippers. They incorporate too many styles to pigeon hole and were far too cool and weird to dismiss along with the damp squib 'daddies' from the 90's swing boom.
Squirrel Nut Zippers toured in 2016 to celebrate the 20th anniversary of Hot. This year, along with a tour, they're releasing a new album. I was wondering what fans could expect after an 18 year absence "I'm not trying to reinvent the wheel." says Jimbo "With the Zippers you want cool, funky, creepy dancing music. We're just tapping into the well of weird old America, calypso, latin stuff and New Orleans hot jazz. It's not a reinvention, it's a revival." The album called Beasts of Burgundy, of which he says "will be our crowning achievement", comes out March 7th.
Jimbo is a musician and was a student of philosophy at Mississippi State University back in the day so I asked him to play a game that pertains to both of these fields.
KFJ: We're going to play a game called Marx or Marx. Decide if the following statement was made by classic economic theorist Karl Marx or 80's heartthrob Richard Marx.
Jimbo: Hahaha. I'll give it a shot*
KFJ: #1. We work our bodies just to stay alive
Jimbo: Uh, it's kind of a trite saying. I'll say Richard Marx
KFJ: That's right, Richard Marx. #2. "When you're trying to make a living, there's no such thing as pride."
Jimbo: I would say Karl Marx
KFJ: It's a lyric from Richard's hit "Don't Mean Nothing". He's surprisingly labor-conscious for a millionaire. #3 "I am not a Marxist".
Jimbo: I'll guess Richard Marx.
KFJ: Surprisingly, it's from a letter written by Karl Marx. #4 "Philosophy is to the real world as masturbation is to sex"
Jimbo: Hm, I would say Karl Marx
KFJ: That's right. Karl Marx said it. #5 "You face the end of your youth in a tired fueling rage"
Jimbo: I'll guess Karl Marx
KFJ: No, that's from Richard Marx's song Superstar. And the last quote "Last words are for people who haven't said anything in life".
Jimbo: Karl Marx.
KFJ: That's right. 3 and 3. Pretty good. Thanks for talking to me, Jimbo.
Jimbo: Thank you. I really appreciate your closing remarks, no pun intended.
*Jimbo had never heard of Richard Marx and is a better man for it.
IF YOU GO:
Squirrel Nut Zippers
Wednesday, January 10, 8pm
Sanctuary Events Center, 670 4th Ave. N, Fargo