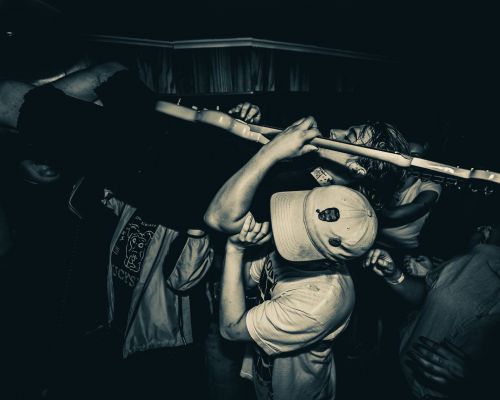 Gary Ussery
"DIY 'Til I Die!"
It's the code that many in the Fargo-Moorhead live by. Music at any cost, under any means, for any one. DIY lives in the basements of our neighbors, the living rooms of our friends, and the backyards of strangers. A lot of people may call it underground music, but that sounds so dark, so archaic, and trust me, there is only light and love when it comes to DIY Music.
The Fargo-Moorhead area has a prolific DIY music scene, but you may have never heard of it. It's one of those guarded secrets that wont find you. You have to find it. DIY announcements live on the personal pages of local musicians. You're offered a line-up, a time, an admission fee, and the magical line "message me for the address". House shows, the carrier of the DIY scene, are not inherently illegal, however, house venues have a habit of attracting unwanted attention, whether it be from local authorities, nosey neighbors, and folks who don't uphold the notion of all are welcome, all are safe, let's party.
I went to my very first house show this year. It was held at Grandpa's House, a house venue that can no longer do shows due to noise complaints. It is hard to describe the energy at a house show. Everyone is your friend when you enter. Everyone is catching up, telling stories from the road, and imagining the stories yet to come. The proprietor of this house venue had an interesting house challenge.
"If you can pogo-stick to the top of the staircase, you win this Grandpa Statue-Trophy. If you lose, you get to pay for the new banister you broke!"
If I were forced to describe a house show, or any DIY show in general, with one word, that word would be "intimate". These are friends enjoying music from their friends. These are touring acts that will ask to sleep at your place when the music is done. These are rock stars baring their soul in a format that will net them little to no money. This is raw music.
DIY music, and house venues serve a special, and unique purpose in the Fargo area. In North Dakota, to allow minors into your establishment, you must prove that you generate at least 50% of your revenue from food and nonalcoholic drinks. This seriously prohibits where a minor can enjoy music in Fargo, as it forces the venue to generate less profit in order to cater to a somewhat increased crowd.
That's where the underground part of the DIY scene comes from. All ages, all access, often too many people in too little space. DIY and house venues are a saving grace for the often ignored youth in Fargo. A way for them to enjoy live music on a budget.
I would like to wrap this up with words from others in this community. I asked people who are deep in the Fargo DIY scene to define DIY music in their own words.
Hunter from the band Dearly Departed said,
"It's just a group of people working together to enjoy their common interest: music."
Chris who operates Grease's House, a local house venue, and also happens to be my little brother had this to say,
"(It's) Like a co-op grocery store, but with music. Everything from the house venue, to food, merchandise, PA equipment is all pooled together by a group of people with the same goal. Create a good time, and listen to fun music."
Carter and Matthew, two parts of the band Cascades and the minds behind Hotdish Entertainment,an independent booking agent that throws shows for the Fargo area, add:
Carter: "DIY music in my mind is hard work and dedication to making music knowing full well, and not expecting to get any rewards from it."
Matthew: "I think the thing that defines our scene as a whole is how everyone/musician is super supportive of each other. It's like one big family!"
Chris, who plays for many bands, including Seriously Hot Sh*t, and is heavily involved in the DIY scene, both as a performer, and a fan, gave me this beautiful quote:
"One of the best statements I've ever heard about the scene is "DIY doesn't mean Do It Alone" and it's so true. We all support each other and it shows."
However someone else defines the DIY scene in Fargo, it is truly something you must witness in person. Your definition will be different from others, because it is truly a unique, and intimate exchange, for every person involved.