​The FYB life with Cascades
by HPR Contributor | .(JavaScript must be enabled to view this email address) | Music | April 10th, 2019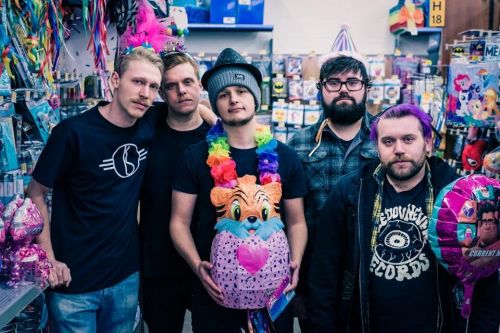 By Gary Ussery
usseryg@gmail.com
FYB. Three letters, three words, well known by the guys who make up Cascades, and anyone who is a fan of the five-man band. When asked what genre best describes their sound, I was bombarded with at least a dozen different categories, and sub-categories. We finally narrowed it down to punk, rock, and the important one to many, emo. FYB (f*ck yeah bud) was the callsign of Carter Amundson, the former bassist of Cascades, and a friend gone too soon for many of us. Cascades strives to carry on not only the memory of Carter but the idea of FYB.
I had the awesome opportunity to hang out with the members of Cascades, whom I am lucky to consider my friends and ask them all sorts of fun questions. Cascades is comprised of Matthew Hughes, vocals, Michael Rubke on bass, Mike Seward and Keennan Anderson playing guitar (two different guitars, I'm told), and Morgan Somerville on drums.
High Plains Reader: What is the origin of your band name, Cascades?
Matthew: This is great, this is great! The original name of Cascades, well, Cascades started off as a solo project called Ghost in the Attic (Keennan, "best name we ever had!") Then I talked to Keennan and we started a band. We didn't want to go with the name Ghost in the Attic, so we changed our name to Waterfall (Keennan, "the stupidest name for a band"). So, I'm walking down 45th, and I'm like man, I'm not sure about this name and I'm on Google, doing a French to English translate…. I type in Waterfalls, and Cascades came out, and I'm like "yeah, alright, that's cool". So I told the name to them, everyone was on board with it.
HPR: What is the band favorite song?
Cascades: FYB is my favorite one to play. I love the in unison "F*** Yeah Bud". It wasn't originally called FYB. It was Jazz Cabbage. It rips. It's the only song we do that has a breakdown.
HPR: What is the hallmark for a Cascades live performance?
Cascades: Taking a really long time to tune. It used to take a long time to tune. We have fun, we let it all out. Leave it all on stage.
HPR: What is a Cascades practice like?
Cascades: It is very informal. We are very much like, all right, it has now been an hour and half of setup, let's run the set three times, and let's go home, cause I have to work at seven in the morning. But once we start, it's like, let's go, it's business, let's run through the set three times.
It's the best night of my week.
HPR: What are your motivations as a band?
Cascades: Do cool stuff. I just wanted so bad to have an outlet for my creative tendencies. The motivation for me (Matthew) was to give back to the music community what they gave to me.
Michael R: Knowing Carter the little bit I did, HE was my motivation.
HPR: Most important question and there is a wrong answer, pancakes or French toast?
Keennan: I'm gonna say waffles.
Mike S.: Waffles, I have never been a French toast man.
Michael R.: I'm gonna say French toast.
Matt: Bacon. It's true. I eat a lot of bacon.
Me: The right answer is French toast.
HPR: Finally, Cascades has had its fair share of hard times, most notably, the loss of Carter Amundson. What is one unified message from Cascades to those who may be going through their own hard times right now?
Cascades: Reach out. Our inboxes are open. We are 100 percent serious. Come to the show. If you don't think you have enough, get in contact with us. We don't exactly have a guest list, but you're on the guest list.
If you would like to catch Cascades, they have a lot of shows coming up.
4/11 at Tak with Half Empty, and Strange Co., and Understudy.
4/17 at the Red Raven with Mover Shaker, Kyle Colby, and Free Truman
4/27 at the Aquarium with Pass the Flask, Maul, and Half Empty
To find more shows, and start times, visit Cascades on their social media platforms:
Instagram: @cascadesnd
Facebook: @cascadesnd
Twitter: @cascadesN
IF YOU GO:
Understudy & Cascades at TAK
Thursday, April 11, 8-11:45 p.m.
TAK Music Venue, 1710 Center Ave, Dilworth
IF YOU GO:
Cascades, Mover Shaker, Kyle Colby, and Free Truman
Wednesday, April 17, 6-10 p.m.
Red Raven Espresso Parlor, 916 Main Ave, Fargo