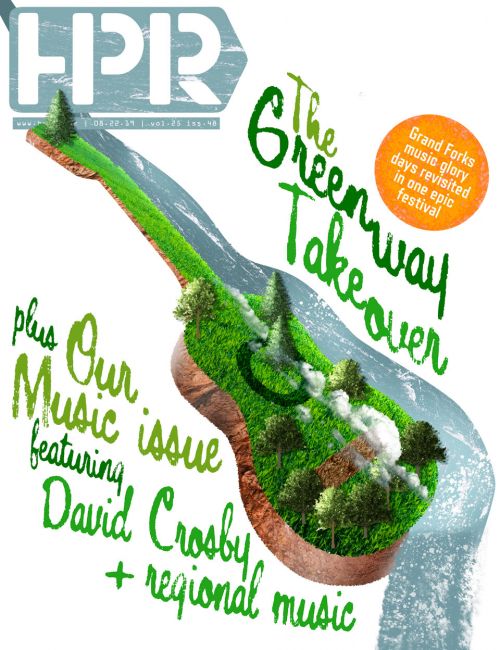 If you've ever craved an outdoor music festival where you can walk to downtown shops, do yoga or go fishing in between sets, you're in luck. The Greenway Takeover Festival returns to two stages in the heart of Grand Forks September 5-8. Now in its third year, the festival re-imagines The Greenway -- 2,200 acres of outdoor green space along the banks of the Red and Red Lake Rivers -- as a community gathering place. This year's line-up features four days of music, including headliners Everclear and Cherry Poppin' Daddies, a dozen food trucks and outdoor games and activities, as well as new interactive storytelling, dance and musical theatre performances.
Admission is free before 6 p.m., with a $5 ticket charge after. But there's a catch – and it's a good one.
"Admission is free before six, but we're not kicking anyone out," says Tricia Lunski, festival manager. "We want to make this a community event. We understand money's tight. If you want to get there at five and leave at seven, we'll stamp your hand and you can come back."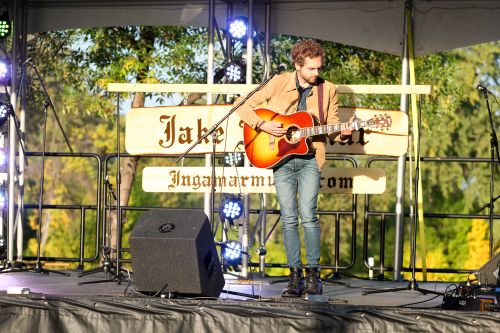 A Super Pass grants attendees admission for all four nights for just $10. Super Pass and daily evening tickets are available at several Grand Forks businesses, including organizers HB Sound and Light (101 N. 8th St), both Grand Forks Happy Harry's Bottle Shop locations (2702 Gateway Dr. and 2051 32nd Ave. S.) and the Altru Gift Shop at 1200 S. Columbia Road.
A limited number of VIP passes offer guaranteed seating, a porta-potty in the VIP area and a dedicated bartender for the four-day festival for $100. The VIP passes are only available at greenwaytakeover.eventbrite.com while supplies last.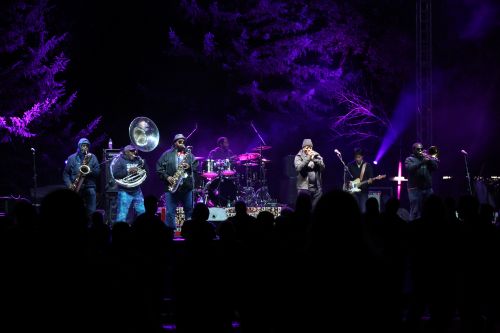 Live Music:
The party kicks off at 5:00 p.m. on Thursday with two Grand Forks duos, acoustic act Holter & Ryan and rock/pop/reggae/folk/funk/hip-hop hybrid Get Schwifty. The Fargo-based five piece Gina Powers Band brings a little alt-country energy to The Greenway before headliner Tim Mahoney takes the stage at 8:30. The Minneapolis singer/songwriter got his start with the Blue Meanies before releasing a string of solo albums starting in 1995 and appearing on The Voice in 2011.
Cherry Poppin' Daddies anchor Friday's line-up. The Eugene, Oregon ska and new-age swing band crashed into the mainstream with the release of Zoot Suit Riot in 1997. The band brings its signature sound (and original members singer-songwriter Steve Perry, bassist Dan Schmid and trumpet player Dana Heitman) to Grand Forks at 9:30 p.m.
The performance caps off a day of music that begins with Grand Forks singer-songwriter Ali Rood at 11 a.m. Friday's line-up showcases a wide range of genres, including country stylings by the Jensen Sisters, Kwaician's soulful acoustic jams and Project: Constellation's folk-pop-punk mashup on guitar and violin. Grand Forks-based The Dank is influenced by funk, soul, bluegrass, folk, rock and blues, while December's Children out of nearby Grafton blends Americana, Alternative, and Alt Country.
Fan favorite Everclear headlines the event on Saturday. Front man, lead songwriter and guitarist Art Alexakis brings the band's alt rock, post-grunge energy to the Greenway Takeover Festival stage at 9:30 p.m., following another full day of performances that starts at 11 a.m. with American roots and blues from Mudbucket and acoustic blues from Peatmoss and The Spreaders. Singer-songwriter Chris Johnson mixes rock, country, blues and folk, followed by the high-energy cover band Paint the Town, Fargo-based rockers, Stovepipes and original, upbeat rock anthems from Bemidji's Wildview.
Sunday is Prairie Public Day, with Minot-based headliners Wild Hands taking center stage to close the festival with their blend of prairie rock and Americana. They perform at 4:30 pm, after a lively Fiddle Rally featuring fiddlers from around the region. Saturday's line-up also features bluegrass, gospel and Americana from The Woodpicks out of Thief River Falls, Latin percussion from Penumbra and a mix of R&B, soul, rock and funk from Fargo's Jessica Vines Band.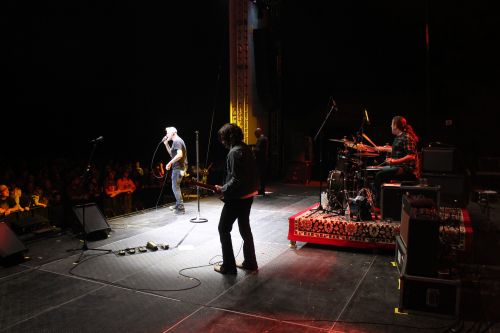 Art at the fest:
This year's new grant program brings a burst of artistic energy to stage and throughout the festival grounds. Funds provided by festival organizer HB Sound & Light and administered by the Community Foundation funded Grand Forks-based Empire Theatre's musical selections on the main stage on Saturday and North Dakota Ballet Company's original choreography performance by local artists. Fellow grantee African Arts Arena recreates a village in West Africa, so festival attendees can and make a mono-chord guitar and play it during a collaborative storytelling experience.
There are additional storytelling events presented by the Grand Forks Public Library scheduled for Friday night and Saturday afternoon. The littlest festival goers will dig the Firehall Theatre puppet show on Saturday afternoon.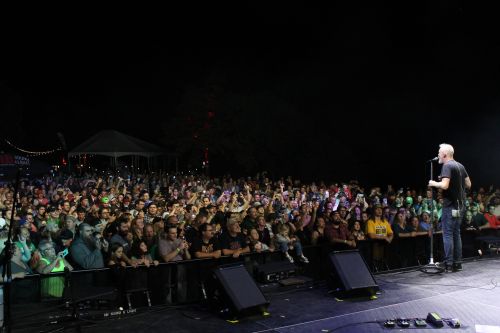 Food Truck Alley:
A carefully curated collection of twelve food trucks features street food from around the region. Standouts include New Flavors, which features Liberian, Indian, and Greek influences, locally made bratwurst from Bratwurst Kings and Little Bangkok, which adapts fan favorites served in its Grand Forks restaurant (think poke bowls and crab Rangoon) to the festival crowd. Newcomers to the festival this year include Jacks on the Go, (known for shaved prime rib and steak on a stick), The Kart, staffed by a crew that does wonders with pulled pork and bacon, and Trail Head & Co, which keeps things fresh and healthy with fruit, yogurt and whole grains.
For something utterly decadent (and not even remotely healthy), there are plenty of options to choose from. Go for D&B Fresh Cut Fries or indulge a sweet tooth with cupcakes, cookies and pies from Paola's Pastries or addictive Sweet Dreams Mini Donuts. Beer and wine are also available for purchase.
Games and activities:Find your Zen with Altru Health Yoga sessions on Friday, Saturday or Sunday. Then indulge your inner daredevil with a leap off the Stunt Jump platform. Unlike other games and activities at the event, the Stunt Jump isn't free – it's $7 for one jump or $10 for two.
There will also be a variety of free activities and games to try during performances and in between sets, so you can challenge your friends to an oversized game of Jenga or Connect Four or help the kiddos blow off a little steam by tossing bean bags or playing ping-pong. You can also try OctoBall -- think dodgeball in an octagon for heightened drama. If you need to decompress, get a hand stamp and walk, bike, or roll along the mixed used trails that crisscross The Greenway. You'll also find quiet shore fishing spots, numerous parks and three disc golf courses along the way.
Details At A Glance:
Greenway Takeover Festival
September 5-8
The Greenway, off 2nd Ave. and N. 3rd St.
Grand Forks, ND
greenwaytakeover.com
All ages, pet-friendly
Free before 6 p.m.
Evening Tickets: $5
Super Pass: $10 for four days
VIP Tickets: $100 for four days
greenwaytakeover.eventbrite.com
Grand Forks Ticket Locations:
HB Sound and Light, 101 N. 8th St.
Happy Harry's locations 2702 Gateway Dr. and 2051 32nd Ave. S.
Altru Gift Shop at 1200 S. Columbia Road.
Good To Know:
Beer and wine are available for purchase at the event.
All food and beverages must be bought with food tickets purchased at the event. Cash, debit and credit cards are accepted. ATMs are available on-site.
No outside food or drink allowed.
Bringing your own blankets and chairs is strongly encouraged.
Off-street and ramp parking are available nearby.
There's no official festival camping, but campsites are available at Red River State Recreation Area across from the festival grounds in East Grand Forks.