​The Highlands to the High Plains
by Jack Dura | .(JavaScript must be enabled to view this email address) | Music | October 16th, 2014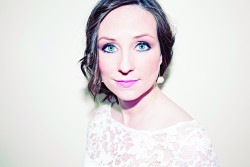 Julie Fowlis adds Scottish style, soulful voice to MSUM arts series
Sit back, relax and enjoy an aural trip to Scotland as singer Julie Fowlis brings authentic Gaelic music to Minnesota State University Moorhead's Cheryl Nelson Lossett Performing Arts Series.
Perhaps best-known in the U.S. for her vocal contributions to the soundtrack of Disney Pixar's "Brave," Fowlis will be showcasing traditional Scottish Gaelic music. With instruments from highlander fiddle to bouzouki to pipes, she brings her husband Éamon Doorley and a two-man backing band to present this concert.
"It's very authentic, Gaelic, Scottish music," said Rebecca Sundet-Schoenwald, the arts series' managing director. "It's very lively at times and then like a lot of Gaelic music, it's also sometimes very soulful and kind of haunting and really gorgeous stuff."
This all fulfills the mission of the Lossett Arts Series to bring the most culturally diverse performances to the stages of MSUM for audiences of Fargo-Moorhead.
"We haven't had anything like this," Sundet-Schoenwald said. "And I think there's a real interest in music from Scotland and Ireland, Gaelic and Celtic musicians. There's been a festival here at the Hjemkomst Center … I do think there are more people interested in Celtic and Gaelic music."
Fowlis' set list runs the gamut of Scottish Gaelic music, from lullaby "Cadal ciarach mo luran (Sleep softly, my beloved)" to the work song "Jerry's Pipe Jig." Original compositions by band members creep into this concert too, with Doorley and fiddler Duncan Chisholm contributing tunes.
Chisholm's "Isaac's Welcome to the World" is an ode to his son upon his birth, while Doorley composed a tune for his great-aunt, "M' fhearann saidhbhir (My Land is Rich)/Nellie Garvey's Favourite."
Quite indeedly this music fits the mission of the Lossett arts series, and like all its artists, the performance space is key. MSUM offers its Gaede Stage and Hansen Theatre as venues, and every artist differs as to which stage is best.
"It's a combination of what the group needs … and just what seems to be a fit artistically," Sundet-Schoenwald said. "That last group (Turtle Island String Quartet with singer Nellie McKay) was kind of a cabaret ensemble and just more intimate, and so [the Gaede Stage] was the right place for them."
Fowlis' group brings a fairly large stage setup with them for this performance, so the Hansen Theatre had to be it. Over 800 seats are available for this concert, and with less than a week until the group arrives, the clock is ticking for tickets.
Be not afraid if you cannot make the performance though. As with many other previous performers, Fowlis is taking her abilities to the learning level and working with students on their skills.
"She is working with MSUM voice students," Sundet-Schoenwald said. "The public is welcome to observe, be audience members if they want to."
This master class workshop will be at noon Thursday, Oct. 23 at MSUM's Fox Recital Hall.
As the second in the series of four performances this season, Fowlis' date rounds out the 2014 year of the Lossett arts series. The next performance will not be for another three months, but in the dead of January, this will be welcome.
IF YOU GO
Julie Fowlis: Music of the Scottish Isles
Thurs, Oct. 23, 7:30 p.m.
MSUM's Hansen Theatre
218-477-2271