Too Tiny To Fail
by Diane Miller | .(JavaScript must be enabled to view this email address) | Music | September 18th, 2014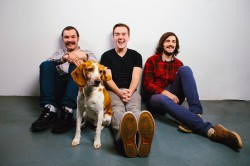 Tiny is the new large. Noisy is the new "Pleasant." At least it is in the world of Benson-based, Fargo-grown alternative rock 'n' roll trio Tiny Moving Parts.
Previously, Tiny Moving Parts were the quintessential young punks who threw some of best basement/house shows Fargo's seen in recent years. Today, this tried-and-true family band (yes, they are all related) from small-town Minnesota is appearing in publications like SPIN, Alternative Press and Vice and in music festivals with celebrated acts like The National and Anti-Flag.
Drummer Billy Chevalier had this to say to HPR about the band's recent experience at Chicago's Riot Fest: "It exceeded all the expectations I had … The show was unreal. It was the biggest audience we've played to."
How have they done it? We think it's a mix of quality musicianship, attractive character, intense desire and experience. The two Chevalier brothers and one Mattheisen cousin have been playing together for 12 years.
Tiny Moving Parts just released their third full-length record, "Pleasant Living." It is a bit of departure from the continuous screaming and yelling heard on their previous records, "This Couch is Long and Full of Friendship" (2013) and "Moving To Antarctica" (2010).
"I guess you can say it's a little more tame, but we still didn't lose that edge, that Tiny Moving Parts touch," said Dylan Mattheisen, lead vocalist/guitarist, of the new record.
"Pleasant Living" is definitely a display of how the band is embracing growing up (at least musically) – way past the teenaged days of The D-Cups, Tiny Moving Parts' former name. The growth has worked to their advantage, as the record has already seen lots of traffic and positive feedback in just the few days it has been released.
"A lot of people don't want to hear changes but we are going to be a band that is not going to put out the same record every time," bassist Matthew Chevalier said to HPR. "The responses to the changes have been pretty great – unexpectedly great."
Billy Chevalier said: "We finished recording it way back in the beginning of March and we've had the masters done by the end of the March so we've just been sitting and waiting very anxiously for it to come out."
While the guys have always been talented, especially as technical instrumentalists, their musicianship is on another level in the new record. The songs are scream-song-able, the lyrics are poignant, the riffs are dazzling and production is top notch.
"It was really beneficial to have so much time to write the album because the album before it was kind of rushed," Mattheisen said. "Certain songs were half done and we kind of finished them in the studio."
This time around, Tiny Moving Parts were able to combine all the things they've learned about music and being in a band, while doing so with craft and attention to detail.
"We wanted to collide all our favorite things in the 12 songs – do chaotic, technical musicianship but yet not be overboard and be catchy and melodic," Mattheisen said.
The first single off the record is "Always Focused," which is indeed a combination of all the things we love about Tiny Moving Parts, with an enhanced, more mature melodic energy. Fans can check out this single put to video on YouTube. It's quite a party.
"We actually wanted to rent out a yacht and play on a yacht with mannequins pretending to have a classy party and yada yada yada," Mattheisen said. "But it was pretty far out of our budget, so we compromised and found a good balance to just do a pool party and we are really happy how it turned out."
Other key tracks on the record include "Whiskey Waters," "Boxcar" and "Movies." Each of these songs has a resonating musical idea, a powerful rhythmic progression and memorable chorus line, appropriate for shouting along to at a live show – most importantly.
Performing live and touring are what the three musicians are passionate about the most. After breaking even from a 54-day tour promoting "This Couch," they realized their success and dreams were real and tangible.
"The fact that we broke even blew our minds," Mattheisen said of that previous tour.
"It's cool meeting people, meeting fans and just connecting with them when they say, 'Your songs have influenced me and my life and mean a lot to me,'" Mattheisen continued on touring. "We hear that honestly quite a bit and it never ever gets old."
Perhaps deep down, that's what attracts people to their music the most. The earnest intensity of the music helps us connect with the lyrics about growing pains and hardships on a special level.
"We are pretty optimistic dudes, which is kind of ironic because people say, 'Dude, you guys are like the saddest band,'" Mattheisen said, most likely about listeners who are referring to his pained lyrics. Though many friends and locals know the entire band as some of the nicest, most fun and energetic guys in the F-M music scene. Just check out Tiny Moving Parts' Facebook page.
"I can't imagine how bad I'm going to feel like when we are done touring constantly and putting out music," Matt Chevalier said. "That's just going to be awful. I know we all dread that. But we are all on the same page and it helps to be family members too."
Locals of all ages can catch Tiny Moving Parts' CD release concert at The Aquarium on Saturday, Sept. 27. Admission is free. Local bands Victor Shores, Baltic to Boardwalk and SuperCruiser will kick off the evening early, starting around 6 p.m.
IF YOU GO:
Tiny Moving Parts CD Release
Sat, Sept. 27, doors @ 5 p.m.
The Aquarium, 226 Broadway, Fargo
FREE, all ages
tinymovingparts.com