​Vampire in the sun: Sharon Van Etten reveals her secrets through music
Music | July 10th, 2014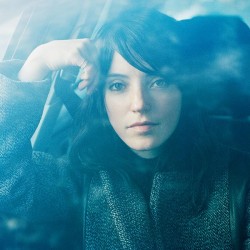 "I am a vampire, I don't know if you knew that," Sharon Van Etten semi joked and revealed to the High Plains Reader this past week.
Truly, the Brooklyn-based singer/songwriter makes it sound like she is a vampire in her crazy infectious tune "Every Time The Sun Comes Up (I'm in trouble)."
Knowing that she's continually and gradually getting more popular, perhaps we should be more worried about just how much trouble she's going to get in. How can someone so dark and so lowly attract so much sun?
Well, that's sort of indirectly stated in her song: the sun is going to come up eventually and there's nothing we, "vampires" included, can do about it. Or, when one thing goes well, another thing will eventually go to hell.
Van Etten's entire new album, "Are We There," is filled with this lyrical and musical poeticism. It's not always literal, per se, but it's always very personally revealing.
Listen carefully to tunes like "Taking Chances" and "Your Love is Killing Me." See how she powers through relationship difficulties and personal insecurities as if she were alone in a dimly lit room with no one else listening.
"I am always going to write pretty stream of conscious and it's always going to be a form of therapy," Van Etten said. "The thing that's hard is actually deciding to share the songs with people … being too personal maybe. Sometimes I wonder if it's too much."
Whether her personal honestly is too much or not, through music, it certainly has a beautiful quality to it. Van Etten's boisterous, canny and weary singing voice, her building-and-releasing-tension melodies and the band's cultivated, atmosphere-heavy sound make for a marvelous, sulky indie rock product.
"I kind of know what I am getting myself into – knowing that I am not poppy and knowing that I am not really accessible and knowing that stuff that I do is kind of weird and kind of dark and kind of schizophrenic; and I have to acknowledge it's who I am," Van Etten said.
Not to say she isn't delightful and charming too. Throughout "Are We There," listeners may chuckle at her sense of humor or smile at her sweet, caressed vocal melodies. Best yet, it's all genuinely produced, which is perhaps the greatest reason, aside from her raw musical talent, that she is so intensely satisfying to listen to.
"I feel really supported by the people around me and in a way I don't feel like I have to overcome anything," Van Etten said. "I just have to come to terms with my brutal honesty -- if it's necessary or not."
IF YOU GO:
Sharon Van Etten with Jana Hunter (Lower Dens)
Mon, July 14, 9 p.m.
The Aquarium, 226 Broadway
$12 advance, $14 doors
ticketweb.com