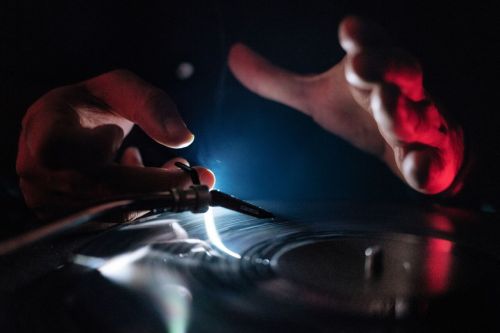 Front Street Taproom has struck up a relation with local record shop, Vinyl Giant. There are two events where turntables are set up and people can play their records. Every Wednesday they host Vinyl Night from 7:00 to 11:00 p.m. DJ AP plays a huge role in helping organize the DJs and always lays down a killer set. He is a Minneapolis native, and has been DJing for over 15 years.
"DJs usually do about an hour set and we are always looking for new people who are interested in playing their vinyl for the room," Aaron Templin, owner and manager of Front Street Taproom, said.
"Which is in part why we decided to start setting up the turntables on Sundays, which we call open turntables. This runs from 5:00 p.m. – 10:00 p.m."
This awesome opportunity allows people to bring their own vinyl to come in and use the turntables. You can play any songs that you'd love to listen at the bar.
"Getting comfortable with the equipment, practicing transitions, or even just plopping down a record and playing it through," Aaron said.
Front Street Taproom has been hosting a variety of vinyl events such as Vinyl Appreciation Night, Vinyl Night and Open Turntables which come with a brilliant idea. HPR questioned what inspired Front Street Taproom to make all this happen.
"We have begun collecting vinyl ourselves, and it's a really fun hobby to get into," Templin said. "I feel like physically putting the needle onto the record gives a person a deeper connection with the music. There is also a distinctive sound to vinyl that you don't get from digital. I also really like sifting through records and never knowing what you are going to find, plus the covers can be a lot of fun to look at. There is so much awesome and unique music locked up in vinyl records, and we love giving people the opportunity to let that music out into an audience."
Front Street Taproom occasionally has special themed Vinyl Nights. Also, there will be an all Michael Jackson Night on June 27th and Chill Party on June 29th in their new cellar with DJ Yonni and DJ AP.
"If anyone is interested in being a part of our Vinyl Nights and learning how to use the turntables, just shoot us a message on Facebook or email frontstreettaproom@gmail.com and we will teach you everything you know on how to get started," Templin said. "It's definitely not as difficult or intimidating as it may seem, plus we give you free beer for playing."
You Should Know:
Front Street Taproom
614 Main Ave Fargo, North Dakota
Vinyl Night
Wednesdays from 7:00 p.m. – 11:00 p.m.
Open Turntables
Sundays from 5:00 p.m. – 10:00 p.m.
Michael Jackson Night, June 27th
Chill Party, June 29th