​Wild Hands: New Dakota bluegrass
Music | May 8th, 2014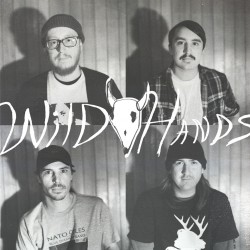 Young Minot musicians to tour the Midwest and Europe
By Konner Johnson
Minot's own Wild Hands have been playing music for only a few years but already have established themselves in the Midwest bluegrass scene. The group will play their first show at The Aquarium with the award-winning Minnesota string band Roe Family Singers.
Wild Hands are known for their rock-Americana-bluegrass style that delivers compellingly honest songs about this area of the country. For a smaller, isolated North Dakota town, Minot has a thriving music scene, according to the band. It wasn't too long before all five members met and decided to make music together.
"We all loved each other's bands, so eventually we just wound up in the same room together with instruments," said Max Patzner, lead vocalist and guitarist.
The band had a huge first first gig, opening for Duluth's infamous folk musician Charlie Parr in October 2012.
"It was a great first show; everyone genuinely seemed excited about it so that was encouraging," Patzner said.
Since their debut show, Wild Hands have continued to play all around the state, sharing the stage with acts like Matt Hopper and the Roman Candles, Roe Family Singers, Pennyroyal from Minneapolis and Al Scorch from Chicago. They also were featured on Prairie Public Television's "Prairie Musicians" last January.
Wild Hands have played once in Fargo for a songwriter series put on by Darrin Wentz at The HoDo.
"It's rare to have an audience in that kind of setting that is so into listening to the songs. It was a great show," says Patzner.
The band's first full-length album, "Oh, River," is expected to be released this summer. It's been a work in progress since last July.
"We really took the time and made the album we wanted to make and are really proud of it," Patzner says.
On Feb. 1, the band successfully raised almost $10,000 on Kickstarter to fund the entire record, with enough funds left over cover some travel expenses.
This summer hopes to be a momentous period for the band as they set out on a Midwest tour, which will finish in Chicago. Down the road, they will have a big hometown CD release, where fans can get first dibs of the album on vinyl. Further down the road, Wild Hands will travel to California, even Europe, to promote the record.
Wild Hand's music is available for free on Facebook and Bandcamp.
IF YOU GO:
Wild Hands w/ Roe Family Singers and Boots
Fri, May 16, 9 p.m.
The Aquarium, 226 Broadway
$5 or $3 with Neko Case stub