​Wimps, please and thank you
Music | August 1st, 2013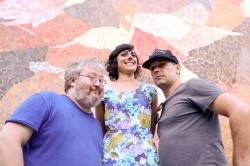 This Sunday, The Aquarium will host an authentic, raw, rough and quirky Seattle-based indie-punk band. They are called Wimps.
This could quite possibly one of the most purely fun non-locally fronted indie shows in Fargo this year. With rock-energized tracks like "Stop Having Fun," "Grumps" and "Nap," Wimps' songs are short, banging and humorous, in a quirky sort of way.
There is plenty of calling and responding, shouting and repetition that could entice crowd participation. Fist pumping, head nodding and jumble-style dancing are encouraged. Their chorus lyrics are quite easy to catch on to too, for example: "I slept in late/I didn't mean to" or "Everybody/stop having/fun, yeah."
"I don't think of myself as a super lyricist," said lead vocalist/guitarist Rachel Ratner. "I usually just come up with a concept, like, 'Oh this would be an idea for a song.' It's usually done pretty quickly as you can probably tell by how complicated and deep they are." (laughs)
This off-the-cuff and to-the-point writing style is nothing to quickly dismiss. Ratner and her band mates (Matt Nyce and Dave Ramm) sell listeners and concert-goers with their winning character, peppy flavor and satisfying rawness.
The group is less than two years old and already they've released a 12-song album, "Repeat," earlier this year. They will be touring all across this country to promote their new release starting August 2 in Portland. By August 10 they will be in New York.
"We're all in our 30s and it's just exciting to be in a band. So it's just half for the adventure of it," Ratner said. "We are not trying to 'make it' as a band."
Even though Ratner has never been to Fargo, she said she has a hunch our city might be similar to her city in terms of its music community.
"Seattle's got a pretty tight knit music scene so a lot of people are in multiple bands with different friends," she said. "So I know the other two members of the band just through playing music and I would always go see their bands and they would go see my bands, so we've been friends for a while.
"I've heard really good things about (Fargo). I have other friends in bands that have stopped there who stopped in that said the shows are really fun."
IF YOU GO:
WHAT: Wimps
WHERE: Aquarium, 226 Broadway
WHEN: Sun, Aug. 4, 10 p.m.
INFO: 21+; $5