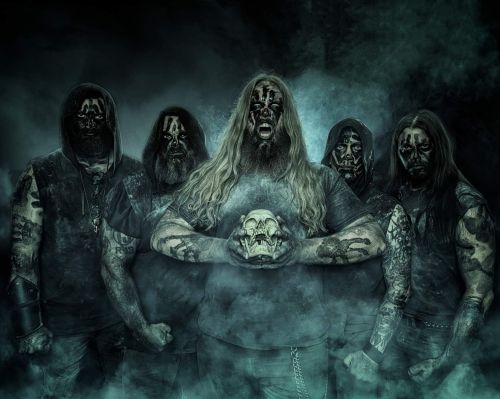 Back in January, KRFF Radio Free Fargo was going to have a benefit concert featuring the metal band Witchden from Minneapolis. Fargo got hit with a massive blizzard that just so happened the weekend of the concert. However, as the old adage goes, "Better late than never." The parties involved were able to book a new time at the Aquarium and Witchden and the rest of the lineup will still have the opportunity to return to the area for the first time in almost a year for some long overdue shredding.
"We're happy we could get a makeup show so quickly," said Jeff Moen, Witchden's drummer, who I had the opportunity to interview recently. Moen is also one of the three original members of the band, along with bassist Andy Green and guitarist/backup vocalist Adam Rivkin. Since their second album the lineup has also included vocalist Blake Reed. Witchden is entering their tenth year as a band, having gotten their start in July of 2010.
"We weren't even going to take the band seriously," said Moen. Their humble beginnings consisted in posting four basement tracks to MySpace. However feedback for the material was spectacular, and the rest is history. A decade later the band has released three albums: "Consulting the Bones" through Zero Budget Records, the self-released "Salt the Earth", and "Deus Nihil" through Twin Town Tyrant last Halloween.
Since the beginning, Witchden has resisted being pigeonholed into a particular genre of metal. "We don't want to fit into one neat category," said Moen. Given the varied musical experience of those involved, perhaps this shouldn't come as a surprise. Before his tenure with Witchden, Moen played with a noise rock band as well as the sludge metal band No Funeral. While their first album bore similarities to stoner metal, since then they have incorporated elements of black, death, and sludge metal. This amalgamation of disparate elements like Reed's death growl and corpse paint reminiscent of black metal creates an image and sound uniquely their own, all the while paying homage to sources of inspiration as varied as Bolt Thrower and the Melvins.
"We want to do something new every album," said Moen. So far, the reception for every new element that Witchden has incorporated over their history has been positive. "We always try to bring more into it and have it be more of an experience." That's what led them to start slathering on corpse paint for shows, which Moen joked he was not a fan of. "I was outvoted," he chuckled. They also plan to incorporate banners created by a friend of the band, fog machines, and animal skulls from Moen's girlfriend who is a collector and seller of oddities to create a sense of atmosphere. One constant of their stage shows have always been green lights. While this is the first time that Moen will have performed at the Aquarium with Witchden, he has performed there before with the sludge band No Funeral. "It's a great venue."
Also performing with Witchden that evening will be Fargo's own black metal duo Demifiend and the psychedelic El Supremo, as well as Sioux Falls' blackened sludge band Green Altar. A lineup like that is bound to deliver a night chock full of brutal riffs, heads banging, and horns thrown in the air. It'll be hard to remember the cold weather outside when everyone's faces are being melted at KRFF's next benefit concert.
IF YOU GO:
Witchden & Green Altar w/El Supremo & Demifiend
Friday, February 21, 9pm
The Aquarium, 226 N Broadway, Fargo