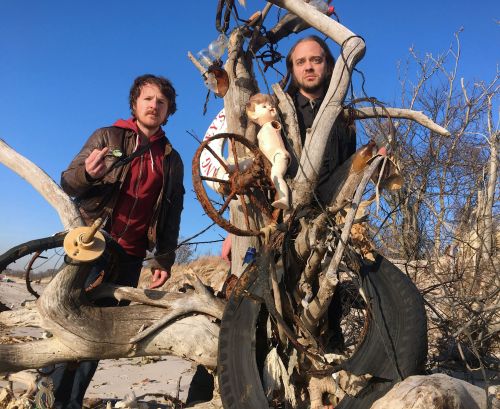 When asked to describe their sound, Max Dameron guitarist and vocalist of the Portland, Oregon based two piece Wizard Rifle replied: "People call us a doom band sometimes which I think is funny because we are pretty spazzy."
On multiple platforms their sound has been categorized as psychedelic, sludge or thrash metal topped off with impressive vocal harmonies. Though they don't just stop with their uncategorizable sonic landscapes, drummer/vocalist Sam Ford is a working visual artist as well. We had a chance to speak with the duo about their art, their music and their latest self-titled album which was mixed by Portland based producer and metal guru Billy Anderson.
High Plains Reader: I just read an interview with http://zapbangmagazine.com that Sam is a visual artist as well as a musician. What came first for you--visual art or music? In the article Max mentioned that you often introduce sci-fi and fantasy imagery within your lyrics. Do you ever find one art form informing the other?
Sam: Probably music: My parents have always had music playing at home all the time since I was born, so I've been listening very literally from the crib, it was wonderful and I still listen to so many of the records they play. I don't remember when I first started drawing, but I remember watching my mom draw things for me so I could see how she did it, and me doodling the monsters I saw in the Ray Harryhausen movies we'd watch--'"Clash Of The Titans" was my favorite. That probably explains some of the dorky shit I like writing lyrics about! (laughs) A lot of it is my own original ideas written in esoteric word-salad but sometimes I like to write lyrics based--unplagiarized-- on books. My part of "Organ Donor Song" is about Gene Wolfe's "Book of the new sun" series, "Funeral of the sun" follows William Hope Hodgson's epic "The House On The Borderland," and "Frazetta" is exactly what you'd expect from the title.
HPR: Sam, I saw that you apprenticed under Paul Chadwick, who's a veteran of the comic industry what was that like?
Sam: It was amazing and changed the course of my life . Paul is one of the sweetest and most generous people I've ever met, to mention nothing of his talent and legendary portfolio. He taught me virtually everything I know about the visual arts, and introduced me to a wide range of art history, music, film-- things that changed my whole aesthetic and creative outlook. A big part of the reason I never made the leap from traditional to digital art is because I place so much value and derive so much pleasure from the techniques and processes he taught me, it was a great opportunity that I'm very grateful for.
HPR: Sam also designed some of one Wizard Rifle's album covers, did you two collaborate on the concept--What was that process like?
Max: Sometimes I come up with the concept and Sam makes it happen. For all the art on this record Sam just told me what he was planning and did it. We like doing sculptures for our covers, and he said he was going to paint a pane of glass and make a sculpture out of trash around it and I was down.
HPR: How did Wizard Rifle come to be, I see that you two met in college... Was Wizard Rifle always a two piece?
Max: Initially me and some buddies recruited Sam into a 4-piece incarnation of WR. Then we kicked Sam out of the band so that my friend's friend could join on drums. Then it turned out that guy wasn't a very good drummer. (laughs)
That ensemble fell apart because of too many cooks and too many schedules to coordinate. Then me and Sam ran into each other and decided to just go for it and released our first album as a duo. Then we had a bass player and recorded our second album with him. Then he left and we were happy to have it back to just the two of us. We've had offers sure. Only a couple of them would have had the chops to keep up, and those individuals were too busy in bigger bands to commit, so we are two. Makes it very easy to play one-offs and such, not having to buy five plane tickets etc.
HPR: How did the name Wizard Rifle come about?
Max: I was playing Super Mario World on SNES and a wizard kept killing me over and over again. My friend Noah was watching and said I need a wizard rifle to take that fool out, and we were both like "that's a band name".
HPR: Can you tell us a bit about your new album like the writing or recording process?
Max: This album was a very long and meticulous process. We wrote most of the songs in New York, and that took us two-years. We were just pulling apart every detail endlessly and bickering over every note. We went into the studio with Billy Anderson and knocked out the basic tracking in five days. The songs were very tightly arranged/rehearsed at that point and I knew precisely how I wanted it to sound so it wasn't too much messing about. Billy nailed the sound, it's exactly what we wanted.
IF YOU GO:
Wizard Rifle at the Aquarium
Friday, September 13, 9 p.m.
The Aquarium, 226 N Broadway, Fargo