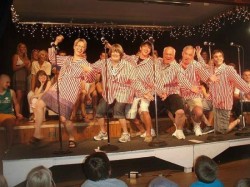 It's a summer of celebration at the Fair Hills Resort on Pelican Lake in Minnesota lakes country. The resort's long-running musical variety show Hootenanny ("The Hoot") enters its 50th season this month, marking half a century of fun for all.
Family-owned since 1926, the Fair Hills Resort has had singalongs and "community sings" since the 1930s. What started as simple beach bonfires and marshmallow roasts blossomed into an original onstage musical variety show by 1965, with resort owners, staff and guests making music and performing as one.
Larry Swenson, the resort's director of fun, has been involved with the Hoot for over 40 years with 28 of those years as director under his belt. He has contributed numerous songs of his own styling to the program and even choreographed a few routines (including the renowned "Pelican Lake" number).
With a new repertoire for the Hoot every year, keeping the program fresh is paramount. While a few audience favorites have stuck with the show through the years, new numbers are added annually, and Swenson's imagination is inspired year-round.
"All year long, I listen to public radio or listen to stations," he said. "When I hear something, I write it down, even if I'm driving, I go 'Oh, there's a song!' so I have a whole pile of ideas."
Numbers in the Hoot have included everything from barbershop quartets to the resort's singable telephone number to Handel's four-part "Hallelujah Chorus" to a lake jump finale. Every instrument from kazoo to ukulele, mandolin to guitar, flute to French horn has been utilized in this show and audiences are enthralled every time. The people performing this merriment are mostly comprised of the resort's staff, and an enormous array of Earth's citizens has appeared onstage in the Hoots across the years.
"Every year we have new staff and we have a few old ones that come back but we've had about between 2,800 and 2,900 staff from all over the world have been on the show," Swenson said.
Around 50 or 60 resort staff members make up the show, and this year, 13 countries are represented in the ranks. The biggest challenge is that many of the staff have never performed onstage before, so getting them acquainted and acclimated to the stage is crucial.
"Most of the internationals have never performed onstage before so we sort of turn them into performers by the end of the summer," Swenson explained. "They also perform and it's quite impressive."
For this summer, Swenson is inviting back some of the many alumni that have appeared in the Hoots. Those with memorable acts or who helped get the show off to a start in the '60s have been asked to return for this special season.
"There's one lady … who does this 'Ta-ra-ra Boom-de-ay' that has people laughing so much that they're on the floor," Swenson said. "n all our summer shows we won't necessarily have somebody every week but we're calling back a few of the alumni to come and do a special, special number with us."
It's remarkable to note that along with this 50-year milestone, the Fair Hills Hootenanny is (to the best of the staff's research) the longest running musical show in the Midwest and quite possibly the country. Swenson says their biggest competition is the Oberammergau Passion Play, performed annually in Oberammergau, Bavaria since 1634. For half a century on the same lake, however, the Fair Hills Hootenannies aren't doing too bad.
Two-thousand people see the shows each summer, and from here on out, new skits, songs and seasons are on the horizon for the next 50 years in this show's history. For this summer, the Hoot has some specialties planned but it all comes down to what the show does best: having fun.
IF YOU GO
Fair Hills Hootenanny
Fair Hills Resort, 24270 County Highway 20, Detroit Lakes
Every Tuesday from June 17 to August 19 at 8 p.m.
218-847-7638