Healthy area theater scene sees nine productions over nine nights
December may be a cold month, but stages across Fargo-Moorhead are on fire as nine concurrent, consecutive theater productions dot the calendar for nine straight nights.
From student shows to community companies to downtown stages, all performances offer a different story and style of theater. Now is the time to get out and explore the burgeoning F-M theater scene, and without further ado, here's a rundown of the nine shows running across nine nights.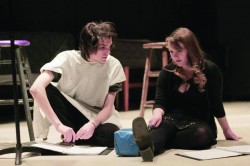 "ben and trish." at MSUM
Everything starts with Minnesota State University Moorhead senior Michael Johnson's original play "ben and trish." at MSUM's Gaede Stage. This student-written work has been years in the making and sees its premiere with the help of Blackfriars, the MSUM theatre honor society.
With only two actors and no set, this show is fairly bare, but there's a still a story here. Johnson has aspirations of taking this play as far as it will go, to the Kennedy Center College Theatre Festival and beyond, if possible.
As an area actor, Johnson believes F-M audiences are "hungry" for theater, and a stretch of productions like this should hit the spot.
"Fargo's in a real special place right now as far as theater goes," he said. "The amount of growth that's happened in the last five years is amazing."
WHEN: 7:30 p.m. Sat., Dec. 6
WHERE: MSUM's Gaede Stage
TICKETS: 218-477-2271
FMCT's "Willy Wonka"
Fifty years after its birth as a children's book, the story of "Charlie and the Chocolate Factory" comes alive onstage in the Fargo-Moorhead Community Theatre rendition of "Willy Wonka."
Roald Dahl's story sees more than 40 people, from schoolchildren to senior citizens, construct this show, which is built in part on the theme of "Pure Imagination."
Director Adam Pankow knows how well-known the tale of poor Charlie Bucket and the wily chocolate's is to audiences, and he hopes FMCT will embody the story's spirit for those stepping out to see it.
"The story and wonder of the source material is ingrained in our literary consciousness," he said. "It's always fun to see the familiar come to life. Plus, this is a colorful tale for all ages making it the perfect show to enjoy with your family by your side."
Pankow is also a theater arts instructor at Sheyenne High School, and knows the reach of theater across the community, even in this last year.
"At any given time in the past month there were multiple theater offerings playing concurrently," he said, "all with enthusiastic audiences filling seats and sending a strong message that art is important and valued in our community. It's encouraging for an artist or artistic group to be validated in that way."
WHEN: 7:30 p.m., Fri.-Sat., Dec. 5-6, Thu.-Sat., Dec. 11-13, 2 p.m., Sun., Dec. 7 & 14
WHERE: The Stage at Island Park
TICKETS: 701-235-6778
Student Directed Scenes at Concordia
Concordia College students get a theater showcase all their own early next week in the Frances Frazier Comstock Theatre's Lab Theatre.
Students of the Beginning Directing class all have slots to present scenes from larger works, each under 10 minutes across two hours. A focus on the relationship between director and actor is a driving force in this showcase, highlighting a collaboration found in all theater.
"Theater is always a collaborative art," theater faculty David Wintersteen said. "We're always working in teams. We're always working with others to create the art."
Eleven directors and over 30 actors work together to present the student scenes, and it's not just theater arts majors found here. From biology to broadcast news, Concordia's theater works see a range of student majors as it does productions.
Wintersteen lauds F-M's range of productions and its broad base of performance companies too: from schools to community troupes and newer companies.
"This town has really embraced theater, and understood and recognized its value," he said, adding, "As a combined city, there is just so much going on and a breadth of support."
WHEN: 7 p.m. Mon. & Tue., Dec. 8 & 9
WHERE: Concordia College's Lab Theatre
TICKETS: 218-299-3314
MSUM's Works-In-Progress Dance Showcase
For many actors, the triple threat of acting, singing and dancing is a must-have, and Craig Ellingson's dance students highlight that last skill in MSUM Second Stage's works-in-progress dance showcase.
Thirty students from Dance for the Stage I, Ballet I and Dance Production courses come together for this one-night-only event at the Hansen Theatre. Dance styles from ballet to jazz to hip hop comprise the night's program. In under an hour, this presentation offers a style of theater not typically available in the area outside of the F-M Ballet and Bonnie Haney.
"It should be a quick-paced show with few lapses in between," Ellingson said. "It's just a nice way to end your semester if you're a student, and if you're not a student, it's a nice entrée to the world of dance as performed by local dancers."
Ellingson, too, points to the area theater scene as thriving onstage and in seats.
"This past weekend, I saw four different shows, so the theater scene is alive and well," he said. "It's wonderful to be part of a community that not only produces as much work as it does, but there's plenty of audiences out there to support it."
WHEN: 7:30 p.m. Tue., Dec. 9
WHERE: MSUM's Hansen Theatre
TICKETS: 218-477-2271
Theatre NDSU's "The Women of Lockerbie"
At North Dakota State, students bring another show to the stage with Theatre NDSU's fall semester play "The Women of Lockerbie."
Based on the 1988 bombing and crash of Pan Am Flight 103, this play centers around (you guessed it) the women of Lockerbie, Scotland, and their attempts to salvage the crash victims' clothes to launder and return to their relatives. It's the story of an act of love ringing true in a wicked world.
"What the play is trying to do is to find release through the actions of the characters, to try and help them overcome the tragedy," said director Jess Jung. "So that's what we're watching the characters do, and hopefully that's what the audience will see as we go through."
WHEN: 7:30 p.m. Thu.-Sat., Dec. 4-6, Wed.-Sat., Dec. 10-13
WHERE: NDSU's Askanase Auditorium
TICKETS: 701-231-7969
Davies High School's "Jekyll & Hyde"
High school students also step onstage during this nine-night streak of shows, with a musical of more of a Halloween quality offered to audiences in this holiday season.
Over 70 students from Davies High School built "Jekyll & Hyde" onstage, with Rebecca Saari at the helm. Due to her maternity leave this fall, "Jekyll & Hyde" swapped slots with Fargo South High theater instead of switching shows, as Saari knew they had a great concept and cast for it.
"I wanted to bring it back to the true story of Dr. Jekyll and why he chooses to sacrifice himself for his own work," Saari said, explaining that darker musicals like this are often sexually emphasized. She also wanted to explore the original aspects of the Robert Louis Stevenson story with her students.
Saari has noticed that the student performers have enjoyed the time period and eeriness of the story, and she remarked that "Jekyll & Hyde" is a departure from Davies' past productions, which were set in the 1930s and '40s. She also commented on the state of the area's theater scene.
"I always love the fact that we have so much theater in Fargo-Moorhead," Saari said. "I think that we are a rich arts community, and I think that the more we can support one another in our efforts, the better."
WHEN: 7:30 p.m., Thu.-Sat., Dec. 11-13, 2 p.m. Sun., Dec. 14
WHERE: Davies High School
TICKETS: 701-446-5768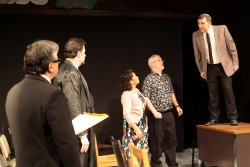 Theatre B's "Storefront Church"
In its 12th season, Theatre B has contributed much to area theater since the early 2000s, and its latest play, "Storefront Church," brings out themes of what's important in life, especially around the holiday season.
Set in the modern-day Bronx, a collection of residents, ranging from a beleaguered borough president to a suspicious secular Jew to a down-on-his-luck preacher, try to a revive a half-finished storefront church.
It's a show about finding your way amid commerce and commercialism, and director Patrick Carriere has compared it to "It's a Wonderful Life." But overall, "Storefront Church" is its own animal.
"It's not that old chestnut with Jimmy Stewart, the Frank Capra classic. It doesn't have that flavor," he said, "but the same issues are at play."
While Theatre B puts on four productions in a year, their runs are weeks-long and all the more to gobble up on the theater scene in Fargo-Moorhead -- especially so since themes of social importance can be gleaned from each one.
WHEN: 7:30 p.m. Thu.-Sat. until Dec. 27, 2 p.m., Sun., Dec. 14
WHERE: Theatre B, 716 Main Ave. T
ICKETS: 701-729-8880
FMCT's "Willy Wonka JR"
A shorter, children's version of the Roald Dahl classic steps onstage for two Saturdays in December, bringing together 22 youths for this one-hour show.
With several aspects cut from the full-length musical for this pared-down offering, FMCT's "Willy Wonka JR" still shares some of the same challenges with the adult production's version: for one, tackling the special effects for the naughty children's exits.
"We've been trying to be very creative about those special effects," director Darren Sitz said, "like when Augustus falls into the chocolate [river] … and when Violet gets turned into a blueberry. But I'm surprised how some of them actually work very well."
Sitz says the entertainment factor is there just as much as in the full show, and audiences can expect some surprises from the young actors, who are all under 18. He also lauds Fargo-Moorhead theater offerings as having something for everyone.
"There's a lot to do no matter what age you're at or what level you're at."
WHEN: 2 p.m. Sat., Dec. 6 & 13
WHERE: The Stage at Island Park
TICKETS: 701-235-6778
F-M Opera's "Amahl and the Night Visitors"
Sandwiched in its season between two productions never before performed in Fargo-Moorhead is the F-M Opera's production of "Amahl and the Night Visitors."
Originating as a television production in 1951, this Christmas opera follows a woman, her son and the three wise men stopping in on their way to visit the Christ child. It's a production the F-M Opera has done many times in the past, but this year sees a venue change to Concordia College.
For executive director David Hamilton, this opera has resonated with him nearly all his life, and he touts it as a great family outing for all.
"It really is perfect for bringing children to because it's short, it holds their attention, there's lot of stuff going on," he said. "It really is intended for children of all ages, shall we say."
This production comes at the end of the nine nights of consecutive theater in Fargo-Moorhead, an occurrence on the calendar that Hamilton agrees offers a nice cross-section of theater for everybody.
"It's extraordinary what all is going on here," he said. "The number of options that people have for going to theater here -- all of the musicals that are produced, especially in the fall, and then [companies] like Theatre B with all of the cutting-edge work that they do, and all of the different offerings that you find at The Stage at Island Park, and then what we're able to offer operatically -- it's grown so much in the last few years."
WHEN: 2 p.m., Sat.-Sun., Dec. 13 & 14
WHERE: Concordia College's Mainstage Theatre
TICKETS: 701-239-4558
[Note: While all of these productions' run dates and times were double-checked, it never hurts to call ahead before attending any performance.]