A holiday tradition: The Nutcracker
by HPR Contributor | .(JavaScript must be enabled to view this email address) | Theatre | December 18th, 2019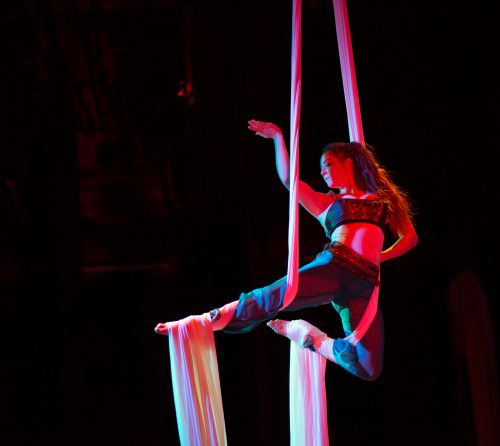 by Jill Finkelson
jsfinkelson99@gmail.com
The original 1892 version of the Nutcracker panned after Tchaikovsky begrudgingly set the score as a favor. It passed without fanfare, overshadowed by Sleeping Beauty and the like.
However, the show went through a renaissance and now can be seen all over North America during the holiday season. The score is universal and even those who shun classical music would be hard pressed to say they don't recognize the Dance of the Sugar Plum Fairy or the Waltz of the Flowers. For the 8th year, we have it performed here in Fargo by the FMBallet. I reached out and spoke with Lacey Gasper, the Director of Marketing and Design and the stage manager for the Nutcracker.
HPR: How long have you been putting on the Nutcracker?
Lacey Gasper: The Classic Nutcracker is in it's 8th season and 7th season with our live professional orchestra (which we have named The Wonderland Orchestra). Each year we add something fresh and new for the audience to see, whether it is a costume, new choreography, set piece, or prop.
HPR: I read there will be some guest performers this year, could you tell us a little bit about them?
LG: Each season we bring in a few guest artists to perform alongside the FMBallet company and cast. For the past several seasons, Craig Ellingson (MSUM professor) has played the part of Drosselmeyer. You will see him on stage once again this season in the role. It is so fun to see what new characteristics he brings to the role.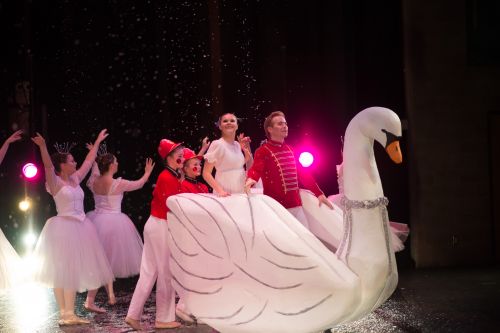 About 5 years ago we introduced Aerial Silks to our performance in the Arabian Dance. We hired professional Aerial Silk artist, Marina Petrano to train dancers in our company to perform this high sky dance. For the past two seasons, Marina herself has performed this dance and this season she is bringing her aerial silks partner, Jen Schlitt to perform alongside her. These two professional aerial silk artists travel around the country to renaissance festivals and fairs throughout the year with their comedic aerial silks act. Their company is called Cirqa Brava. We are very excited to have these two artists on stage.
Jayson Douglas will also be joining our cast this season in the role of the Cavalier. Jayson currently dances in Minneapolis / St. Paul with James Sewell Ballet and will be dancing soon with Ballet co.laboratory in Minneapolis. In the past he has danced with San Jose Ballet, Charlotte Ballet, Lexington Ballet, Ballet Theatre of Maryland, Ballet Nouveau Colorado and Bowen McCauley Dance. He is also a master instructor and choreographer.
Seven years ago we added a live professional orchestra to our production. The musicians are area musicians who are professors in music, or even play with the FM Symphony. We have several members who have played all seven seasons, including Orchestra Conductor, Dr. Christina Chen-Beyers, whom we fly in each season now since she moved away several years ago. She, with the help of Jane Linde Captistran gather local musicians each season for an amazing sounding orchestra. They rehearse as a group for less than 4 days and sound like we have tracked the production with a CD. You will not see a ballet with a professional orchestra without going to a major city.
HPR: I also read there is original choreography. It's exciting to see some fresh takes on an old standby.
LG: The Classic Nutcracker is choreographed by FMBallet's Artistic Director, Matt Gasper. He loves to tell a story with dance and captivate the audience. Making dance enjoyable and fun for all ages and patrons. Each season he refreshes the choreography a little bit depending on the cast. These are sometimes slight adjustments to the amount of people in a dance piece or he will re-choreograph the whole number.
This season we have 96 dancers in the cast. This includes the FMBallet Company dancers, Guest Artists, and the local dancers ages 6-adult that auditioned back in September. There are a lot of moving pieces that go into this production beyond the dancers. He also works with the orchestra and technical staff to have everything run smoothly.
HPR: Any highlights you'd like to talk about?
LG: One new element this season is we are using a projected background vs physical backdrops. This is a new element at NDSU Festival Concert Hall and we are excited to try it out. Instead of two backdrops, we are able to introduce 10 different scenes using projection. This will also give us more dance space for the Party Scene and Battle.
HPR: Can I ask your favorite dance from the ballet?
LG: As the marketing director and the Stage Manager of the production (I call all the cues for lights, curtains, etc), I have the luxury of watching the show from the audience perspective for each show. I have two favorite dances (or three), well I just love the whole production.
But the Party Scene really draws me in, I really want to go to Drosselmeyer's party! It looks like so much fun. The dancers do a great job captivating the audience and making them feel a part of this holiday gathering.
I also love watching Arabia. The beautiful aerial silk dancers really take your breath away. I remember the first season we added this element, the audience was so quiet you could hear a pin drop.
And the company ladies dancing Flowers is just stunning! This number not only has beautiful dancers, but the amazing lighting, by light designer, Brian Lynch, really enhances this piece. I love the choreography Matt Gasper has placed on the dancers as well. Fun Fact: this is one of the only numbers in the whole production where the choreography has never changed. And finally the flower tutus are also stunning. FMBallet's costume designer, Suzanne Spiese reconstructed and designed these costumes last season. This number makes you want to be a ballerina!
IF YOU GO:
December 20 and 21, 7 pm
December 21 and 22, 2 pm
NDSU Festival Concert Hall, Fargo