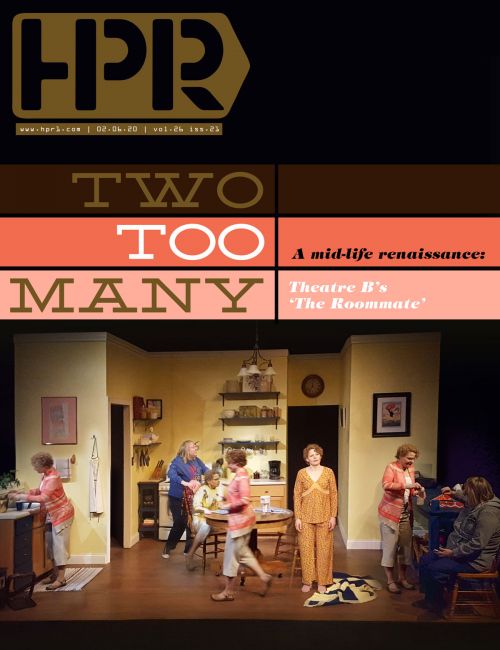 by Erin Hemme Frostlie
froslie@cord.edu
Nearly everyone has a roommate horror story. Maybe it's the college roommate who refused to do dishes. Or the one who promised to pay rent but didn't. Or a roommate's friend of a friend who asked to stay for a weekend, left three months later, and didn't even say thank you.
Yes, there are stories that make one cringe. And then there are those roommate relationships that evolve into something deeper and more transformational than anyone first imagines.
"The Roommate," which opens at Theatre B on Feb. 7, falls into this latter category. The play explores the twists of female friendship and mid-life renaissance as two strangers move in with each other. Sharon, a recently divorced housewife, seeks a roommate to share her now-empty, yet cheery home in Iowa. Answering the call is Robyn, who needs a place to hide and a chance to start her life over.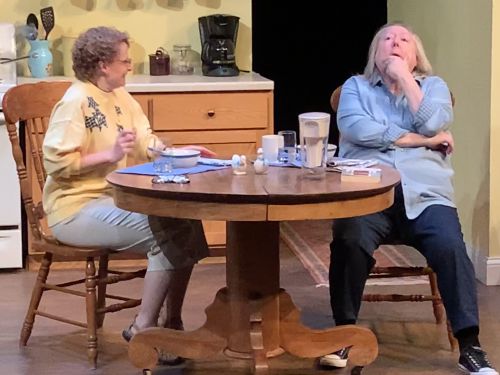 The 50-something women appear to have little in common, but their relationship evolves into an unlikely friendship as they share space and swap stories. The women recognize that despite their divergent pasts, they both seek something new – relief from the isolation, a new vision for the lives they feel trapped in.
Soon Sharon begins to pick at Robyn's secrets, and things spiral out of control. As a result, the play has occasionally been described as "The Odd Couple" meets "Breaking Bad" or "Thelma and Louise." As Sharon says early in the play: "I guess everybody wants to start over. Just burn it down and start over."
"The Roommate" stars Carrie Wintersteen, Theatre B's executive director, as the bubbly, slightly nervous and sheltered Sharon, and ensemble member Pam Strait as Robyn, a vegan, pot-smoking lesbian from the Bronx.
The women knew as soon as they read the script that the company would produce it.
For one, the production fit in well with Theatre B's 2019-20 theme – the challenges and nuances of human relationships. The company presented "Hamlet" and "The Last Schwartz" earlier in the season; "The Father" will come later this spring. Each play challenges what we know about human connections, whether through chosen or forced interactions.
"The entire season has been about how difficult relationships are and how people get through them, to them and thrive in them," Strait says. "This script ('The Roommate') is a gift in that sense."
Secondly, the playwright is a familiar name to Theatre B audiences. Jen Silverman wrote "The Moors," an absurdist comedy inspired by the world of the Brontë sisters. Theatre B staged the play in 2018. Silverman has said that "The Roommate" is in direct conversation with her previous works. Many of her plays are about people who succeed – or fail – at transforming their lives.
In "The Roommate" Silverman demonstrates that middle age women can indeed transform. They do not need to be predictable, even as they are relatable. As Silverman puts it, the play is "tribute to badass women in their 50s."
The publisher labels the play as a dark comedy, but Wintersteen points out that theatrical genres can be limiting. She describes "The Roommate" as a comedy with meat on the bones and complexity. The script is clever with good banter while it asks deep questions about expectations, family relationships, and the personal costs of choices. Laughter and heart-breaking pain go hand-in-hand.
The bonus of presenting "The Roommate" is that the two-hander features weighty and significant roles for middle age women. Sharon and Robyn are nuanced and surprising. The journeys they embrace prove that one's 50s can be as rich and rewarding as any other time in a woman's life.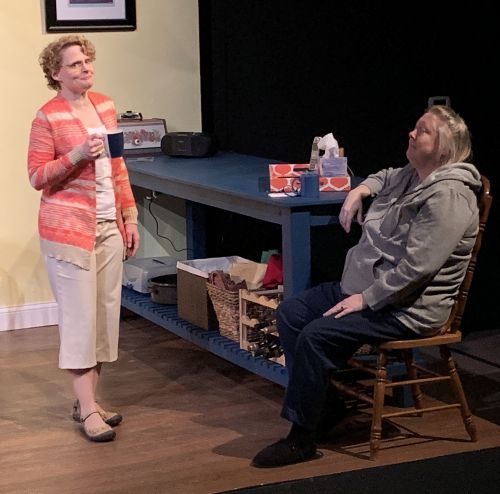 "To find a play about two 50-something women when you have two 50-something women in your ensemble, you go – jackpot!" Wintersteen says. "There are plum roles for mature women out there, but it is very rare for a small cast to star two middle-age women."
And by placing these drastically different women in an unlikely situation, Silverman creates an environment where evolution can take place.
"Neither has had a roommate before. It's a new experience, so you have these two opposite people living in a tiny space and they can't get out," Strait says. "They have to cope."
Wintersteen and Strait relished their own close friendship before taking on their current roles. They describe their relationship as being more like sisters than close companions. And yet, "The Roommate" has thrust the two women into a new level of intimacy as they play off each other on stage and explore the deepness of each character.
While Wintersteen and Strait were confident the company would produce the show, they were less certain about which role they would embrace. At a preview of the Theatre B season, Strait and Wintersteen played opposite characters during an excerpt of "The Roommate." And, for a brief moment, the women considered swapping roles halfway through the two-week run, an idea that lost momentum as the realities of preparation took priority.
"In some ways, it's harder than a one-person show," Wintersteen says of putting on a two-person show where both characters constantly occupy the stage. That said, every rehearsal reveals something new about Sharon and Robyn. "I continue to be surprised by the places the playwright takes these two characters," she says.
Director Jon Micheel Leiseth agrees. As he read the script, he was fascinated by both the ways he could identify with the characters and the ways in which they were unknown. "I associated with both characters, and I still wonder, 'What's this? How'd we get here?'" he says. "These characters are hungry for something. The life they're living is not working for them and they want to try something new."
"And there's something unique and quirky about Silverman unpacks that."
After all, who gets a chance to rethink and repurpose life when it feels like the story should already have been written? That's exactly what makes the premise behind "The Roommate" fascinating. Discovery and opportunity can happen at any stage of life, at any age.
"I admire these women for starting over. It takes a lot of bravery to burn it down and start over," Strait says. "I'd totally hang out with both of them."
In honor of a play about relationships and the transformational affects people can have on each other, Micheels Leiseth encourages audience members to grab a friend to see the show. He recommends attending with someone who has shared a significant part of your life journey, that person who "gets you."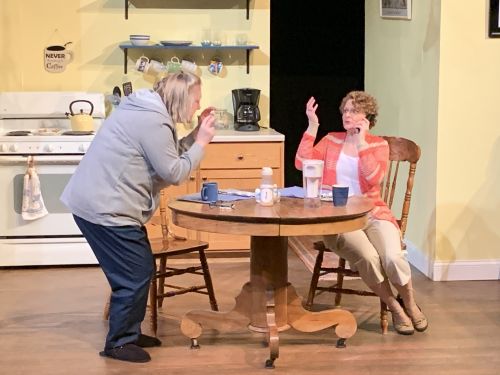 The Roommate runs Feb. 7 – 29, Thursday-Saturday at 7:30 pm, with Sunday matinee performances at 2 p.m. on Feb. 16 and 23. ASL interpretation and audio description will be provided on Feb. 8. Ticket prices are $25 for adults and $12 for students. Special rates are available for groups of 10 or more. A BOGO offer will be held on Feb. 13.
Reservations are encouraged, but tickets may be purchased at the door before each performance. For bookings or more information call Theatre B's box office at (701) 729-8880, for online reservations click "Get tickets" at www.theatreb.org/BoxOffice.