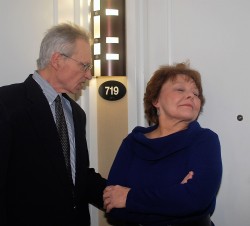 When I arrived at the practice space for Tin Roof Theatre in the Moorhead Center Mall for an interview last week the place was decked out with set pieces and stage flats, preparations for their upcoming show.
Tin Roof founder Karla Pederson and this show's guest director James DeBrito were all too happy to share information with me about the upcoming production of famed playwright Neil Simon's "Plaza Suite."
Afterwards, I helped Pederson move some flats around. The whole scene made me nostalgic about my days in community theatre years ago. I was glad to lend a hand.
Karla Pederson is one of the founding members of Tin Roof Theatre, a community theatre group in the Fargo-Moorhead area. The group performed their inaugural production of Arthur Miller's "Death of a Salesman" in October 2005 and has been putting on at least two productions a year since.
This production in particular, Neil Simon's "Plaza Suite," marks their seventh year of being a guest theatre performing at The Stage at Island Park, the home of Fargo-Moorhead Community Theatre, where they have been performing since their fifth season.
This production marks another important occasion for Tin Roof. Their production of Simon's romantic comedy is being guest-directed by James DeBrito. Those familiar with him may fondly remember several of his productions where he was a director and choreographer while he was an associate director of theatre and choreographer at MSUM, as well as being involved with the Straw Hat Players.
He has also taught classes for Trollwood Performing Arts and various local high schools. The man has drama chops, to be sure. Some of the shows are "Evita," "Sweeney Todd," "Pippin," "Jesus Christ Superstar," and "Man of La Mancha." Currently, he is a teacher of theatre arts at Discovery Middle School here in Fargo.
"Plaza Suite" is a three-act play which tells three different stories of three different couples in the late 1960s, all linked by their connection to Suite 719 at the Plaza Hotel in New York City. Called, "The wildest and most uproarious farce I have seen on a stage," by the New York Daily News, it is one in a long line of romantic comedies and farces by the celebrated and prolific playwright Neil Simon.
DeBrito related his admiration of the director to me, and how Simon's love for theatre began as a coping mechanism for dealing with his parents' deteriorating marriage as a child, when he would go to the theatre and watch the films of Charlie Chaplin and others.
DeBrito said, "This is a play about marriage, relationships, faithfulness, and commitment," and pointed out how these were recurring themes in Simon's long career.
Act one, the longest act, is also the most serious, although it is still quite humorous, and as DeBrito said, "borders on farce." It focuses on the not-so-happy marriage of Karen and Sam Nash, who are visiting Suite 719, the site of their honeymoon, for their anniversary.
Karen hopes that bringing her husband Sam to the site of their honeymoon will reignite the spark in their love life. However, she can't shake the suspicion that her husband may be in an affair with his secretary. After an argument, Sam leaves, supposedly on urgent business, leaving Karen to lament about how things have changed in their relationship.
"There are a lot of dynamics in this act," said DeBrito. "It's a very emotional act that deals with betrayal and pain. But Simon still has the ability to make us laugh at certain moments." He pointed out the challenge of this act to the actors in the show, as it requires them to have to shift gears instantly between serious and comedic.
The second act centers on the meeting of Jesse Kiplinger, Hollywood director and bachelor, with his high school sweetheart Muriel Tate, who he hasn't seen in seventeen years. In this time, Muriel has become a married suburban housewife. Jesse hopes to kindle a romance between himself and her, but Muriel is aware of his smooth talking ways.
"This act deals with trying to validate high school romance and relive high school crushes," said DeBrito, which we agreed would resonate with a number of people who pine over their lost youth and perhaps even think they peaked in high school.
The third act is a well-known act, full of "raucousness and hilarity," said DeBrito. In this act, a mother and father, Norma and Roy, find that their daughter, in her nervousness, has locked herself in the bathroom of the plaza suite on the day of her wedding. This act contains elements of slapstick, as well as one of DeBrito's favorite lines in the whole production, "I want you to come out of the bathroom and get married!"
All of the actors and actresses in the play are volunteers from the area, who auditioned for the roles and have been practicing for the production since January. The actors who play the three couples in the three acts of the play are: Jay Nelson as Sam and Jeanie Smith as Karen in Act 1, Dawn Gunderson as Muriel and Steve Borgen as Jesse in Act 2, and Malcolm Thompson as Roy and Rita Hagstrom as Norma in Act 3.
Those with blindness or low vision can still attend and enjoy the play as Karla Pederson will be providing audio description. Said patrons will receive hand-held receivers and earpieces so they can listen to Pederson describe the set, characters, and costumes ahead of time, so that the dialogue will not be interrupted during the show. Those interested in audio description service will want to show up early at the performance of March 18, as the audio description will begin at 7:10 before the show begins at 7:30.
IF YOU GO
Tin Roof Theatre: 'Plaza Suite'
The Stage at Island Park, 333 4th St S, Fargo
March 17, 18, 23, 24, 25 at 7:30pm; March 19 & 26, 2pm $14-$20, 701-235-6778