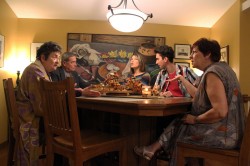 Fargo Moorhead Community Theatre (FMCT) is marking its 70th season with a production of "Other Desert Cities" by Jon Robin Baitz ("The Substance of Fire," "The Slap"). The play was a finalist for the 2012 Pulitzer Prize for Drama. It also received five Tony Award nominations for its Broadway run. FMCT's production begins January 27 and runs through February 4 at The Stage at Island Park.
"Other Desert Cities" involves a family with differing political views and a long-held family secret. Set over Christmas 2004, Brooke Wyeth visits her Palm Springs home after a six-year absence and announces she is publishing a memoir about her family's history, including a carefully guarded secret. Her parents, Polly and Lyman Wyeth are political conservatives. Polly's sister Silda, a liberal, is also visiting after a stint in rehab for alcoholism.
The play is directed by Sally Story, Assistant Professor in Concordia College's Theatre department. Prior to Concordia, she has taught at Lock Haven University, Mount Aloysius College, James Madison University, Randolph College, and Temple University. She has a B.A. in Theatre/English from James Madison University, and an MFA in Directing from Temple University. Directorial credits include "Big Fish," "Perfect Arrangement," "The Art of Bad Me," "Les Misérables," "Vanya and Sonia and Masha and Spike," "Urinetown: The Musical," among many others.
Sally was drawn to direct "Other Desert Cities" because of plot elements of "the political relevance; the secrets we keep; and how family, despite all individual differences, has an enormous capacity for love." Sally also says that the play examines the conflict of "art versus family, and to which are you obligated," as well as grief and politics.
Sally elaborates: "I think its relevance to our political climate now is both interesting and exciting. Even though the play's political background is the George W. Bush Administration and the Iraq War controversy, it is still fresh in people's minds. I think every American who is knowledgeable about the Iraq War has a strong opinion of it. I believe the same thing applies to our upcoming administration; it is laden with fear and tension of what is happening and what is to come. For some of us, our families are very divided over our most recent presidential election."
Sally applauds the cast. "The cast is absolutely marvelous! They come to rehearsal prepared and ready to go. I am fortunate to have such a strong group of actors who also play well together."
Doug Hamilton plays the role of Lyman Wyeth. Doug is currently the host of "Main Street" on the Prairie Public Radio Network, served as Executive Director for University Advancement at MSUM from 1997-2011, and also has worked as an anchor, reporter, and producer for KFGO News, among other broadcasting work.
Doug has an M.F.A. in theater arts from the University of Minnesota. Doug's stage and film credits are many, including "How the World Began" (Theatre B), "I Hate Hamlet" (FMCT), "God of Carnage" (Theatre B), "Three Sisters" (MSUM), and "A Midsummer Night's Dream" (Theatre B).
Doug says that "Other Desert Cities" is "a very well-written script with a very interesting part for me. I know the history the play draws on and I remember how deeply divided our country -- and families -- can become."
The part of Lyman, according to Doug, "is an actor who became a political leader and a diplomat. He's aware of the persona that got him to elder statesman status, but he's living with a deep secret and a lot of regret. Lyman and I would be in different places on the political spectrum, but we know that family transcends just about anything. I am the appropriate age for Lyman at the time of the play -- and I have memories as vivid as his about the turbulent times behind the story."
Linda Hinrichs has played many parts in many local theatre productions. A few of them are the role of the Wicked Witch of the West in "The Wizard of Oz" (FMCT), "Into the Woods" (Music Theatre Fargo Moorhead), "Barely Heirs" (Harwood Community Players), and "The Merry Wives of Windsor" (Shakespeare in the Park, Detroit Lakes). Linda has her own business helping small businesses get off to a good start, with accounting practices in place.
Linda was drawn to become a part of the production by reading the script, and she says "I had also been hoping to find an opportunity to be on stage with a dear friend of mine, Mary Cochran. It is a rare opportunity for two women of a mature age to be on stage together. It is a much larger role than I have been willing to tackle for several years so I am having to work extra hard, but the supporting cast is a real treat to work with."
Linda describes her character, Polly, as being "torn by the urge to protect her children at all costs. Although, it may not seem like her methods are initiated by her love for her children, but rather by her need to control them."
Ultimately, Linda says "'Other Desert Cities' will make you laugh, and it may make you cry as well, all while telling a story of family relationships and how keeping secrets can have some interesting results."
IF YOU GO
FMCT's Production of "Other Desert Cities"
January 27, 28 & Feb. 2, 3, 4 at 7:30pm, Jan. 29 at 2pm T
he Stage at Island Park: 333 4th St. S, Fargo
Tickets: Adults $18.00, Seniors/Students $12.00 (fees apply). Box office: 701.235.6778 or www.fmct.org https://www.facebook.com/events/560574357465877/