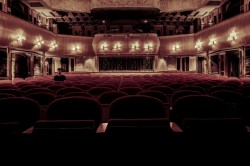 The Straw Hat Players at Minnesota State University Moorhead (MSUM) are preparing for their 54th season of bringing summer theatre to our area. Craig Ellingson, Director of Theatre Arts and Dance at MSUM, gave some details about the upcoming season. Ellingson is in his 19th year at MSUM.
The offerings for the 54th season are "Forbidden Broadway's Greatest Hits" beginning May 30; "Church Basement Ladies: A Second Helping," June 6; Tennessee Williams' "The Glass Menagerie" June 13; and closing out with the musical "Hello Dolly" starting June 20. All productions will be on MSUM's campus in either the Gaede Stage or the Hansen Theatre. Please check the MSUM Box Office website for specific shows and tickets.
High Plains Reader: What led you to select these four plays?
Craig Ellingson: We always take into account two things. First, we consider our audience - our seasoned patrons who come back every year, as well as our desire to engage new people. It is a fine balancing act. We need to cultivate what we already have, but we need to seed it for the future.
Second, we also need to take a look at what our perceived company members can handle. Our players are primarily MSUM students, alums, and we do have some outside people. We consider what will benefit our emerging artists during the six weeks they have with us, as well as what we will give the audience for the four weeks they have with us.
HPR: Let's go play by play. First, talk about "Forbidden Broadway's Greatest Hits."
CE: This is a hilarious, raucous look at the world of theatre – particularly musical theatre. It is totally Saturday Night Live meets musical theatre. They are making fun of all of the greatest hits on Broadway – it is a roast of musical theatre. If you're not familiar with musical theatre, you will still enjoy it and laugh, but if you are familiar with the big musical theatre productions, you will have even more fun. Carol Channing, Mandy Patinkin, and many others are hilariously roasted. All the big productions are targeted. This is also a fun way for our student actors to be to be exposed to a wide range of musical theatre and styles.
HPR: And now for the second installment of "Church Basement Ladies 2." It's even called "A Second Helping."
CE: This is a continuation of these lovely three matriarchs we met in the first installment -- who rule the basement and kitchen. This one also includes a younger woman in the mix. This fun play is very much about their relationships. It takes place between 1969 and the early 70s, which was a time of great change.
What does change mean? From our contemporary lenses, looking back, the things we thought were really important then are really different now. The audience gets to see the historical perspective. This play is totally seen through the eyes of these strong women characters. Yes, there is a lot of kibitzing. They even make fun of the Vikings team, who were in the Superbowl! It was written and conceived in the Twin Cities and Bemidji area – and this makes it a homespun comedy. The first version of "Church Basement Ladies" sold out the theatre last time, so we are moving it to Hansen, the larger theatre.
HPR: And now for one of my favorites, Tennessee Williams' "The Glass Menagerie."
CE: Every once in a while, we try to do something more serious. This is just a chestnut of a play. If you are not familiar with it, you should be. It's one of the great American plays. It is about the yearning to be what you need to be versus what you are called to be. It is about how, in life, we often sacrifice what we want in order to make others happy.
And, well, it's Tennessee Williams. And it is poignant with the depth of the relationships and also the unseen character of the father who is still overseeing everything. It is about family dynamics. Everyone can relate to this story. I think it is going to be beautifully designed. It's a lovely play to see during the summer. Since I've been here we have not done this play. I'm excited to bring it to our audience.
HPR: And to close out the season, a big musical, "Hello Dolly."
CE: "Hello Dolly" is a standard American classic. It is a show that allows for ample acting, singing and dancing, which you really want in a great musical. There is also going to be a Broadway revival coming up starring Bette Midler, so this musical is getting renewed attention. There are great tunes in it: "Put on your Sunday Clothes," "Hello Dolly," and "It Only Takes a Month." And there are definitely some really memorable characters. It's one of those iconic roles – Dolly Levi, who was, of course, made famous again and again by the fabulous Carol Channing.
HPR: Anything else you want to say about Straw Hat?
CE: One of the things that I love about Straw Hat is that we are able to provide our student actors a professional experience that is safe for them. I don't believe there are very many other academic programs that give professional exposure – the Straw Hat students get paid and they put theory into practice. Your work with the students is visible to everybody. But that's part of the world of theatre. Students are able to just focus on their craft for six weeks – to be pushed and challenged to grow as artists. Being able to put on a show in two and a half weeks is good practice for professional acting. Summer stock is about craft. However, it is always our goal to create art. Good craft allows for art. We always strive for the art.
Hansen Theatre and the Gaede Stage are located in the Roland Dille Center for the Arts on the MSUM campus. You go through the main entrance to campus at 11th Street and 7th Avenue South. The Roland Dille Center is the second building on the right. All shows start at 7:30pm. Signed performances for the hearing impaired are Thursdays for all four shows.
Season tickets are available for the entire Straw Hat season at a discount.
YOU SHOULD KNOW
Straw Hat's 54th Season
MSUM, Moorhead
Box Office 218-477-2272; mnstate.edu/tickets