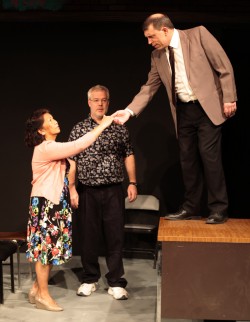 Theatre B holiday show explores deeper meaning in modern times
The holiday season means a lot of different things for everybody, including Theatre B. The downtown theater company is bringing the true meaning of the season to its stage with its latest offering, "Storefront Church."
In typical Theatre B fashion, this John Patrick Shanley play features some social relevancy, found in the form of a modern-day Bronx building where a woman, a preacher and a group of people tackle a significant political and financial turn.
Director Patrick Carriere cites the show as prime for Theatre B, as its characters grapple with issues of community and humanity in a world dominated by the dollar sign and commercialization, especially around Christmastime.
"It is not only new theater, it is theater that has entertainment value as well as a social and educational value," he said. "It's what Theatre B does. It's right up their alley."
After a woman's months-late mortgage goes bad, she takes on an unemployed preacher who propositions to build a church on the first floor of her house. But the preacher finds himself unable to preach because he's "stuck," as Carriere puts it.
Soon enough, the play's five actors all have different takes on how to deal with the mortgage, the church and their own interests. Financial, community and other issues arise, with the borough president at the center of it all, a man who "has to weigh his political concerns with his human concerns," Carriere said.
It's a cast of characters that finds a range of faces behind them all. Theatre B ensemble member Scott Horvik is a player here, providing a nice "anchor" for the cast.
Along with Horvik, some other experienced actors are on hand, as well as a few new faces.
In a story set in modern times with subject matter that has been compared to "It's a Wonderful Life," "Storefront Church" is all the more relevant in this day-and-age, particularly with the economic crisis and holiday themes depicted in the play.
Even with such serious subject matter as financial woes and people's own machinations, "Storefront Church" does have an entertainment value in its social engagement with audiences.
"It's got great humor in it," Carriere said. "There's a wonderful balance, and John Patrick Shanley is an incredible playwright, and he does a great job of balancing a sense of humor and satire in a play that's set at the Christmas season."
Shanley, who Carriere said may be modern theater's best playwright, also delves into the heart of the matter at hand: the true meaning of the Christmas season.
"He also is able to explore what Christmas means in the sense of what are we meant to do for each other in a season that often revolves around money and pulls us away from what's important in life," Carriere said. "And that's the question at the center of the play."
IF YOU GO
WHAT: "Storefront Church"
WHERE: Theatre B, 716 Main Ave.
WHEN: 7:30 p.m. Thurs.-Sat. until Dec. 27, 2 p.m. Sun., Dec. 14
TICKETS: theatreb.org, 701-729-8880