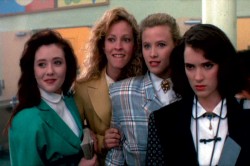 'Heathers' hits the Empire stage in Grand Forks
Before the pink-clad Plastics or Cher's group of popular beauties in "Clueless," the shoulder pad-wearing, croquet mallet-wielding Heathers ruled the halls of Westerberg High in the 1989 cult classic "Heathers."
Now, this group of mean girls are seeing a resurrection on the Empire stage in the contemporary musical that features all the same themes from the 80's film: teen angst, popularity and murder.
"Heathers" follows Heather, Heather and Heather, and their misfit member Veronica Sawyer, as the girls maintain their rule as high school royalty. When mysterious new boy J.D. appears, Veronica's loyalty to the Heathers begins to wane: but J.D.'s plot for revenge against the Heathers and the other popular members of their high school requires moral flexibility.
"Heathers" is the second production by Empire this season that features a high school setting, although its mature content is a bit different than the musical "25th Annual Putnam County Spelling Bee."
"We actually didn't give any thought to the school theme," said Emily Montgomery, executive director at Empire Theatre Company. "This is the second production of our sixth season as the Empire Theatre Company. Our theme is actually strong female voices.
'Heathers' fits really well with our mission, which is to do shows that are rarely seen in our state, mainly contemporary plays and musicals, shows that are newer and maybe a little more edgy or controversial."
"Heathers" definitely fits that bill. The musical not only features strong female characters and is based on a book by a woman, but its controversial content and language makes it what Montgomery considers a "bold choice."
"The fact that it's even being produced is really unique," Montgomery said. "To my knowledge, it's the first production regionally and in the state. It's a fairly new musical. The movie's rating is comparable to the musical, there are mature content and themes. It's a bold choice in what I consider a conservative state."
While the choice of production makes it stand out, its music, style and collection of actors also make it a must-see.
"The 80s theme is just a lot of fun," said Montgomery. "It seems to resonate with people. It was a fun time and culture with its fashion, color. It's been a real blast to the past… It's so funny and the music is great and entertaining."
Montgomery said that the plot and characters of the movie remain the same in the musical: the addition of dancing and singing are the only things that change the original "Heathers."
"If you love the movie, I think you'll love the musical," Montgomery assured me.
A host of local artists star in the musical, including Brenna Skallet, Gina Uhlir and Emily Wirkus as the Heathers; Alexis Gordon as Veronica; and Christopher Knudson as J.D.
For more information on "Heathers" at Empire or for their sixth season, visit www.empireartscenter.com.
IF YOU GO 'Heathers'
Aug. 10 - 12, 15 – 19, 7:30pm
Empire Arts Center, 415 DeMers Ave, Grand Forks
Tickets: $17 students/military, $22 adults