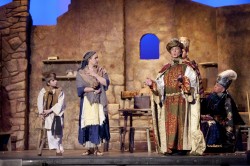 F-M Opera brings back Christmas-themed 'Amahl and the Night Visitors'
It's an old, familiar favorite this time around with the Fargo-Moorhead Opera's latest offering.
Arriving just in time for the Christmas season is "Amahl and the Night Visitors," the operatic telling of the three wise men stopping over at the home of a woman and her son while journeying to Bethlehem.
Premiering as a CBS television special in 1951, "Amahl and the Night Visitors" has been seen in Fargo-Moorhead many times before. It was the first musical production from North Dakota State's theater department in 1952, mere months after the TV special, and the show is no stranger to the F-M Opera.
Or to executive director David Hamilton, who remembers this as his first opera, it left that kind of impression on him at age 3. It's that kind of resonance that makes "Amahl" the perfect family outing for Mom, Dad and the kids.
"It really is perfect for bringing children to because it's short," Hamilton said. "It holds their attention, there's lots of stuff going on … It doesn't matter if children are making noise or whatever, who cares? It's a fun family event."
Flashy costumes, eye-catching onstage action and some accessible songs make this show fun for "children of all ages."
A smaller cast carries this production, with five adult roles, and the role of a boy character shared by two young performers. This is a part that is trickier to cast for, as the role of the boy has some certain demands of the singer.
"It's actually rather a high part," Hamilton said. "So someone has to have a fairly high soprano, otherwise it can be a boy or girl as long as they can portray an 11- or 12-year-old boy, and it can be [a hard search] because of the musical demands of the title role."
Two young performers portray Amahl, one for each performance of the F-M Opera's production. This is for safety (if one performer becomes ill) and also for the purpose of sharing such an important role.
In addition to being available for the community at large, the F-M Opera's "Amahl and the Night Visitors" will be viewed by nearly 700 area elementary school students, with busing to Concordia College made possible through a provided grant.
This year's staging at Concordia College's Mainstage Theatre is a new move, as previous productions have called the Fargo Theatre and Festival Concert Hall home.
"It's really better in a smaller theater," Hamilton said of "Amahl." "The Fargo Theatre works really well for us, but the Fargo Theatre's very busy this time of year … so we thought we would try the Concordia theater."
For two days, the F-M Opera will relive this old favorite, "Amahl and the Night Visitors," in a new space, offering a Christmastime outing that Hamilton points to as perfect.
"It's really one of those nice things for children, kids and grandkids, to start a tradition here," Hamilton said. "I can say it's a wonderful story that I never get tired of, and the … music is so tuneful."
IF YOU GO
"Amahl and the Night Visitors"
Concordia College's Mainstage Theatre
2 p.m. Sat.-Sun., Dec. 13 & 14
701-239-4558