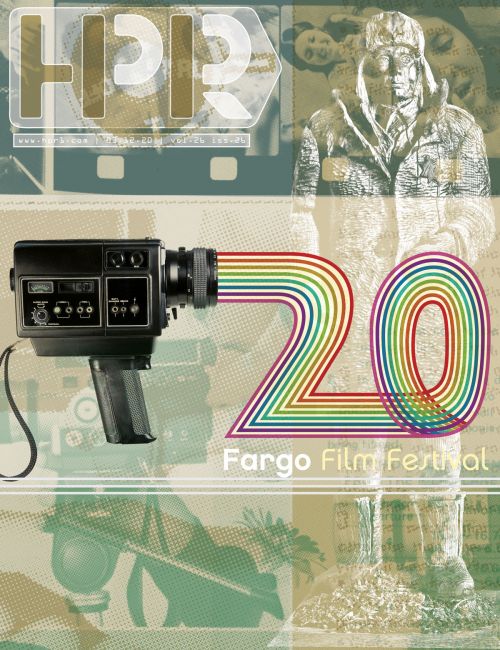 by Dominic Erickson
This March, the Fargo Film Festival will celebrate its 20th year of entertaining die-hard cinephiles and casual moviegoers alike. The festival begins on March 17 and concludes March 21. The event is once again coordinated by Emily Beck, who has been Fargo Theatre Executive Director since 2011. All of the other organizers and committee members have been working around the clock and will once again get to see their hard work pay off.
For many, a highlight of the Fargo Film Festival is the opportunity to meet artists and their subjects. It is not every day people get the chance to have a conversation with a filmmaking crew. Kari Arntson, documentary short jury chair, says, "I always enjoy meeting the filmmakers. Getting to hear them talk about their film projects, offer an inside scoop about the film and their craft, the process they use to make their films, how that process has changed over time and continues to grow."
Fargo Theatre Development and Engagement Manager Sean Volk expands, "Festivals are special because they bridge the gap between creator and audience, offering us a chance to watch a film on the big screen then chat with the person who made it."
Chris Meissner, one of the festival's co-chairs, enjoys the tight-knit community that arises among supporters: "One of my favorite parts of the festival every year is the camaraderie and collegiality of festival volunteers, which we extend to the visiting filmmakers in a fashion that has become a hallmark of the Fargo Film Festival."
Festival co-chair Karen Olson says she meets people that are surprised by how much fun they have at the festival: "I think some people have a misconception that it's artsy-fartsy — too highbrow or inaccessible for the average movie lover. But that's not true at all. The variety is amazing, and if you don't find something to make you laugh or cry or think or applaud, you weren't at the Fargo Film Festival."
Evening Showcases
To kick off the fest on Tuesday, March 17, a screening of the festival's award-winning animation "Mind My Mind" and narrative short (and Oscar winner) "The Neighbors' Window," special guest Richard Antoine White will be in attendance for documentary short winner "R.A.W. Tuba.". The film is about White who, despite experiencing intermittent homelessness throughout his childhood, became a world-class musician and professor.
The directors and subject of "Balkowitsch" (documentary feature honorable mention and Prairie Spirit Award winner) are Wednesday night's special guests. Chelsy Ciavarella and Gregory DeSaye's "Balkowitsch" tells the story of Shane Balkowitsch. His story as a preservationist, archivist and artist through the nearly-lost art of wet plate photography is a journey of passion and preservation of generational history.
On Thursday, March 19, audiences will get the chance to see Ryan Hullings, the Criterion Collection's chief audio supervisor and restorer, discuss his work on renovating landmark rock films such as Richard Lester's "A Hard Day's Night," featuring the Fab Four at the height of Beatlemania, D. A. Pennebaker's "Dont Look Back," documenting Bob Dylan's 1965 tour of England, Franc Roddam's "Quadrophenia," based on the Who's rock opera, and David Byrne's "True Stories," the musical comedy featuring a Talking Heads soundtrack.
Fans of the cult horror "A Nightmare on Elm Street 2: Freddy's Revenge" will see a new side of the classic 80s slasher on Friday at 7:00 p.m. Lead actor Mark Patton, who was a closeted gay man at the time of the film's 1985 release, joins FFF20 with "Scream, Queen! My Nightmare on Elm Street," which follows Patton traveling to horror conventions and discussing his all-too-short acting career as the first male scream queen. "The horror fangirl in me is giddy about this!" says documentary short jury chair Brittney Goodman. Patton will take questions from the audience after the screening.
Following Patton, the popular 2-Minute Movie Contest gets underway at 9:30 p.m. From videos shot on smartphones to professionally-produced animation, any and all emotions that can be captured in 120 seconds or less will be on display. 2-Minute Movie Contest producer Greg Carlson says, "I love watching more than forty extremely short movies in rapid-fire succession just as much as I love listening to the crowd's reaction to them."
On Saturday afternoon, the last day of the fest, writer-producer-director-educator Tom Brandau will receive the Ted M. Larson Award, the festival's highest honor. As a member of the Fargo Theatre Board of Directors, longtime Fargo Film Festival committee member and Minnesota State University Moorhead professor, Brandau has made significant contributions to the film community.
Later that evening, the 2020 Margie Bailly Volunteer Spirit Award will be presented to Jenny Jensen and Peg O'Neill. A couple of years after attending, the two became jurors and were involved as such for the next decade. The duo had worked at Minnesota State University Moorhead from 1990 to 2017 and had been best friends for a very long time. O'Neill and her husband Tom Burton were killed in a tragic car accident in July of 2019. The Fargo Film Festival honors Jensen and O'Neill's support of the festival with the award at 7:00 p.m.
The FFF20 wraps up with a screening of narrative feature honorable mention "International Falls" with director Amber McGinnis, who is the night's special guest. McGinnis' movie is the hilarious and touching story of a woman dealing with unfulfilled comedy career aspirations in the all-too-familiar backdrop of a snowed-in Minnesota town.
Narrative Feature
Narrative feature winner "Heart and Bones" is an Australian film about the unlikely friendship between two men – a war photographer and a South Sudanese refugee. As they uncover the past through the photographer's archive, the two undergo an internal journey of salvation.
Along with "International Falls," the second honorable mention for narrative feature is Alexandra Kotcheff and Hannah Leder's "The Planters," a dark comedy about a telemarketer who befriends a homeless woman. Tom Speer, narrative feature jury chair, is looking forward to "The Garden Left Behind" which tackles struggles faced by the transgender community. Speer notes, "The film is relevant, engaging, and leaves a lasting impression that trans rights are human rights."
Narrative Short
The narrative short category has always featured high caliber films and this year is no different. Jury chair Michael Stromenger has been excited to experience these films with an audience seeing them for the first time. Stromenger says, "Film festivals are an opportunity to see films you most likely would never see elsewhere, especially when it comes to short films. The impact these shorts can have is truly amazing given their time constraints. It is often like a full feature experience in about 15 minutes." This is Stromenger's second year as jury chair.
Category winner "The Neighbors' Window" is not only one of Stromenger's favorite shorts he's seen over the years, but also the newest recipient of the Academy Award for Best Live Action Short, a prime example of the quality this festival brings to the public. The film is written and directed by Marshall Curry and follows a woman who discovers she can see into the apartment of a couple of free-spirited twenty-somethings who live across the street from her and her children.
Narrative short category honorable mention "Brotherhood" was also nominated in the same Oscar category and tells the story of a shepherd's son returning to his family in rural Tunisia with his mysterious new wife. Showing two Oscar-nominated shorts in one category is an honor for the fest, and incredibly, the feat is repeated in the animation category.
Animation
This year, two of the official selections for the animation category were nominated for Academy Awards and two other films made it onto the Oscar shortlist, which is a much-celebrated accomplishment of the fest. There's a mix of hand-drawn, stop motion and computer-generated animation.
"The films in the animation category this year offer such an exciting variety of styles and voices. I am so proud that we are able to showcase such dynamic voices from the world of independent animation" says animation jury chair Sean Volk, who has a handful of favorites showing.
Category winner "Mind My Mind" is a moving, frank and funny film about love and
relationships. In the short animated romantic comedy for adults, a young man nervously explores his feelings for a woman he meets at a party. The characters are complex and the emotional stakes are honest and raw, Volk says.
Honorable mention "The Kite" is a Czech film about the bond between a young boy and his grandfather and offers a tender and heartfelt look at aging and loss. "I cried when I watched it the first time; it is a melancholy but hopeful film," Volk says. "The stop motion animation is so rich and textured and I hope people make it a priority to see it on the big screen."
Volk says he cannot wait for moviegoers to discover the films that move them. "The Fargo Film Festival gives our community an opportunity to see films that otherwise would never screen in our region, let alone our city. It is so inspiring to see audiences turn out to support the work of new filmmakers," he says. The team behind "Coaster," an inventive and relatable short about the struggles of young adulthood, will be attending the festival. Volk predicts people will really connect with this film and will love how beautifully it is animated.
Documentary Feature
Brittney Goodman, documentary feature chair says that the category is especially strong this year. In addition to "Scream, Queen!" Goodman is especially excited to share two other documentary features: Katrine Philp's "False Confessions," which uncovers the dirty secret of how innocent people are coerced into confessing to crimes they did not commit and Matt Gallagher's "Prey," a film that shows how one diligent lawyer and a team of strong people go about uncovering a Catholic priest sex scandal.
Documentary Short
Kari Arntson, says the selection of short docs this year are "quite eclectic." She is especially excited to have "The Iron Grandmother," which documents a 65-year-old welder, screen at the festival. "The piece the film is about is very relevant to our current temperature of the global politics and society," she says.
Honorable mention "25 Texans in the Land of Lincoln" is a film directed by Ellen Brodsky that follows history students traveling 2,000 miles to Illinois to retrieve General Santa Anna's prosthetic leg. The quirky quest is to honor Abraham Lincoln's support of Mexico during wartime by building a Day of the Dead altar.
Experimental
Experimental film is a broad classification of visual art. Experimental jury chair Christine Hoper remarks, "In this category, what makes a film 'experimental' is often described as what it's not or how it doesn't fit neatly into another category. The Fargo Film Festival is a great opportunity to test the waters and see what experimental film can represent. The festival selections are all 20 minutes or less and offer a wide range of topics and experience."
In category winner "Blooming," filmmaker Lingyun Zheng experiments with filming style, animation, color, sound and nature. Hoper predicts honorable mention "Chairs" will most certainly invoke an audience reaction. Returning filmmaker Ed Carter experiments with sense of time in "Spring II." His "Letters to Eniwetok" was an official experimental selection for FFF19.
Hoper says she always looks forward to experimental selections at film festivals, as it's a genre not often available in a theatre setting. She says, "What I enjoy most is seeing and hearing audience engagement and interaction with experimental films – what questions will a film inspire?"
What Else?In addition to the category highlights listed above, a plethora of other films will be playing throughout the fest, including a dozen student films. Lunch panels and the annual All-Star Bowl party are ticketed events open to the public, and all are invited to come be with industry members to help support the fest and revel in the shared love of cinema.
The complete screening schedule is available atfargofilmfestival.com. Tickets are on sale at the Fargo Theatre box office, (701) 239-8385