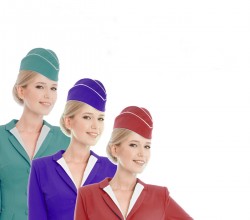 Fly away with the Fargo-Moorhead Community Theatre in a farce that's picking up passengers the next two weekends.
Marc Camoletti's "Boeing Boeing," the most performed French play in the world, brings sky-high laughs in FMCT's production, splitting a season with drama and musicals with a farce in February.
In the story, the womanizing Bernard thinks he can juggle his three foreign fiancees as their stewardess schedules on Boeing aircraft always keep two away whenever one is with him.
But when Boeing introduces a faster, larger airplane, the women Bernard managed to keep apart are destined to come together in a whirlwind of planes, storms and slamming doors.
It's the genre of theater that director Shanara Lassig loves most.
"Farces are really fun to me, I like doing them," she said. "There's a lot of slamming of doors and timing things in this show, so I really, really like that … and the energy is so high, it's wonderful."
A small, fairly young cast drives this show, with players such as Ryan Soukup (seen in the Straw Hat Players and Tin Roof Theatre), Justine Pulec (Theatre NDSU) and Kayla Rice (an FMCT mainstay).
With Bernard's flight attendant fiancees hailing from Germany, the U.S. and Italy, and his housekeeper from France, the range of accents is something the audience can't miss either.
"Its' really, really interesting to hear (the accents) … and they're all really crazy characters. I just think (the audience will) all like the comings and goings and the situations that the characters get themselves into," Lassig said.
A long-lost friend of Bernard also makes an appearance — Robert, a transplant from Wisconsin in Paris to find a wife and connect with Bernard after 20 years apart.
Lassig also said that audience members are the only ones clued into all the craziness onstage as characters come and go throughout the many doors on the set.
This is the second time "Boeing Boeing" has landed in Fargo-Moorhead, last seen at Concordia College Theatre in February 2013 when the rights became available. A revival on Broadway in recent years marked its burgeoning popularity with college and community theaters, Concordia theater faculty Christian Boy said two years ago.
Running at just under two and a half hours with intermission, FMCT's "Boeing Boeing" may be a bit long, but it's a seat on a ride the audience will enjoy.
"They'll get their money's worth for sure," Lassig said, laughing.
IF YOU GO
"Boeing Boeing"
The Stage at Island Park, 333 Fourth St. S.
7:30 p.m. Feb. 6-7, 12-14; 2 p.m. Feb. 8 & 15
701-235-6778