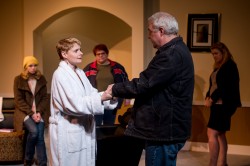 A new play by Wisconsin-based James Devita ("A Winsome Murder," "Silenced") is currently being performed by Fargo's Theatre B in their temporary home, The Broadway Theatre Garage. The play opened Thanksgiving weekend and runs through New Year's Eve. According to the director, David Wintersteen, it is about "two families finding a way to come together." He would consider it rated "R" for language, but he highly recommends it as a play for "adult children and parents" to come and see together over the holidays.
The cast is Scott Horvik and Lori Horvik playing husband and wife, Carrie Wintersteen as Scott's ex-high school sweetheart, and Amanda Leftridge and Missy Teeter as adult daughters.
James Devita's play was discovered by David Wintersteen as part of his work as Associate Literary Manager for the Queen's Theatre in the Park in New York. David found the play to be compelling and it seemed like a good match for the holiday season, with its themes of family and the "strong redemptive elements."
David says that Theatre B likes to incubate new plays and that it is often "a challenge to find new scripts." Thus, when David read DeVita's play he reached out to the Queen's Theatre in the Park group and then the playwright. David says that it was "just good luck that this one happened to be in my batch to read."
David Wintersteen serves as Director of Theatre for Concordia College and he is an ensemble member of Fargo's Theatre B. Directing credits include the recent Proof, and also Dracula, The Metal Children, and The Long Christmas Ride Home at Concordia. For Theatre B, his directing has included Equivocation, Wit and Scrooge Macbeth. Other regional directing includes Jeeves Intervenes for the Black Hills Playhouse.
David describes "Slice as Life" as being very much about family and how "more and more people are learning how to work through differences in families." He sees marriage at the center of "Slice of Life" and the way that marriage works on stage to be particularly compelling in this play. Most key to "Slice of Life," are father-daughter relationships, according to David.
David says "it's been a delight to work on a new play" and to work through any problems in the script "that haven't been solved for you." He continues: "There are all kinds of things that crop up. It starts out in the mind's eye of the playwright. DeVita has not been able to be in town with us but he has been very open to working with us and coming up with creative solutions" as the play is crafted.
David loves working with the group of actors – all of whom, with the exception of one, are founding members of Theatre B. He says, "Adding Amanda Leftridge to the mix as a new person to our stage but not to the F-M community of actors," has helped keep it fresh. David explains, "It's been a delightful process working with really creative minds. It's great to work with a core ensemble, as we really know each other and how we work. I think the work emerges differently than if you've never worked with these people before."
David says that this play was selected for the holiday season because "the holidays are really about family. Those long-term relationships that we have with family are more potent than usual at the holiday time." He says coming with your family (although not with young children) is a great idea: "I was just talking to some of my students, who are adult children, and they really enjoyed it." Finally, he says it is "funny" and "thought-provoking" and that coming to see "Slice of Life" will be an "enjoyable and funny night out."
Carrie Wintersteen, also a founding member of Theatre B, acts in the play and is also the spouse of David Wintersteen.
Carrie says that when she and David moved to the area she wanted to continue her work as an actor and teacher: "After a few years at different jobs and trying to make the Community Theatre's schedule and summer stock work with my family life, I realized that I kept going to the Cities to get the kind of theatre I wanted to see. I also felt that my skills were being wasted in administrative positions."
Thus, when Carrie and David spoke with Lori and Scott Horvik, a theatre couple in a similar situation, "we realized were not the only ones hungry for intimate theatre, artistic challenges, and relevant storytelling." The time was right, according to Carrie, "as Fargo had just passed its Renaissance Zone initiative, so we knew that downtown was on the cusp of redevelopment." And that was the germ of what is now Theatre B, founded in 2003.
Carrie enjoys "Slice of Life" because of its "well-drawn characters," and that "the story is touching and funny – like real life. It has a lot of layers. The plot may be relatively simple, but the characters are complex in how they deal with information as it emerges. It has an interesting mix of snappy dialogue and detailed storytelling. Each character has an opportunity to shine, and yet it's an ensemble show."
Carrie's character, Kathleen, reemerges into Scott Horvik's, Terry's life after 25 years. Carrie's character is what the other ensemble actors refer to as "your woo woo girlfriend." Carrie likes playing Kathleen as "There is a lot of room for me to figure out just how 'woo woo' she is. It's a delicate balance, finding the nuance of how she is described and playing the reality of her experience."
"Slice of Life" is one example of Theatre B's focus on showcasing new work. Carrie says they accepted a challenge from Rob Urbinati, Director of New Play Development at Queen's Theatre in the Park to "think about producing new work that had not yet had productions in New York or other major cities." She continues, "We agreed that our mission called us to help less established playwrights develop their craft and get their work from the page to the stage." And now, Carrie says, "we have done several world premieres, workshopped scripts with local and regional playwrights, and held multiple readings and workshops. We are open to helping playwrights wherever they are in their careers. It's just a question of finding relevant material and making sure we have the artistic and financial resources to produce the work that will move a script along in its process from page to stage."
IF YOU GO
"Slice of Life"
Broadway Theatre Garage, 409 Broadway N., Fargo
Weekends November 25 – December 31, 7:30 pm, with Sunday matinees December 4 and December 18 at 2 p.m
www.theatreb.org or 701-729-8880
Facebook: https://www.facebook.com/TheatreBFargo/