​Get Your Kicks at Studio 6
Theatre | June 6th, 2018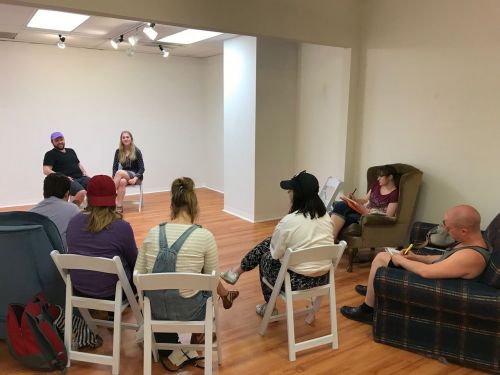 Projects have a tendency to take on a life of their own once they've reached a certain point. When the Fargo-Moorhead Community Theatre was established in 1946 to offer other local opportunities for artistic expression outside of the schools and colleges its founders probably didn't realize that their creation would still be going strong 72 years later. The FM Community Theatre is now one of the longest continuously-running community theaters in the United States.
Of course, in the span of seven decades things inevitably change, and that change often involves growth. Recently I had the opportunity to interview Eloise Breikjern, executive director of the Fargo-Moorhead Community Theatre, and Adam Pankow, its artistic director, about how FMCT is incorporating new space into its fold with Studio 6 Broadway.
The idea for seeking new space to incorporate into the Fargo-Moorhead Community Theatre program occurred during the past season of shows. "We found ourselves scheduling rehearsals and classes to be held in dressing rooms, offices, and various nooks of the theatre due to the jam-packed nature of the building on any given day." said Breikjern. At that point Pankow started to look for the additional space that would become Studio 6 Broadway. "Studio 6 Broadway is a strategic step forward in order for FMCT to innovate, grow, and serve the community to our fullest capacity," Breikjern said.
Studio 6 currently has no sponsors, but the Fargo-Moorhead Community Theatre is hoping to partner with other individuals and organizations in the future to provide a variety of different experiences. The space is currently available for rentals, and there are hopes that Studio 6 could be used for any number of different purposes from visual and performance art exhibitions, pop-up retail opportunities, special events, fitness classes, or corporate gathering space.
Though these uses for the new space are speculative, the Fargo-Moorhead Community Theatre does have concrete plans in the near future for the use of Studio 6 as well. For example, starting June 4th, 80 students from the 3rd through 5th grade will be using Studio 6 from 9 am to 4 pm Monday through Friday for their summer production camps. That will culminate in a performance of "Aladdin Kids" on June 27th and 28th.
In July there will be week-long creative camps offered to grades K-2 and 3-5. Enrollment is still available at these full day camps, which are a new addition to the FMCT's summer programming. Between July 16th and 20th there will be a Mary Poppins musical theatre camp offered to students K-2 and a Minecraft themed one for the students 3-5. Then between July 23 and 27th, the K-2 students will be offered a "Dragons Love Tacos" camp while the 3-5 students will be offered a Harry Potter musical camp. Of course, the Fargo-Moorhead Community Theatre will also be utilizing the space during their ten show theatre season as a secondary rehearsal space.
Those who are interested in finding out more about the goings-on at the most recent addition to the FMCT or are interested in becoming involved can find more information on social media platforms such as Facebook, Instagram, and Twitter, as well as by visiting their website or speaking with their administrative staff. With the new real estate, there's more space than ever for new people to become involved.
YOU SHOULD KNOW:
Facebook: FMCTND
Instagram: @FMCTheatre
Twitter: @FMCTheatre