​'Live music sounds so much better.'
by HPR Contributor | .(JavaScript must be enabled to view this email address) | Theatre | November 13th, 2019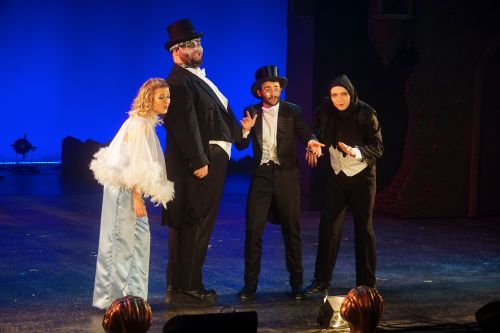 By Michael Str!ke
michaelstrike.solo@gmail.com
Comedy, dance, live music, and that classic wordplay and wit only Mel Brooks can deliver. This Friday, November 14th, Concordia College Theater premieres their production of Mel Brooks' musical "Young Frankenstein." Directed by New York's acclaimed director and choreographer, Donna Kaz, and musically led by musical director Andrew Steinberg; the musical features a cast and crew entirely comprised of students.
As someone with a history with dance, and more specifically tap, Donna was delighted that one of her first productions working at Concordia happened to be Mel Brook's and Thomas Meehan's adaptation of Mel Brook's original classic horror spoof; "Young Frankenstein." Not only will their production feature the movie famous musical tap dance number "Puttin' on the Ritz," the show will have more than twenty musical numbers throughout. Fans of the original movie will find that famous quips and quotes have been expanded into entire numbers like "Roll in the Hay" sung by the character Inga, and "He Vas My Boyfriend" sung by Frau Blucher.
The growth and progression the students have endured to bring this production to life in itself is a feat. Including two weeks of only tap dance rehearsal for the students. And while Donna had created an easy version for the tap number, the students dedicated themselves into being deft enough to pull off the more challenging steps for "Puttin' On the Ritz." And leading the cast of 22 students, with a vast array of skill sets, has been a challenge bringing this musical to life. "A Musical is a form which is based on dance, music, movement, and book; combined. And if you take any of those elements out it shouldn't really work. It has to make sense that people sing and dance to express the theme and the plot of the show. And so that was a challenge for Brooks, was to take his movie which is very famous and changing it into a musical."
With many student musicians chomping at the bit to be a part of this productions pit orchestra; the openings were surprisingly minimal. Andrew put in the work dissecting and portioning out the voicings of the musical's score; originally created with Mel Brook's New York mindset of being solo violin and multiple keyboard arrangement. Now (with only days of full cast and crew rehearsal's) Andrew has constant eyes on stage and conducts the live 14 member pit orchestra to follow the flow of the on stage cast.
Not to be dismissed is the aging of Mel Brook's classic, and the revitalization the musical can instill in today's culture in regards to the works of Mel Brooks is essential. With only 5 of the entire student cast and crew having been familiar with the original movie; now over 40 young adults grasp the unique and cuttingly witty dialogue featured in the production, and in the entirety of Mel Brooks' works.
So be sure to make it out to one of the showings running November 14-16, 21-23 at 8 p.m. and 17 at 2 p.m. Tickets can purchases here: https://www.ticketsource.us/concordia-college-theatre Tickets are free for Concordia students, staff, and alumni; $5 for seniors and non-Concordia students; $10 for adults