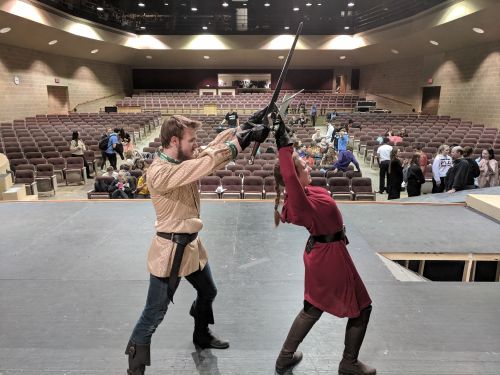 Macbeth is set to open at Fargo South High School Theatre Thursday, April 11 and will run through Sunday. The show will be filled with betrayal, thirst for power, sorrow, and revenge for an action-packed two hours. It will also bring one real-life family full-circle as they all contribute to the production of the play.
Macbeth (played by Blaze Remmen), was written by William Shakespeare and is the story of a Scottish general who is told by three witches that he will one day rule Scotland. The idea consumes him, and he goes on to murder the king and capture the throne for himself. After he becomes king, Macbeth becomes increasingly tyrannical, murdering opponents himself, or having them murdered by his assassin, Seyton.
To avenge the death of the king, and his own family, the hero of the story, Macduff, leads an army to take back the throne for Macbeth's family. To do this, Macduff must confront the savage assassin, Seyton, and battle him during a wild, wonderfully-choreographed sword-battle between the two armies.
Macduff is played by Joey Wilhelmi, who is a senior at Fargo South. In one of the final battles, his character must duel with Seyton, the assassin who murdered his family. Seyton is played by Joey's sister, Elizabeth, who is a sophomore.
Joey and Elizabeth have been involved with theatre their entire lives, but Macbeth, which will be Joey's final play in high school, marks the first time the two will work together onstage in a fight scene. Generally, Joey tends to lean toward the technical side of theatre, while Elizabeth acts more often, so, until now, the two have never been in a situation where they have worked this closely.
"We've worked together on pretty much every show we've done. It's just been different levels. Some of them, I would come in and work on the set and Joey would [act]," Elizabeth said.
For Macbeth, Joey and Elizabeth have enjoyed practicing their sword-fighting scene together. They have stayed late and even practiced at home.
"They love to practice their fight," said Kevin Kennedy, who is the director. "They practice [it] all the time."
Joey and Elizabeth started working in theatre, including Fargo Moorhead Community Theatre and Gooseberry, at a very young age.
"When they were in elementary school, they would get done with school at 2:30, but I didn't get done with work until 4:30," Joey and Elizabeth's mother, Jean said. "So, David (their father) would go and get them and bring them [to South High] and they would be helping with the set. Elizabeth started painting sets when she was 3-years-old because that's what we were doing. At South High particularly, because David worked here then, they would come and they would either help, or they'd just play and have these great adventures in the seats."
That early exposure wasn't forced on Joey or Elizabeth though.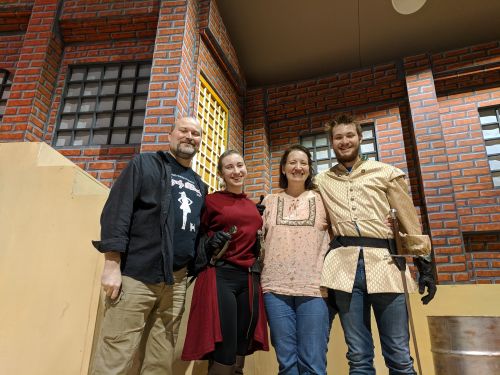 "It was something they wanted to introduce us to, but they've been really clear…we don't have to do theatre if we don't want to," Elizabeth said, "but neither of us really got into sports or other extracurriculars and it was just kind of our life since we were born."
What makes this production even more special for Joey and Elizabeth is that their entire family is involved in this production. David choreographed the battle scenes, including the sword fight between Joey and Elizabeth.
"In this production, I am the production designer. So, I've designed the set, lights, sound, and video. I am also the stage combat choreographer," said David, who also works full-time as the Fargo Public Schools Technical Theatre Coordinator.
For Macbeth, David has been working since late last year on the set design and battle choreography, which has taken some finesse to work through.
"We cast the show in December because we knew we wanted to cast it before we went to Christmas break," David said. "Then, when we came back, we had a show that first week, and then, we had finals. So, as soon as finals were done, I started combat rehearsals."
At the same time as they were working on choreography, the students involved in the production were working on building the set.
"The kids built everything," David said. "We started construction on it the same time we started combat. So, we were building on it for eight weeks, but with lots of interruptions to do all the other stuff that we're talking about on the schedule. We'd work on this show for three or four days, and then say, 'okay, we've got to stop working on Macbeth. Now, we've got to work on the one-act for three days. Okay, now we can go back to Macbeth. Okay, now stop that.' It's a crazy schedule that we've been working on."
David said the students involved with Macbeth knew the rigorous schedule that would be required to pull off such an elaborate production. He said they have been working a minimum of three hours a day during the week and more on weekends. So far, just the tech team alone has logged nearly 3,000 hours into production.
All this during other activities such as band and choir concerts, semester finals, and anything else everyone's busy schedules threw into the mix.
Jean is the assistant director for Macbeth.
"I started helping out two years ago," Jean said. "I wasn't sure that would work with me being their mom and whether they could take direction from me or anything like that. It's turned out to be really interesting because Joey has had a couple of big roles, although he likes tech better, so he doesn't always do an acting part, but I found that he sees me as somewhat of an expert on the acting side of things."
This play is special to the Wilhelmi's for many different reasons. First of all, it marks the end of a chapter for Joey, who will be moving on to the University of Minnesota's theatre department next fall.
"I am going to the U of M next year for technical theatre," Joey said. "So, I'm moving into just the technical side. I'm not quite sure what aspect of it, but I'm staying in theatre."
It is also the last high school performance that Elizabeth will have Joey to lean on as they each work on whatever role they are working on. She won't have him with her as she transitions to her junior year.
"Honestly, I think about it so much and it terrifies me," Elizabeth said. "I don't know what I'm going to do without Joey. Pretty much every show that I've been a part of, he's been a part of. Starting next year will be the first show that I'm in that he's not and it stresses me out a lot because he keeps me sane. Sometimes, he causes me to be insane, but then he brings it back and he helps me."
"I'm not too far away though," Joey chimed in as a reassurance to his sister.
Another reason this play is so special to the family is that it brings their lives full circle, in a way.
David grew up in a family that was very involved in the arts and went on to work freelance in theatre, traveling around the country. Jean did not grow up with theatre but was introduced to it in college where she switched from a math major to a double major in theatre and English.
After college, she worked in theatre professionally for five years in Cincinnati. That is when she met David.
"We met doing Shakespeare," Jean said. "He got this job in Canton, Ohio, which was a 9-month contract at a community theatre. It wasn't the one I usually went to, but they were doing Shakespeare. They were doing The Merchant of Venice and I was like, 'I really want to try out for that.' Even though it was a little bit of a drive to go to work there – I'm going to go. I'm going to go do that. It was like his second show at that theatre. We met doing that play."
This play marks the end of this chapter in the Wilhelmi's life, but Jean feels theatre will always be part of her family's life.
"For it to be Joey's last one, it's tough," Jean said. "I'm really glad that it's such a memorable kind of thing. It's a big show. Everybody wants to do Macbeth someday. Joey's playing Macduff, which is the hero. These are just awesome memories that we are going to have as a family. It's awesome for me to be a part of it."
IF YOU GO:
Macbeth
Thursday, April 11 – Saturday, April 13, 7:30 p.m. & Sunday, April 14, 2:00 p.m.
Fargo South High School