Mind Vs. Body
by Jack Dura | .(JavaScript must be enabled to view this email address) | Theatre | October 2nd, 2014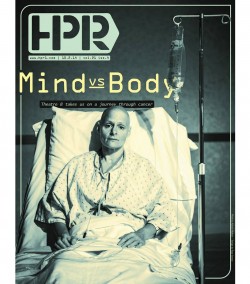 Theatre B's "Wit" takes us on a Journey Through Cancer
Beginning Theatre B's 12th season of shows is a play that is a little more aged when compared to the company's past productions.
Margaret Edson's "Wit," the 1999 winner of the Pulitzer Prize for Drama, is older than Theatre B's typically newer and emergent onstage stories, but age is just a number with this play. It's all about the story and the universal journey it encompasses: that of a cancer patient.
"We were struck by how, even though it's 15 years old, the story is still incredibly timely and relevant," said Carrie Wintersteen, lead cast member and Theatre B executive director. "It's that universal story of what a person experiences when they get a cancer diagnosis, and that, I think, is actually becoming more and more common."
Focused on a university professor diagnosed with Stage IV metastatic ovarian cancer, "Wit" takes its audience through the journey of Wintersteen's character, Vivian Bearing, who looks at her cancer diagnosis with the same academic mindset she does her research on English poet John Donne. Undergoing aggressive experimental treatment, Vivian examines her life and remembers the people in it as her condition declines following eight rigorous treatment cycles.
Through her diagnosis, treatment and time in the hospital, audiences see and learn much from Vivian's story. Theatre B, in selecting and performing this play, has already learned a lot along the way.
"What we're discovering is that a Stage IV diagnosis doesn't necessarily mean days or weeks or months anymore," Wintersteen said. "A Stage IV cancer diagnosis can mean still sometimes years … It's not curable, but it's potentially treatable."
Through collaborating with Embrace Cancer Survivorship Program, the folks of Theatre B have learned not only about the changes in cancer care since the late 1990s, but patients' quality of life in the years since.
This kind of collaboration has long been a wish of Theatre B's, ever since 2005's "Joined at the Head." That production also featured a character coping with a cancer diagnosis, though at a time when she makes fast friends with a man, only to realize their friendship is ephemeral.
"When we did that play, at the time, we realized this is telling a story that a lot of people would like to hear," Wintersteen said. "We actually did have an audience member say to us, 'I am a breast cancer survivor, and this is the first time I've laughed about my own disease.'"
Working with Dr. Shelby Terstriep, medical oncologist at Embrace, Theatre B was able to bring "Wit" and accompanying workshops to medical residents, doctors, nurses and patients the week before the production opened at home in downtown Fargo. These hospital performances fulfill the main aim of every Theatre B production.
"This collaboration really carried us back to the fact that for years we've been talking about when we do plays, how do we make sure that we get them to the audience that for whom they'll have the most impact?" Wintersteen explained. "So we just went to Sanford last year and asked."
Terstriep, who was more than willing to let Theatre B connect with this audience, actually saw "Wit" in medical school, and the experience was "absolutely transformative for her," Winterseen said, adding that Terstriep has been instrumental in getting "Wit" in front of its target audience.
This show also comes at another great time for Theatre B. In September, the company was awarded a 2014 National Theatre Company grant in the amount of $12,000. The American Theatre Wing, which created the famous Tony Awards, is responsible for selecting the grant's 12 winners, and along with companies from Chicago, Brooklyn and L.A., Theatre B was chosen for this prestigious grant.
"The recognition from the American Theatre Wing is a tremendous honor," Wintersteen said in a press release. "And the acknowledgement is especially gratifying because this grant was brought to my attention by a dear friend, gifted artist and ensemble member, Matthew Burkholder, who passed away a year and a half ago. This award is a remarkable validation of our mission in this community, and we only wish Matthew were still here to celebrate the success with us."
The company's mission of socially relevant art-in-action and emerging, groundbreaking performances fulfills the grant's requirements for new play development, community engagement and education. Just looking across the last decade of Theatre B plays proves the social practice and engagement the downtown troupe delivers four times a year to its audiences.
"Wit" is just another fine example of Theatre B's mission in action. Though not exactly new, the play satisfies engagement and education with its audience and its character's emotional journey through cancer treatment and her ultimate end.
Following the play's run at Theatre B, more targeted performances are scheduled for other important audiences. A private show for Embrace's survivor retreat and a performance at the University of North Dakota medical school for first- and second-year medical students are slated for October, all to bring the story to those who will receive the most impact.
"We are doing better and we can do better at teaching our medical students empathy," Wintersteen said of the UND performance.
It's a lesson in empathy that "Wit" exudes best for its medical audience, examining cancer from a direct point of view.
It's also a story described as "the funniest play about cancer," but not one that is disrespectful or offensive to Vivian's plight or cancer patients, Wintersteen explained.
"It's an interesting look at how the fear, the uncertainty, the process of grieving and letting go of control and expectations is still completely universal and will happen no matter what the diagnosis."
IF YOU GO
"Wit"
Theatre B, 716 Main Ave. 7:30 p.m.,
Thurs-Sat through Oct. 18; 2 p.m., Sun, Oct. 5
701-729-8880
theatreb.org