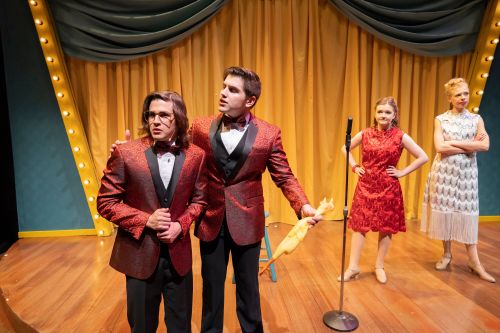 By Amber Westereng
Minnesota State University Moorhead's (MSUM) Straw Hat Players has performed more than 300 shows during their 56 years and has groomed more than 2,000 actors, technicians, and crew for careers in the theatre industry. The Straw Hat Players kicked off their season in June with "Breaking Up Is Hard to Do," but many may wonder, who are they?
MSUM's summer theatre company is a dedicated 50-person crew comprised of actors and off-set staff who work 10-hour days, seven days a week to bring alive a production schedule the community has grown to love. They produce four shows in six weeks.
Noah Roddy, a musical theatre major from Coon Rapids, Minn. and four-season Straw Hat Players' performer, describes what the summer is like.
"It's hectic. There's no time to sit down. We always have something to memorize or something to build; it keeps us on our toes." Roddy will play the parts of Maury in Disaster and Oliver Warbucks in "Annie."
Presenting four shows in six weeks is a challenge.
"We work on four shows at a time," said Katie Hanson, an MSUM musical theatre major from Fargo, N.D. and first-year Straw Hat performer. "When we're not in rehearsals, we're in the shop, and when we're not in the shop, we're in rehearsals." Hanson played Marge in the season opener of "Breaking Up Is Hard to Do" and will perform the title role in the production of "Annie."
"I am thankful to be a part of this company. I've never done any professional theatre before, and this is a really different, fast-paced environment," Hanson said.
Since the 1960s, Straw Hat Players summer theatre has given students relevant experience to develop skills in acting, costume and make-up, sound and lighting, and other professional roles to best prepare them for theatre-related careers.
"Students engage fully in the art of producing theatre," said MSUM Theatre Director Craig Ellingson. "We know our students who do Straw Hat Players are better prepared during the academic year and they are also better equipped to go out in the real world and continue to do this as a profession."
Roddy's experience with the Straw Hat Players has exceptionally prepared him for a theatre career.
"I will graduate from MSUM being a better performer and more equipped to work in the real world of theatre," he said.
Three shows remain through June:
Disaster: June 11-14, PG-13, Hansen Theatre
Set in New York, A-listers line up for the opening of a new floating casino and discotheque. What begins as a night filled with fun and excitement, changes into a disaster. The shows musical score will make you want to get up and dance, even when the ship succumbs to several disasters.
Plaza Suite: June 18-21, PG-13, Gaede Stage
Written by Neil Simon, Plaza Suite explores the ins-and-outs of marriage. Tag along with three couples successively occupying a suite at the Plaza. This comedic performance will definitely have you laughing.
Annie: June 25-28, PG, Hansen Theatre
Join Annie and her loveable mutt, Sandy through the streets of New York in hopes of finding her parents that abandoned her on the doorsteps of an Orphanage that's run by the evil Miss Hannigan. Annie escapes to only find a new home and family in billionaire, Oliver Warbucks and Grace Farrell. This popular comic strip written by Harold Gray will surely put a smile on your face.
Productions continue through June with each show debuting on Tuesdays and closing on Fridays in the Gaede Stage and the Hansen Theatre. Tickets are available online at mnstate.edu/tickets or by calling the MSUM box office at (218) 477-2271 Monday through Friday from 12 to 4 p.m.