No Big Disgrace
by HPR Contributor | .(JavaScript must be enabled to view this email address) | Theatre | September 11th, 2019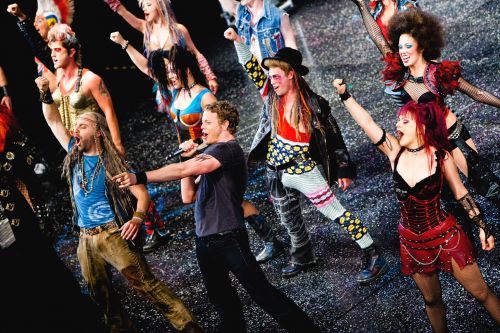 By Scott Ecker
notharrisonford@gmail.com
On Wednesday, September 11th the tour of We Will Rock You is coming to BlueStem in Moorhead. We Will Rock You is a jukebox musical based on the music of Queen that originated in West End in 2002. This tour is coming out of Canada and will be the first performance in the US.
I had the privilege of speaking over the phone with Krystle Chance right before the show's performance in Winnipeg. Krystle is a performer out of Toronto who has performed in shows such as The Wiz and Newsies, with her favorite role having been Effie White in Dreamgirls. She has been a part of the We Will Rock You Tour since last spring, performing in 20 shows so far. In the show, she portrays the villainous Killer Queen, a role she says she loves because it is sexy, powerful and fluid. Krystle will be coming to Blue Stem as part of a cast of 16, the smallest cast this show has had.
We Will Rock You ties together many classic Queen songs such as Radio Ga Ga, Fat Bottom Girls and of course Bohemian Rhapsody. The hero of the production is Galileo who fights against her character, the corporate all-consuming Killer Queen. She says that the show is very much about individuality through music.
Krystle claims that she was never a fan of Queen before getting involved in this tour, her experience being primarily R&B. But as soon as she started working on it she realized that she had heard all of them without realizing they belonged to Queen. Performing these songs gave her a real love for these great hits. With her strong theatrical experience, she took to these big rock ballads very naturally.
This is a show that will delight longtime fans of Queen, but also serves as a great introduction for new fans. She emphasized that it is goes over great with younger audiences as well. It is a very visual show with a huge set and great light design that the tour will be bringing. Krystle said that the show is a great, great time full of all-time favorite hits.
See Krystle Chance perform as The Killer Queen in the exciting live-performance, We Will Rock You, this Wednesday at BlueStem in Moorhead. It is sure to be a great time for fans of Queen and new audiences alike.
IF YOU GO:
We will rock you
Wednesday, September 11, 5 p.m.-12 a.m.
Bluestem Amphitheater, 801 50th Ave S, Moorhead