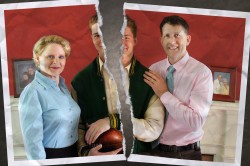 "It was the first insightful theatre I've seen in years. I wasn't expecting anything but it blew me away."

"Your intimate space makes us feel like we're in the play and for those of us who don't act, that's a real gift."
"A wonderful performance that made me laugh and cry while giving me goose bumps."
"You do such good work and you are an asset to the community."
The comments and applause are testimony of the amazing shows that Theatre B has chosen.
Theatre B was founded in 2003, starting with 10 artists, two part-time staff members, and a board of directors comprised of ensemble and community members.
Now it has grown to 60 to 75 artists and another 50 volunteers. "In its fourteen years, Theatre B has brought to life a wide variety of the latest award-winning plays and bold, untested new works. Though the titles may be unfamiliar, audiences trust Theatre B to produce shows with high artistic integrity," said Carrie Wintersteen, Executive Director of Theatre B.
One of the reasons why audience members love Theatre B is the distance between stage and audience. The theatre has a capacity of 95; there is a sense of sharing the experience and much more responsive and spontaneous atmosphere.
"Theatre B presents a three- or four-show mainstage season," said Executive Director Carrie Wintersteen, "of the newest, more relevant plays – many regional premiers – produced with professionalism and quality that matches any major metropolitan area. Scripts are selected to tell thought-provoking stories, engage community discussion, and provide compelling artistic challenges for directors, designers, and performers."
Theatre B has allowed to address critical issues through Community Collaborations that "makes a lasting impact by presenting theatrical works in relevant settings with related audiences and expert participation," said Wintersteen.
Theatre B's latest production, "Our Boy," will be performed at the Minnesota Fringe Festival on August 3 – 13.
Carrie and David Wintersteen are performing together in the new play about parents struggling with an accusation that their young adult son has committed a sex crime.
"In this short play, our characters examine their parenting; blame their son's friends (athletes); question the community's idolization of athletes; wonder whether their son could have been unable to know the difference between right and wrong in this situation," said Wintersteen.
"As parents, David and I have been deeply troubled and dissatisfied with our social response to the issue of sexual assault. With reports of assault seemingly every week, we began to wonder whether we had adequately addressed this subject with our own kids.
"We have two young adult children, one boy and one girl. We feel we addressed personal safety with our daughter, but we had to ask whether we had really addressed how to be a responsible grown man with our son. Had we just assumed he would understand all the nuance and gray area of adult relationships, especially with regards to becoming a sexually active adult?"
Wintersteen recommended people visit the nonprofit RAINN for more information about these issues: www.rainn.org.
YOU SHOULD KNOW
'Our Boy,' by Rob Urbinati, recommended for ages 16+
Aug 3, 8:30pm; Aug 6, 7pm; Aug 7, 10pm; Aug 10, 7pm; Aug 13, 2:30pm
Theatre in the Round, 245 Cedar Avenue, Minneapolis www.theatreb.org; www.fringefestival.org