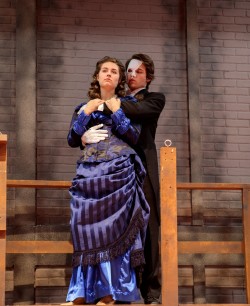 Get ready for the iconic, ominous pipe organ, a moving and tragic story, and more outstanding acting and music as Sheyenne High School Theatre is set to bring the regional amateur premiere of Broadway's longest running musical, "The Phantom of the Opera." Performances are scheduled February 10, 11, 17 & 18 @ 7:30pm and February 12 & 19 @ 2:30pm on the Mainstage.
"The Phantom of the Opera," based on the classic novel by Gaston Leroux, was the basis of several movies, and its Broadway musical version has won seven Tony awards. This haunting and tragic story features a masked figure that lives in the catacombs beneath the Paris Opera House and falls in love with an innocent young soprano, Christine. He devotes himself to her success, at all costs. Its memorable score includes "Think of Me," "Angel of Music," "Music of the Night," "All I Ask of You," "Masquerade" as well as the title song.
Sheyenne Theatre's production features a company of approximately 90 young artists in its cast, crew and pit orchestra under the direction of a team of teachers and professionals led by veteran director Adam Pankow. This musical was selected because of its challenging musical demands, unique technical elements and effects, and incredible audience appeal. Braden Miller, Grade 11, plays the Phantom, and Morgan Gast, Grade 12, plays Christine.
Pankow has directed plays at West Fargo High School and then Sheyenne High School for ten years. Some of Pankow's favorites are: "Once Upon a Mattress" (2006), "Anything Goes" (2008), "Cats" (2010), "Our Town" (2010), "Les Miserables" (2012), "Wasp" (2013, North Dakota Class A One-Act Play State Champion), "Chicago" (2013), "Shipwrecked! An Entertainment" (2014, ND Class A One-Act Play State Champion), "Spamalot" (2014), "Beauty and the Bests" (2015), "Rent" (2015), "You Can't Take it with You" (2015), "Fiddler on the Roof" (2016), "The 39 Steps" (2016, ND Class A One-Act Play State Champion), "Hair" (2016), and "The 25th Annual Putnam County Spelling Bee" (2016). He has also directed a variety of performances for Hawley High School, FMCT, Trollwood Performing Arts School, Sleepy Hollow Summer Theatre and International Music Camp.
Pankow emphasizes that this is the amateur premiere of this musical in our area: "There are plenty of people who have seen 'Phantom' in New York or London on tour, but they've never seen the show in the Fargo Moorhead area." He adds, "There is no familiar template of what this show looks like on this level, which is both freeing and very challenging. So when all our adult and student production stakeholders went in to tackle this production, we worked hard to find how familiar moments could be distinctly Sheyenne – both from an acting and technical standpoint."
"This show is so beloved," Pankow describes, "so being able to put our stamp on the production while still satisfying the familiar trademarks that are linked with this title has found us inventing and stretching our creativity."
Pankow says that "Phantom" is "the most difficult music I have ever put in front of students." He also wants to clarity that "This is not a 'junior' or 'high school' edition of the show with an adapted score; this is the same music with the same keys that is being played and sung in professional productions. Putting that challenge in front of everyone has made us work harder to rise to the occasion. The commitment to perform the music with polished, nuanced competence from all the students has been inspiring to watch. Besides the source story itself, Andrew Lloyd Webber's music is the most recognizable component of this musical—and rightfully so. The score is beautiful and grand, sweeping audiences into its emotional melodies. It transfixes."
Pankow is most looking forward to opening night, which he says "is the chance in the process where my work ends and the show belongs to everyone else. It is incredibly gratifying to watch that transfer in ownership and to slip into the audience as just another spectator. I like watching the work evolve and seeing the pride that participants take on as their talents are shared and appreciated."
IF YOU GO
Sheyenne High School Theatre, The Phantom of the Opera
February 10, 11, 17 & 18 @ 7:30pm and February 12 & 19 @ 2:30pm
Sheyenne High School Auditorium, 800 40th Ave E, West Fargo
$8 adults, $6 students. Box Office: 701-499-3237 or www.westfargotheatre.com