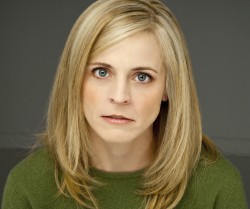 Most people probably know Duluth-bred comedian Maria Bamford from Target's Black Friday commercials.
"Ah! Ah! It's heeeeeere!" she yelped with the most intense facial expressions anyone has ever seen on a blonde "mother" clothed in a pleasant, red and white, button-up dress.
There is a good reason Target hired Bamford. She's from the company's home state – Minnesota. And she's outrageously funny.
Like many comics, Bamford employs self-deprecating humor. But what makes her stand-up effective and distinct are her vocal "tricks." One moment she'll sound nervous and shy; the next, she'll sound like a constipated, groggy, mink-coated, cigarette-smoking, skinny, 50-year-old trophy wife. My goodness, does she ever have knack for that second one.
Bamford is in a hilarious class of her own. Prospective show goers should not expect a Sarah Silverman, an Amy Poehler, a Kristen Wiig, an Ellen DeGeneres or, definitely not, a Chelsea Handler.
Her jokes, voices and facial expressions are abnormal but endearing and strange but hilarious. Many times, she'll sneak in actions, impressions or lines that seem completely randomly placed. For example, she'll do an impression of Paula Deen -- not as a southern, white daffodil, but as an angry, out-of-breath African-American woman pondering her taste for butter as if she were dreaming about the good ol' days.
It may seem like Bamford flinches from time to time, but it's all a part of her act. Her wacky gestures, peculiar facial stretches, flickering eyelids and flapping hands are her laughter-explosion techniques – and they usually work.
The entertainment business has noticed and taken advantage of Bamford. She has a long list of laudable accomplishments. She's worked with Nickelodeon, John C. Reilly, Comedy Central, The Onion, LA Weekly, Tim & Eric (From the "Tim & Eric Awesome Show: Great Job!"), Disney and Cartoon Network, among many others.
Here's what Bamford had to say to the High Plains Reader, via email:
HPR: I enjoyed reading what you said on Slate.com about losing yourself in a creative activity – and how being on stage is a relief. Can you elaborate on this?
Maria Bamford: You can't really think or worry on stage. It's very pleasant.
HPR: Is it therapeutic to make people laugh, even when it involves talking about your own history of mental illness?
MB: Of course! It always feels good to make something. If people like it, that's an extra helping of gravy.
HPR: In your chill.com special, titled "Special Special Special!," what was the significance of choosing to perform directly to your parents.
MB: I love them. They're relatively cheap and available.
HPR: Your impersonations are astounding. Do they take a lot of practice or do they mostly come naturally?
MB: Practice to sound natural?
HPR: To really master stand-up comedy, did you have to overcome any certain fears?
MB: I don't think I've mastered anything. Every show is new. I'm still terrified mostly.
HPR: In what ways, if any, did studying creative writing in college help you write great jokes?
MB: It allowed me to earn a degree, which gave me a good resume for secretarial work, which richly supported food and shelter, which fueled comedy.
HPR: Your skit on YouTube, where you perform as Cynthia Driscoll and John C. Reilly as Dr. Steve Brule, is absolutely brilliant (it brings tears to my eyes from laughing so hard). Is there an interesting backstory on this?
MB: Tim and Eric. They are the whole thing.
HPR: I read that you played violin until the age of 21. Did you ever think you might end up being a musician over a comedian?
MB: No. I didn't enjoy it.
HPR: Do you think your ear for music helped your ear for voices? It seems like a lot of comedians are musically inclined.
MB: I'm not sure. It was helpful between jokes at first.
HPR: In what ways has appearing on Target commercials affected your career?
MB: I own a house, got to work with wonderful people in Portland and I think it's my peak moment!! It was really fun. Oh! And great health insurance!
HPR: Have you ever been to Fargo before?
MB: I have not. I have watched the movie, which I'm sure is totally inaccurate, but I hope is completely accurate. Food-wise. Minus the murders.
Questions and comments: diane@hpr1.com
IF YOU GO:
WHAT: Maria Bamford
WHERE: The Fargo Theatre, 314 Broadway
WHEN: Fri, April 19, 8 p.m.
HOW MUCH: $26 advance, $28 day of show, additional fees may apply
INFO: For mature audiences