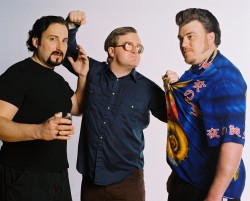 *Adult language advisory*
With the holiday season resonating swiftly day by day, we took a shot (no chaser) at interviewing the trio of Trailer Park pioneers. These Canadian musketeers of sub-high-class living quarters return to Fargo on December 8 for their "Dear Santa Claus, Go F#ck Yourself Tour."
High Plains Reader: How'd you fellas spend your first night after completing the Community Service Tour?
Julian: We got really really drunk ... Hung out with some ladies at Sunnyvale Ricky: First thing we did was got really extra high and drunk that night.
HPR: Ricky, what in God's name brought about the idea of Swearnet.com?
Ricky: The execs at the show was fucking tired of being censored from the networks. So they decided to pull off their own network, for people to talk the way people talk and swear their asses off.
HPR: Tell me the most memorable city so far on your Christmas tour so far?
Bubbles: Well we only been on this tour a few days: Denver, Kansas City, St. Louis. So now we're in Chicago so, I like 'em all. It's been a whirlwind of liquor and dope and nice ladies.
Ricky: The weed is all over in Denver when legalization was new. We felt like kids in a candy store. It was wicked.
HPR: Which would you trade-in first from Santa Claus: Peace on earth or piece of ass?
Julian: Yeah, that's a tough one. Yeah I think I need to go with a piece of ass.
Ricky: Yeah I have to gotta go with a piece of ass too, I guess.
HPR: What's your thoughts on all this police brutality and public protesting going on below you in NYC, Ferguson and nationwide?
Julian: I think it's all pretty fucked up. I don't know much of the facts. But I wish everyone will chill the fuck out and smoke a joint. Relax! Long as they (cops) don't run up in ours then I'm happy.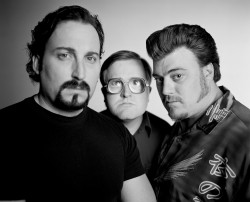 HPR: Bubbles, how in the hell does a man get that name, but yet you dwell in a bathroom-less shed?
Bubbles: Oh I take showers, you know. I go over to Julian's trailer or sometimes I hook up a hose to a tank that I have a solar panel hook up to … warms it up and I just hose myself off. I like to you know, hook up with a lady that has a shower. That's always helpful too … cause believe me, I like to hit it.
HPR: So who's protecting your shit at Sunnyvale Trailer Park while you're on tour?
Ricky: Yeah we got a local security business that take cares of us. Just to make sure nobody fucks with our shit or fucks with us, our buddies take care of 'em
Julian: But everything is good back at the trailer court. Cory is tryna manage everything and J-Roc is working hard these days. Cory's getting smarter, man. So things are all good back at Sunnyvale.
HPR: Coming here last year, do you notice any parallels between us Dakotans and the Canadians?
Julian: Yeah it's (The Dakota's) more similar to Canada over here compared to the other states we been to…
Ricky: This our second outing in North Dakota, so we'll have a good time. Looking forward to it.
HPR: Help give the college students in Fargo-Moorhead advice on the key to success.
Ricky: Yeah, just study hard. Stay off the dope until you're finish I guess. Or you'll wind up ending up stupid like me, and not pass.
HPR: Well hey now. Hold on, Ricky. You fellas gotta hand yourself some credit. You guys are on some Drake shit: "Started From The Bottom, Now We're Here".
Ricky: (Laughs) Fucking aye. That's true I guess. Well maybe they should smoke more then, I don't know.
HPR: In Nova Scotia, is Natal Day as popular over there as Liquor Day in Sunnyvale?
Julian: Yeah it's like a national holiday for us. It's in the middle of summer …Bubbles: That holiday be celebrated the same as your...(voice trails off)... your Dependence Day. Or any holiday, I don't know … Ricky: Liquor Day is good because it's celebrated once a month.
HPR: Choose one sport, if you had to sit sober through the whole game: American hockey or Canadian football?
Ricky: That's a tough one, but probably American Hockey. We're more NFL guys.Bubbles: Oh yeah I agree. I got a few of them I like: the old 1970s Steelers with Terry Bradshaw, Frank O'Hara, Lynn Swann and growing up around all that. Plus Snoop Dogg's favorite team and I like his style too.
---
There were times where no one outside the trailer courts gave a damn about trailer court inhabitants, which carried a certain arrogance once held (and still continues) strongly about those grounds. Bubbles, Julian, Ricky and the rest of the crew -- in their worst of behaviors -- remolded that notion among people within dwellings everywhere. Although December 8 will come and go within a taste of spiked eggnog, take notes to check out these near-carnal characters celebrate Christmas with the Fargo-Moorhead faithful inside the Civic Center on Monday.
IF YOU GO:
Trailer Park Boys
Mon, Dec. 8, 7 p.m.
Fargo Civic Center, 207 4th St N, Fargojadepresents.com