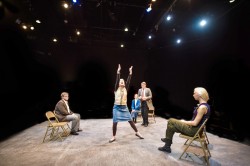 Concordia College Theatre 'pushes boundaries' in adult-themed play
By Jack Dura
Concordia College Theatre cracks the can on adolescents in adult themes with its spring play, "The Metal Children" by Adam Rapp.
Based around a banned book in a small Pennsylvania town and the events that stem from it, "The Metal Children" tackles several social themes affecting adolescents and young adults.
"The play is significantly about censorship, authority … when is a person really an adult?" director David Wintersteen said.
As the play's young characters carry out actions from the book banned by their school, issues like teenage pregnancy, abortion, sexual consent and bullying are brought to the forefront.
The play's inspiration comes in part from its writer's experience when his book "The Buffalo Tree" was banned from Muhlenberg High School in Laureldale, Penn.
That's another theme that Wintersteen says is addressed by "The Metal Children."
"When the Harry Potter books first came out, they were being banned," he said. "School boards were banning them because they had sorcery and witchcraft. We can laugh about that now, but there were people who were very serious about it."
In the play, Rapp's novelist Tobin Falmouth approaches the town school board about banning his book "The Metal Children," while teenage pregnancies, a gang of pig-masked hooligans and other inexplicable instances rock the small town of Midlothia.
With the issues at hand, those both presenting and attending the play leave with a little more than a night at a college theater, Wintersteen said. He added that each audience member will interpret the show differently as it pushes the boundary and walks the line of what is appropriate versus what is inappropriate.
"There's a different line for every individual," he said, adding, "but it is not fixed, although there are some individuals who think their version of the line is the version of the line."
Performed in-the-round with audience on all sides, "The Metal Children" offers a unique staging in Fargo-Moorhead theater that hasn't been seen since last summer.
Just 106 seats are up for grabs in this four-show production, staged this way for a few reasons, including educational. When working in the Lab Theatre, Wintersteen prefers to expose his students to scenes and staging different from proscenium or other traditional styles.
But the in-the-round staging is there for another reason with "The Metal Children."
"The show itself deals with intimate issues, and so every single seat is no more than four rows from the action," Wintersteen said. "Everybody's close."
For a play that leaves something for all audience members to walk away with, "The Metal Children" is not your average theater fare, Wintersteen said, but it does hold value for viewers and its actors.
"It's not a simplistic, hit-you-over-the-head-kind-of-a-play in terms of these issues. They're complicated," he said. "This is a play that not only is talking about boundaries, but is in fact living those boundaries."
IF YOU GO
"The Metal Children"
Concordia College's Lab Theatre
8 p.m. Thurs-Sat; 2 p.m. Sunday
218-299-3314