​Razor Sharp Theatre
by HPR Contributor | .(JavaScript must be enabled to view this email address) | Theatre | October 23rd, 2019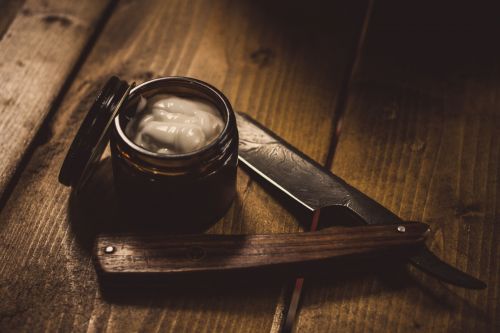 By Scott Ecker
notharrisonford@gmail.com
Theatre is something that takes a lot of work from a lot of people. This is something that is easy to forget while watching a good play. Great theatre is immersive. The script, acting and technical work is all in the service of communicating a story. It transports the audience into a world that is completely different from theatre seats.
I had the privilege of getting to see some of the process of FMCT's latest production, "Sweeney Todd: The Demon Barber of Fleet Street." When I arrived to watch the preview the cast and crew were putting work into perfecting some of the more complex scenes. This show has many complicated sequences that require precision between the orchestra, cast and crew. Director Adam Pankow was communicating with so many different local professionals to keep improving each sequence. Having been involved in many theatrical productions it was completely understandable how much work was required by this show. When the preview started, it was indeed transportive. But watching the delicate finishing touches helped me pay attention and pay proper notice to all of the talented artists at work.
There is something fun about horror on stage. It is not a genre you get to see often in theatre, but the effect of being scared is great in a crowd. Stephen King has mentioned how the cathartic feeling of scary movies is a good thing for audiences. I would venture that scary plays are just as important. Being unnerved together in public can be as good of a bonding experience as cheering for a hero or people to fall in love. FMCT has a tradition of doing scary shows on Halloween. In recent years they have put on "The Shining," "Dial M for Murder" and "War of the Worlds: The Panic Broadcast." Sweeney Todd continues this tradition with incredible ambition.
The scenic elements are astounding. The lighting design of Brian Lynch works its way all around the stage and even the theatre, giving an extra eerie atmosphere to the entire production. Smoke rises from behind the set amidst green and red lights. This is one of the many aspects that makes the production feel like a ghost story.
Pankow directs and Patrick Kasper choreographs the cast to focus on the audience during the iconic "Ballad of Sweeney Todd" numbers. You get the feeling that you are being told an old fashioned morality tale. The cast is adorned in gorgeous old-fashioned costumes and wigs, designed by Shelly Hurt-Geist. They all march throughout the theatre and around the corners of the stage peering at the audience. The music feels like a warning.
The show is indeed a morality tale. But the titular demon barber is not the main monster. Instead we are presented with the monstrous leaders of London and cunning opportunists who use and abuse others. Many of the characters are heartless and most of the others are tragic victims. Sweeney Todd finds himself somewhere in the middle.
The London setting feels vast and lived in. In large part because of Jeff Brown's bold scenic design. Most of the sets are able to move around the stage and it creates several different settings. The audience travels to many intimate spaces through the way the set gets repositioned. You feel like you are discovering new parts of Fleet Street through this. The set changes happen very efficiently and Pankow makes full use of the opportunities in his direction.
Due to the grisly nature of the musical there are many special effects. Sweeney Todd gets blood from his victims. His barber's chair makes victims disappear down chutes. Dead bodies come out of surprising parts of the set. It all makes you wonder how this was all accomplished. But you completely buy into what's all going on.
This has a very large cast with ten named character and an ensemble of sixteen singers and dancers. The big musical numbers give a crowded feel to Fleet Street. Whenever there is a small scene with two or three characters it suddenly makes the emptiness feel lonely. None of it feels clean or welcome. Even scenes featuring love and friendship have an undercurrent of danger. This is a seedy world and the entire cast creates characters that fit into that reality.
The main character is played by Clayton Perala, who is completely at home singing the Sondheim songs. Perala is an incredibly talented singer, with a large vocal range. The character of Sweeney Todd feels like he is able to express himself the most while singing. During the dialogue he feels detached and depressed. But in the musical numbers he can share a wide range of emotions. Regrets, vengeance, warmness, and almost anything else a person can feel.
Of course, Sweeney Todd is not the only main character in his own show. There is the wicked, conniving Mrs. Lovett. She is played magnificently by Shelby Cochran. Cochran is fascinating to watch, she has the character always plotting and working. Shelby imbues the role with a lot some great humor, that makes the macabre tale even more uneasy.
There is a lot to discuss with this show, and I would be happy to with anybody who makes time to see this show. This is a lavish big musical with a live orchestra, detailed costumes and of course amazing Sondheim music. The show may be dark for some, but at its core is a warning about a power imbalance in a corrupt society. The way we see lesser citizens and younger characters cast aside is not all that different than what happens today. And as fun as it is to see Sweeney Todd's on stage, we should be careful not to create any in real life.
[Sweeney Todd runs at Fargo-Moorhead Community Theatre the next two weekends. Shows are at 7:30 p.m. on Thursday, October 24th-Saturday, October 26th and Thursday October 31st Saturday, November 2nd. There is a Sunday matinee at 2 p.m. on October 27th.]